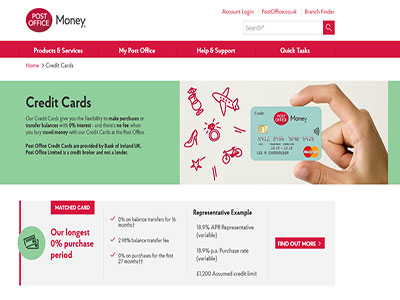 About Post Office
Post Office is a credit broker that provides a wide range of services to a large network of people through our nationwide post office branches.
Currently, there are around 11,500 post office branches across the UK, of which 300 are directly managed by Post Office.
How it works
Our credit cards are provided and issued by the Bank of Ireland UK. So, what this means, we are therefore an appointed representative of Bank of Ireland (UK) plc. As such, we are authorised by the Prudential Regulation Authority and are regulated by the Financial Conduct Authority and the Prudential Regulation Authority. Take note, credit is only subject to residents of the UK aged 18 years or over.
Apply for a Post Office credit card
When you take out a credit card with us, we will send you two text messages, one to confirm the loan and the second to advise you of your first payment. We offer a variety of credit card options available to match your individual needs. You can apply for a post office credit card if you have a bad credit history. To get started, firstly check if you are eligible to apply for one of our credit cards.
Post Office Services
Choose a credit card that's right for you. We have two credit cards on offer, each with great benefits to match your individual needs.
You will be required to transfer the balances within three months of opening your account. In addition, you will receive an APR of 22.9% which is reliant on your personal financial circumstances.
Our Platinum credit card
A platinum card is the ideal credit solution for smart spending at home and when travelling abroad. You pay 0% on purchases for up to 28 months – and best of all no fees when you buy overseas. You pay 0% on balance transfers for up to 25 months, and a 2.89% balance transfer fee is charged
Some other benefits:
Easy contactless payments
You can buy Post Office Travel Money at no fee
Plus, 0% on balance transfers with a 2.89% fee for the first 18 months
You don't pay any annual fee charges for the use of the card
You can manage your account anywhere 24/7 with our safe, secure and easy to use the mobile app or simply use our online servicing
Post Office Product Details
Summary of Services
Credit Cards
Mortgages
Personal Loans
At the Post Office you can get a reliable and affordable credit card
There are a few important things to consider before you apply for credit.
You are required to transfer the balances within three monthly instalments of your account opening. Plus, you could receive a shorter introductory period (26 or 18 months) at an APR (21.9% or 24.9%), this is all dependent on your individual circumstances.
Try fast checker
Simply check your eligibility, it's easy to use and will get a response straight away. When using the Fast Checker, we'll tell you how likely you are to be approved for the Platinum Card without tarnishing your credit score. We will require a few personal details about yourself, your income and monthly outgoings.
Long balance transfer
Or consider our longest balance transfer deal. You pay 0% on transferred balances for up to 32 months with a 2.00% transfer fee. Some other benefits:
Easy contactless payments
No charges on purchases for the first 3 months
You pay no annual fee for the use of this credit card.
In addition, you can manage your account anywhere 24/7 with our safe, secure and easy to use the mobile app or via online servicing.
A wide range of loans and services
At the Post Office, you can apply for a personal loan, home loan or car loan. All loan applications can be done online. It's quick and easy. As an added benefit our loans carry low-interest rates and flexible repayment options.
Customer Reviews & Testimonials
"
The online service is the best. I am able to update details and make payment without going to the branch
Andy J
— Glasgow —
The credit card mobile app makes life easier I pay for my bills anywhere and anytime-
Peter R
— Dundee —
My children always ask for money, thank you to the mobile app I am able to send them money anytime.
Stefan B
— Southampton —
Post Office Contact Details
Contact Number
E-Mail
Website
Physical Address
1 Broadway

Westminster

London

SW1H 0AX

United Kingdom