The Co-operative Bank
Updated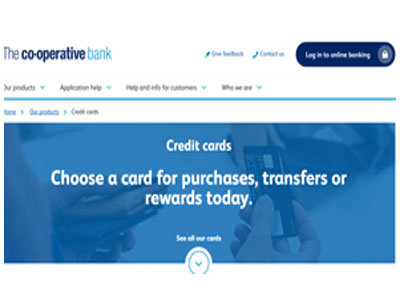 About The Co-operative Bank
The Co-operative Bank roots trace back to our founding as the Loans and Deposit Department of CWS in 1872.
We offer high street and internet banking services to our customers, in addition, we offer current and savings accounts, mortgages, credit cards as well as loans.
In order to apply for a credit card you must be:
18 years or older
A resident of the United Kingdom
Must be earning a minimum Gross Annual Income (GAI) of £10,000.
You are an existing customer having held a Co-operative Bank or smile current account for at least 7 months
Not hold any County Court Judgements (CCJs), entered into an Individual Voluntary Arrangements (IVAs) or Trust Deeds, nor has been declared bankrupt within the last 6 years
Must not be in arrears or have not missed more than 2 payments on any credit agreement in the last six months.
Must be employed full time, part-time, or self-employed or retired.
However, additional cardholders can be unemployed as long as they're 18 or over and a UK resident.
The Co-operative Bank Services
Take note, approval is subject to status and based on a credit check and an assessment of your personal circumstances.
If you meet the above requirements, you could apply for any of our services. We have a range of services on offer, including personal loans and car loan options suitable for everyone's individual needs.
The balance transfer
We offer 0% interest per annum for up to 24 months on balance transfers from the date you transfer your balance. After the 24-month period, this will increase to 20.6% interest per annum. In addition, get 0% on for 4 months on all purchases from account opening. After the 4-month period, this will increase to 20.6% interest per annum. We don't charge an annual fee.
Three-year fixed credit card
You can now manage your monthly repayments better at a fixed rate for three years. After the 3-year period, this will increase to an 18.3% interest per annum on all purchases and balance transfers. In addition, we'll charge a 27.9% interest per annum on cash withdrawals. No annual fee and no balance transfer fee.
The Co-operative Bank Product Details
Summary of Services
Personal Loans
Short-term Loans
Payday Loans
Credit Cards
Our goal is to create a website that can be accessed by everyone, equally
Our credit cards are available to everyone even clients with a bad credit history.
We adhere to the WCAG AA standard where possible, and before any page goes live we use automated testing, expert reviews and direct feedback from our users to ensure our website is user-friendly to everyone.
We aim to offer information that is:
Readability aims - Scannable friendly text, Meaningful and understandable headings, Plain, evenly spaced font, Simple grammar as well as a direct copy, we avoid obscure phrases, Descriptive link text and finally 200% text size without loss of content or function
Colour contrast aims - We reframe from using instructions that involve colour and always use good old contrast between content and the background.
Media aims - We offer text narratives for video & audio and descriptive text alternatives for imagery.
Forms aims - We offer forms that are simple and short. Forms are clearly labelled, well-sized clickable areas, clear and easy to read instructions, and we divide large form content into multiple smaller forms content.
Quality financial products
At Co-operative Bank we pride ourselves on our customer service and customer satisfaction levels, as such we're always looking to improve our services by putting our customers at the heart of what we do. We are also committed to leading the way on ethical, environmental and community issues.
Co-operative Members card
An 18.3% interest per annum on your purchases and balance transfers. We charge 27.9% annually on cash withdrawals. You get 1p cashback for every £2 you spend in our Co-operative Food stores. You get 1p cashback for every £3.33 you spend anywhere else you see the Visa symbol displayed. Plus, no charge for annual and balance transfers
Customer Reviews & Testimonials
"
It is so easy to manage my repayments!
Karren M
— London —
They provided documents that was easy to read and was very clear
Ben J
— Manchester —
The Co-operative Bank Contact Details
Contact Number
E-Mail
Website
Physical Address
1 Balloon St

Manchester

M4 4BE, UK

United Kingdom
Opening Hours
Monday

08:30 – 17:00

Tuesday

08:30 – 17:00

Wednesday

08:30 – 17:00

Thursday

08:30 – 17:00

Friday

08:30 – 17:00

Saturday

– Closed

Sunday

– Closed