Debt consolidation loans up to £20,000
Low-interest starting from 42.5%
Repayment up to 72 months
In-page navigation
---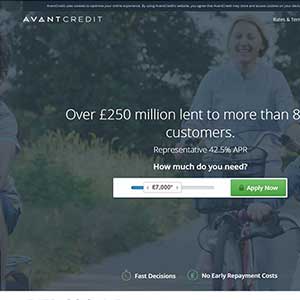 About Avant Credit
Life is filled with the unexpected and sometimes this can mean dire consequences for your finances. Should you find yourself in a situation like this, Avant Credit is here to help.
We do this by providing you with a quick personal loan to consolidate your existing debts at a competitive rate, therefore allowing you to take back control over your finances - and your life. Our mission is straightforward: we want to make borrowing simpler and more cost-effective, one loan at a time.
A debt consolidation loan
A debt consolidation loan involves combining all or most of your existing debt (like credit card debt) into one monthly payment. Understandably, having to make multiple payments every month, perhaps at different times in each month, can be quite challenging and if your financial situation changes for the worse, you can find yourself really battling to keep up with your repayments.
Manage your debt with ease
So tying up these payments into one allows you to manage your debt with more ease as you will have more flexibility. The great thing about a debt consolidation loan from us is that everything is clear and there are no unpleasant surprises.
Avant Credit Services
We offer fixed loan rates from11.8% to 49.8%over a set term. This means that for the entire duration of your loan, you will pay the same rate throughout.
This is a great advantage for you because it allows you to calculate exactly how much your loan will cost, thus, you will know the exact amount that you will need to pay each month and how many payments you'll need to make in total. This means you'll be able to confidently plan your finances by creating a budget, helping you to keep track of everything.
Personalised loan offers
When determining your eligibility for a personal loan, we assess your application by looking at a number of factors such as your credit score and income so that we can provide you with a loan offer that fits your personal financial situation.
Bad credit solutions
We understand that not everyone will have perfect credit, that's why we try to find you the best product for your needs. Loan amounts range from £1,000 to £25,000 over 1-6 years. What's more, we don't charge early repayment fees, affording you more flexibility.
Avant Credit Product Details
Loan Type

Debt consolidation loans

Interest Rate

from 42.5%

Loan Amount

up to £20,000

Repayment

12 months to 72 months
Summary of Services
Speedy approval
No prepayment fees
Secure online application
Customer service that leaves you satisfied
9 out of 10 people would recommend our service to someone else. With so many of our customers leaving satisfied, you have very little to worry about should you decide to approach us for assistance. You're in good hands. Our track record speaks for itself.
Ready at your service
Our dedicated team is ready to assist you whenever you need it, 7 days a week. Whether you want to call Customer Supporter you prefer talking to someone face-to-face, we're available to answer all of your questions.
Security and trust with Avant
The two most important factors for us are trust and security. Your trust in our service is a top priority, which is why we work hard to make sure that our platform is always secure. We set high standards for ourselves and we don't settle for anything less.
Your credit score is safe
Checking your loan options will have no impact on your credit score, so you can find the best loan for you, worry-free. Simplicity and flexibility are what we aim to give you.
Get funds in three easy steps
Forget complicated, with us, we're all about keeping things as simple as possible- apply online in just 5 minutes. We'll never waste your time so we make sure to process your application promptly and should you be approved, we'll inform you quickly.
The next step will be to sign your loan agreement form, which you can safely do so on our secure application via an e-signature. Once we have received your signed contract, your money can be deposited into your current account as quickly as the same day! See? Quick and simple.
Your bad credit loan amount will include the administration fee to set up, process and service your loan.
Change repayment date
If you wish to change your upcoming payment date(or amount), you can do so by logging into your account. If you would like to change your monthly payment date for the remainder of your loan term, simply contact Customer Support and we'll help you.
Customer Reviews & Testimonials
"
My credit score was never affected, I was happy that I could get a loan even with a low credit score
Sophie J
— Eidinburgh —
I was provided with a loan that suited my circumstances and my budget so it was easy for me to pay it back
Andrew O
— London —
Avant Credit Contact Details
Contact Number
E-Mail
Website
Physical Address
AvantCredit, Liberty House, 222 Regent St, Soho

London

England

W1B 5TR

United Kingdom
Opening Hours
Monday

08:00 – 18:00

Tuesday

08:00 – 18:00

Wednesday

08:00 – 18:00

Thursday

08:00 – 18:00

Friday

08:00 – 18:00

Saturday

09:00 – 13:00

Sunday

– Closed