Quick loans up to £500
Low-interest up to 1269.7%
Repayment up to 30 days
In-page navigation
---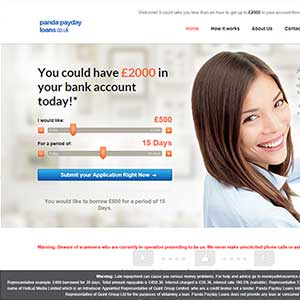 About Miss Payday
Miss Payday is a financial services provider, supplying instant payday loans.
Miss Payday is based in the UK. We aim to give you the same day payday loans to meet your needs straightaway.
What are we all about?
We consist of a small professional team of employees, who is family-centric and relatable. We value close relationships with our customers, and also the other parties involved who help us make sure that every single loan runs smoothly. We started out in 2012, so we've got quite a bit of experience.
Your short-term loan is important to us
The terms 'instant, quick, fast' is taken very seriously by Miss Payday, especially in the loan world. When a person is applying for a short-term, quick loan it's apparent that the person is in need of cash almost immediately. Because of this very important point, we make sure to deliver speedy services, as that really does become the top focus of our business.
Miss Payday Services
Miss Payday is there for you when you need cash in the quickest turnaround time possible! It is important for us to ensure your financial wellbeing.
What a question indeed. Miss Payday likes simplicity; we don't complicate things just for the fun of it. We make use of an online bad credit loan application process which gives the customer an almost instant answer.
The online technology saves a lot of time
We don't make use of any paper submissions, and we don't have endless waiting periods. We're very popular as a high acceptance lender; we do a very mild credit check. In the end, we believe everyone deserves a chance. When applying for a Miss Payday bad credit loan you won't be charged any admin or application fees.
A loan size to suit your requirements
The loans Miss Payday can offer quick loans ranging from £100.00 up to £500.00 – giving you the opportunity to decide what will work best for you based on your own personal circumstances.
Miss Payday Product Details
Loan Type

Quick loans

Interest Rate

1269.7%

Loan Amount

up to £500

Repayment

7 days to 30 days
Summary of Services
Direct lenders
Loan application is free
No extra charges
Trust Miss Payday for all your payday loan requirements
We give our customers all of the information that they might need. This way you will always be 100% in control of your finances.
We've had the wonderful opportunity to deal with all kinds of people, which helped us to understand people and their financial needs on a more personal level. We love what we do, and we do what we love.
How does it all work?
It will start off like most other lending companies, you'll have to make an application to determine if you would qualify for a loan or not. We use innovative ways to keep things simple for you.
You'll complete your online loan application, get an approval, and shortly after that, you can expect the cash that you so desperately need!
What are the requirements?
We ask a few basic things from our applicants, we do this because we care. So here are a few simple things we would require, you need to be older than the age of 18, our borrowers need to be permanent UK residents, with a stable income, and their own personal bank accounts.
If you meet the criteria that was mentioned above you can gladly start your quick cash loan application and soon you'll be sitting back, relaxing, taking it easy while getting financial support, and relieve from one of the best lenders. Miss Payday becomes more than just your provider.
You are our valued client
Miss Payday is a responsible lender therefore we do look at things such as the affordability of our customers, and also what their current financial situations may be. We value our customers too much to let them get into trouble or to fall deeper into the dark pit of financial turmoil.
Customer Reviews & Testimonials
"
I applied for the loan in the morning to fly to home and I was able to take the flight in next morning with the money I borrowed form Miss Payday-
Martin L
— London —
I needed money to pay for car repairs. Thanks to miss payday for instant short term loan
Morris B
— Bath —
My dad wanted to renovate the house. I had no enough money and I didn't want him to use his money. Miss Payday offered me with the short term for house improvement which I was able to pay pack in...
Jackson A
— Cardiff —
Miss Payday Contact Details
Contact Number
E-Mail
Website
Physical Address
31 Dashwood Avenue

High Wycombe

Bucks

HP12 3DZ

United Kingdom