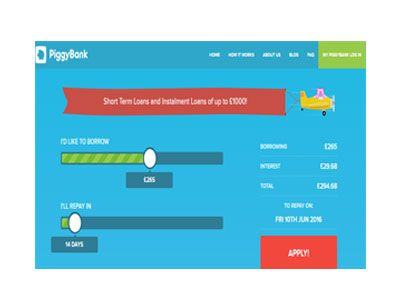 About Piggy Bank
We're a short term revolutionary lender!
We are fair and responsible. With the current state of the economy, we know that everyone can use the extra boost.
Reliable short-term loans
With so many competitors out there it's not easy to stay on top, that's why we're constantly looking for ways to better our services and improve on how we do things. We believe that short term loans can be done better for you. Our aim is to add creative flair to the way we do things so that we can produce the best financial products to our customers.
We are innovators
Like any well-maintained business, we are innovators, always looking for ways to be even better than yesterday! Great just isn't good enough. With that being said when we work on ideas we have one thing in mind, and that's the satisfaction of our customers. We can say with a lot of pride that you are the mechanism that keeps us going.
Piggy Bank Services
Piggy Bank can't even start to explain how much we value time.
We've all been in a situation where the unplanned curveballs of life hit without warning! This is why we made it a top priority to save as much time possible.
Tech-savvy online functions
Short term loans can be used for a multitude of things, whether you're running low on cash for the month or if you need to do repairs on a burst pipe, everyone needs that extra hand every once and awhile. Life can be very unpredictable, and when you find yourself in a situation that was not planned for we know you don't have time to waste.
Our online loans save you time
You don't want to wait for days on end to get a response on your application, you don't have time to hold the line for who knows how long. We've introduced our online functions so that you can calculate and apply within your own leisure. The online calculator will also act as an excellent guideline, helping you to make an informed decision when doing your loan application.
Piggy Bank Product Details
Summary of Services
Quick Loans
Short-term Loans
Get a quick loan for emergency expenses today
We can't lend money if a customer can't afford it, we would not want to allow any of our customers to put themselves in an uncomfortable situation of financial difficulty.
Get a loan today
If you have a low credit score we can help you with a bad credit loan. Once you feel comfortable enough you can apply via an easy to use online application function. It's really simple, and effortless.Quick cash loans don't have to be stressful anymore.
How does the Piggy Bank loan work?
We focus on short term loans; this is meant for those who need a quick cash flow solution. The loans we offer our customers can go up to £1000! These loans can be paid off over terms of anything between 1-5 months.
The interest rate charged will be 0.8% per day per £100 that was borrowed. Once an application has been done the money can be paid into your account almost instantly. Because we're a responsible lender, loans are based on your personal financial circumstances.
Want to become a Piggy Bank loan holder?
We would require a few things from our customers, normally a few questions will be asked when one is doing the online application. These are personal questions that will determine if you would qualify for quick cash or not. Your loan will ultimately depend on your personal affordability.
Before application makes sure that you can tick off all of the requirements. If you are a UK resident older than the age of 18, are permanently employed with your own personal bank account you can gladly do the application. So don't hesitate, and waste time searching the net for the best short term loan provider. We're right in front of you, ready to fill your piggy bank!
Customer Reviews & Testimonials
"
Fast and efficient online application.
Carol A
— London —
No third party involved. I completed the application and signed the contract just between me and the lender
Howard C
— Leeds —
No hidden costs. I mean I paid what I expected and what was explained to me-
Jimmy A
— Cardiff —
Piggy Bank Contact Details
Contact Number
E-Mail
Website
Physical Address
DJS House, The Riverside Suite, Knapp Mill, Mill Road

Christchurch

South West England

United Kingdom
Opening Hours
Monday

08:00 – 19:00

Tuesday

08:00 – 19:00

Wednesday

08:00 – 19:00

Thursday

08:00 – 19:00

Friday

08:00 – 17:00

Saturday

09:00 – 13:00

Sunday

– Closed