Vehicle finance up to £50,000
Low-interest starting from 6.9%
Repayment up to 5 years
In-page navigation
---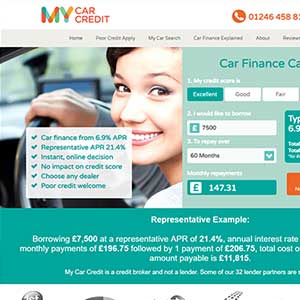 About My Car Credit
My Car Credit is a credit broker, not a lender; this means that you can tell us what you need and we will do the research for you.
We understand that shopping around for the perfect car loan can be difficult. So let us do it for you!
Why you should choose us
My Car Credit was voted the UK's leading motor finance broker in 2017. That being said, it is obvious that we are committed to delivering the best services and products to our customers. We assist your clients to find the perfect credit lender by carefully considering each application individually.
Get a loan with a bad credit record
We do not discriminate against our clients based on their credit history and even consider applications from those with bad credit scores. We evaluate the applications against a panel of 32 registered and trusted lenders for free! You do not have to pay for our services rendered. Simply complete our application and we will start our search.
My Car Credit Services
The amount borrowed, borrowing periods and interest rates charged will depend on the lender chosen and your personal financial situation.
Lenders also offer a variety of personal finance options each with their own perks.
Hire purchase vehicle finance
Hire purchase is the most popular type of car finance and requires the borrower to make monthly repayments and to pay an admin or purchasing fee at the end of the loan period. The loan that you make with the lender is secured against the car which means that while you are paying for the vehicle, you are effectively hiring the car from the lender until you make the final payment.
Personal contract purchase for vehicle finance
This option is very similar to hire purchase, however, you have the option to buy the vehicle at the end of the loan period or to hand the vehicle back. If you decide to purchase the vehicle you will have to pay a pre-agreed balloon payment allowing you to budget for this amount in advance.
My Car Credit Product Details
Loan Type

Vehicle finance

Interest Rate

6.9 – 24.6% p/a

Loan Amount

up to £50,000

Repayment

3 years to 5 years
Summary of Services
Decisions are instant
Loan application does not affect credit score
Low interest rates
We have many benefits on loans for you to enjoy
As mentioned above, there are a variety of options available when purchasing a vehicle. Another such example is conditional sales.
It can also be difficult to decide what car you want before knowing what amount you can get approved for. This is why we offer a car search function on our website to assist you in an instant loan for you.
We will save you time
We aim to make finding a car loan quick, simple and easy by providing our customers with an instant decision for their online applications. We will find the perfect match for your circumstances from our panel of lenders. After completing the application, we will either offer you the lowest rate amongst our lenders or a specialist will contact you to discuss your loan.
The final approval still lies in the hands of the selected lender. You can now go greet your new car and, once all the documentation is finalized, you can take her home.
Conditional sales for vehicle finance
A conditional sale is similar to hire purchase in that you also make monthly repayments except you do not have to pay a fee at the end of the loan period. While you make the repayments you are allowed the use of the vehicle but only become the owner after the final payment. This is a good option for individuals would prefer to pay higher monthly payments than paying a large sum of money at the end or want more flexibility when deciding on borrowing periods.
My car search for better-informed options
When deciding on a vehicle to purchase there are a variety of factors that need to be taken into consideration such as the price, fuel type, transmission, how economical it is and, most importantly, your personal needs. Our car search option will assist you to find the safest dealer to purchase your vehicle from that will also suit your personal preferences and needs.
Customer Reviews & Testimonials
"
My Car Credit has good loans for people who are on a tight budget
Mary R
— Glasgow —
I got great service from them. I don't regret getting a loan from My Car Credit
Vicky W
— Manchester —
My Car Credit Contact Details
Contact Number
E-Mail
Website
Physical Address
Evolution House, Smeckley Wood Close

Chesterfield

S41 9PZ

United Kingdom
Opening Hours
Monday

8.30 – 19:30

Tuesday

8.30 – 19:30

Wednesday

8.30 – 19:30

Thursday

8.30 – 19:30

Friday

8.30 – 19:30

Saturday

09:00 – 17:30

Sunday

09:00 – 17:30