Loans bad credit up to £15,000
Low-interest starting from 49.74%
Repayment up to 60 months
In-page navigation
---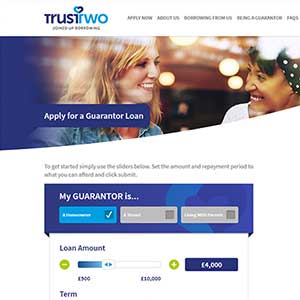 About Trust Two
Have you recently run into some bad credit? Or do you just not have a credit record?
Whatever you need a loan for; when others could not trust you we will trust two! TrustTwo offers a series of guarantor loans which means that if you have a friend that trusts you then we will trust you too.
Where do I sign up?
Through Joined-Up Borrowing, TrustTwo will provide you with a way to get a loan in your own name that will help you to build a good credit score while leaving you in complete control over your loan at the pace at which you decide to pay it back – sounds like a done deal! Applying for a bad credit personal loan has never been simpler than with TrustTwo.
Simplified loan applications
Simply log onto our website, choose the amount you wish to borrow and then complete the rest of the application and send it off. TrustTwo is also a direct lender meaning that there is no middle man. This makes borrowing from us cheaper and more efficient because you speak with us directly.
Trust Two Services
We all deserve a chance and TrustTwo is here to give you that chance.
We strive to help people improve their credit history and give you the loan that you deserve without judgment.
Reliable quick loans
With TrustTwo you can apply for a loan from £500 to £10 000 with the assistance of your guarantor. Apart from your credit record being overlooked, you are also able to obtain quick loans for a larger amount with guarantor loans because you have someone that can vouch for you.
Guarantor loans for all your needs
Borrow up to £10 000 and pay it back via monthly repayments over a time period between twelve and sixty months at a fair and competitive APR. The freedom to decide is in your hands. With TrustTwo you will not have to pay borrowing fees nor will you accrue any fees for missing or late payments. You are also able to pay off your loan at any point. Just contact us and we will sort out a settlement offer.
Trust Two Product Details
Loan Type

Loans bad credit

Interest Rate

from 49.74%

Loan Amount

up to £15,000

Repayment

12 months to 60 months
Summary of Services
Easy borrowing options
Repayment terms are flexible
Get a chance to improve your credit score
Register to be a guarantor with TrustTwo and help make your friends dreams a reality
In order to register as a guarantor for a borrower, you have to be between the ages of 21 and 75 years old and have a good credit record. You should not be the spouse of the borrower or have combined finances.
You also have to be a tenant or living with parents but it is preferable that you are a homeowner because homeowners already have a good credit record. Most importantly you need to be able to take responsibility for the borrower's payments should they be unable to do so.
Stuck in a rut?
At TrustTwo we want to assist you as best we can so if you find yourself in a situation where you are unable to meet a payment, get in contact with us as soon as possible and your account manager will bring out the fine-tooth comb to find a potential solution to fit your situation. If you have too much debt it might be time to consider a debt consolidation loan.
At TrustTwo it's all about you
Direct contact is very important to us because it allows the building of mutual trust and a beneficial professional relationship between the client and the lender. We also strive to make our website as accessible and easy to use for you as possible. This is why our website is viewable on various devices making applying very convenient for you.
Who can apply for a guarantor loan?
If you are over the age of eighteen and a resident in the UK and have the ability to meet the monthly repayments then we will give you the green light so long as you also meet the lending criteria. It is not uncommon to experience a bump in your credit record but this does not mean that you cannot get a loan or help a friend to get one.
Customer Reviews & Testimonials
"
I needed a short term loan. I wasn't sure if I will get a loan because of my credit score. Thanks to Trust Two for a six-month loan
Florence T
— Eidinburgh —
Amazing customer service with quick decision
Noah M
— Birmingham —
Quick process. Had my loan in three days
Oliver B
— Leeds —
Very efficient and quick application
Violet L
— Eidinburgh —
Trust Two Contact Details
Contact Number
E-Mail
Website
Physical Address
1st Floor, Secure Trust House, Boston Dr, Wooburn Green

Bourne End

England

SL8 5YS

United Kingdom
Opening Hours
Monday

09:00 – 17:00

Tuesday

09:00 – 17:00

Wednesday

09:00 – 17:00

Thursday

09:00 – 17:00

Friday

09:00 – 17:00

Saturday

09:00 – 13:00

Sunday

– Closed