Loans bad credit up to £1,000
In-page navigation
---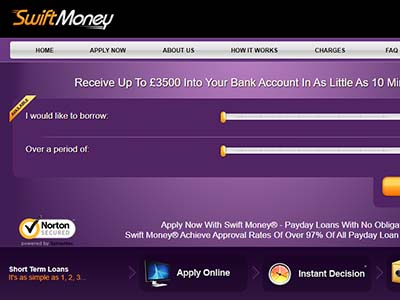 About Swift Money
We are an authorised credit broker in the UK that has been in operation since 2011.
We owe our success to transparency, efficient service, affordable rates and approval speed.
Why choose us?
One of our main objectives is to make sure we save you from all the inconvenience involved while searching and applying for a short-term loan with lenders. Our lenders and services adhere to the Financial Conduct Authority FCA laws and regulations also we follow the guidelines of Treating Customers Fairly (TCF).
Quick short-term loans
We offer you up to £1000 short-term loan with a 97% approval rating, our lenders trust us and our process, also making easy for them to trust you with their money. Also, we are a member of the BCCA.
Swift Money Services
Excellence on our online platforms is very intentional to the services that we offer you.
The swift development team have put in the work to create a user-friendly, secure and reliable website.
Reliable online tools
The following are features are important to make navigation on our website easy. Sliders, simple application form and visible labels to show how much is paid at the end of the short loan period.
Quick loan payouts
The traditional application of loans at banks and financial institution require customers to state what they will use the personal loan funds for, that is supposed to help the loan application. We don't when customers get the loan approved they use it for numerous thing. From rentals, medical expenses, car repair bills and so on. This services that we offer you is available 24/7; you can access the full features of our services at any time from anywhere.
Swift Money Product Details
Loan Type

Loans bad credit

Loan Amount

up to £1,000
Summary of Services
Bad Credit Loans
Quick Loans
Personal Loans
You'll feel safe with our friendly and secure user-experience
The Swift Process is simple.
The opportunities with us are incredible and the benefits are enormous but it all starts with the following steps
1. Fill the application form online
Our online platform is our online office allowing you to sit in the comfort of your home to apply for a payday loan. Fill the application forms online, they are all easy to access information that is required not vague or hazy. The information provided is very secure and the Data Protection Act we need to.
2. Forward your application
We forward your application to over 20 payday lenders in the UK; remember we are a broker, not a lender. So, once the lender gets your application a decision will be made with the information provided on the application, hence we advise you to put in the correct information in the forms to allow easy decision from lenders. Once decided on an email is sent through to you.
3. Receive the loan contract
On success, the loan agreement will be automatically redirected to you. Please read carefully and understand the agreement before going any further.
4. Faster payment service
Once the lender receives your signed bad credit loan agreement, your loan will be in the process of dispatch. And depending on the option chosen the cash could reflect within 10 minutes if the instant cash deposit box was ticked. Outside that instant cash in option, the maximum period for money to reflect after approval is 3 working days, on which the customer can access the funds.
Improve your credit
Educational items have been made available to teach you more on topics like improving your credits and how to avoid bad credits etc.
We have a dedicated customer care team; they are always ready to help answer any questions and queries. Live chats, phone calls and via email are the various ways you can contact us for more view our support page.
Perhaps you are have decided to use our services, please ensure you do the following:
Fill in the form correctly information required
Make sure you request an amount that you can be tailored into your income
Read the loan agreements well etc.
Remember it's as simple as apply online, instant decision and cash in the bank.
The swift benefits
We have benefits that show the well-tailored services we offer you, having in mind that customer's happiness is paramount to our vision, goals and mission. Here are some of the benefits…
Strict data protection
FCA authorised
No fees
Instant decision
Online application
Available 24/7
No-obligation application
Best interest rate
Customer Reviews & Testimonials
"
Early Approval regardless of my bad credit
Isabelle W
— York —
What an amazing customer service I receive from Swift. This lender knows how to serve customers
Ruby P
— London —
Swift Money Contact Details
Contact Number
E-Mail
Website
Physical Address
1-3 The Courtyard Calvin Street

Bolton

Lancashire

BL1 8PB

United Kingdom