Police Credit Union Limited
Updated
Credit union loans up to £25,000
Low-interest starting from 8%
Repayment up to 8 years
In-page navigation
---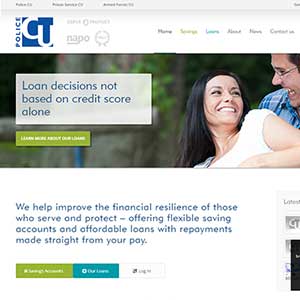 About Police Credit Union Limited
We help refine the monetary resilience of those who serve and protect-providing flexible saving accounts and affordable personal loans with paybacks made straight from your pay.
Our free employee benefit persuades members to prepare for the future with a flexible savings account which comes straight from their pay. Whether saving for a new car, a holiday, mortgage deposit or just a rainy day-we want to help you get there.
We have come a long way
We have been improving the monetary resilience of the Police, Prison Service and Armed forces since 2003. Police Credit Union is a not-for-profit monetary co-operative devoted to helping the police and law enforcement family- including serving and retired police officers/police staff and members of their households.
A growing credit union
We continued to grow in the early 2000s, as Merseyside Police Credit Union transferred engagements to Police Credit Union in 2003 and then by Northumbria Police Credit Union and Devon and Cornwall Constabulary in 2004.
Police Credit Union Limited Services
We aim to promote the monetary well-being of members by helping them to build up their savings.
Create sources of credit for the benefit of the members of the credit union at a reasonable and fair rate of interest.
Start saving today
We offer members advice on the wise use of capital and managing of their monetary affairs. Easy, secure monetary services to meet police and protectiveness services employees' needs, with easy access to regular savings facilities with a yearly dividend. Savings are made straight from pay were accessible and by direct debit in others.
Rewarder savings option
Each member must open a rewarder savings account.
Once a member you can then open additional accounts and apply for a loan if you are 18 years or older.
It is free to join and must save at least £10 per month.
You can withdraw your capital and change your savings deduction at any time.
Simple access to control your account online.
Receive a return on your savings in the form of a yearly dividend (1% paid in the financial year 2017-18)
Police Credit Union Limited Product Details
Loan Type

Credit union loans

Interest Rate

from 8%

Loan Amount

up to £25,000

Repayment

1 year to 8 years
Summary of Services
Free life cover
No hidden costs
No charges for early repayment
Financially and socially, our figures make sound sense
Credit Unions rules mean we intend to pay a dividend on savings once a year to all their members.
Members savings are kept within the common bond and the capital is lent to other members to help them in return for a realistic rate of interest charged. By law, a credit union cannot currently charge more than an APR of 42,6% but again, the rate we charge is normally far less than this. We have payday loans, short-term loans and personal loans to choose from.
The youngster savings account
The youngster account gives your children or grandchildren a good start financially, although, under credit union regulation, they must live in the same household as the main member.
You can open a youngster account with just £10.
Support saving from an early age.
Regular saving or occasional lump sums.
Once they reach the age of 18 they will have access to the full services provided by the credit union.
Cash individual savings account
The Cash ISA (individual savings account) provides members with the opportunity to benefit from a tax-free savings account. Unfortunately, this product is no longer available to new accounts.
Tax fee saving-perfect for the taxpayer, even outside the personal tax allowance.
Up to £15,240 per tax annum-savings of up to £15,240 per tax year.
At least 1,3%- projected rate return minimum of 1,3% for the tax year 2016/17
Life cover at no extra cost
Simple saving
Dividend calculated every day
Access to savings without penalty
Available to serving and retired police officers and police staff, armed forces, prison officers and probation officers.
1% dividend announced
We are delighted to announce that a dividend of 1% has been paid for Monetary Year 2017-18. This has been paid on all savings account other than the Cash ISA which will be paid at the end of the tax annum (6th April 2019). You can withdraw your dividend by using our member services page.
Customer Reviews & Testimonials
"
Police Credit Union is usually very easy to get a loan from if you need a loan fast
Holly N
— Birmingham —
Good rates, good service, good lenders. No complaints from my side
John D
— Birmingham —
They're a decent lender. I didn't experience any problems from them
Jacob A
— London —
Police Credit Union Limited Contact Details
Contact Number
E-Mail
Website
Physical Address
Guardians House, 2111 Coventry Rd

Birmingham

England

B26 3EA, UK

United Kingdom
Opening Hours
Monday

09:00 – 16:30

Tuesday

09:00 – 16:30

Wednesday

09:00 – 16:30

Thursday

09:00 – 16:30

Friday

09:00 – 16:30

Saturday

– Closed

Sunday

– Closed