Debt consolidation loans up to £15,000
Low-interest starting from 71.3%
Repayment up to 60 months
In-page navigation
---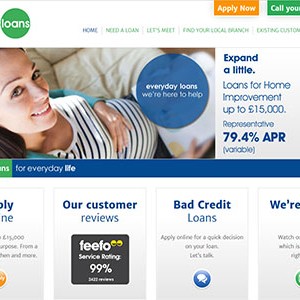 About Everyday Loans
Borrowing money should be simple and straightforward. If this is what you're looking for, then you need an Everyday Loans loan.
We are a UK based personal loan direct lender with a focus on bad credit and poor credit loans. We are 100% committed to delivering a professional and responsible service.
The debt problem
In an age where rising costs have become a thing of the norm, many people are feeling the pinch and if you add outstanding debt on top of that, meeting every financial obligation can be a very heavy burden. One solution to this problem is a debt consolidation loan.
If you are finding it difficult to stay on top of your debt, this is a great option because it allows you to simplify your finances.
What is a debt consolidation loan?
A debt consolidation loan makes it possible for you to take all of your existing debt and put it into a single loan. Merging your debts into a single loan means you'll only have to worry about meeting one repayment a month, making it easier for you to manage your money and plan your finances better.
Everyday Loans Services
We offer loans to help you consolidate your debt because we want to help you when you really need it the most.
Think of us as a helping hand that you can always count on. So let us help you. Forget the strenuous process often demanded by other financial institutions like banks, applying to us is as simple and hassle-free as possible.
How much do you need?
Quickly complete our short application form, get a decision within minutes and then visit your local branch to complete your loan face-to-face. Furthermore, because we are a direct lender and not a broker, we will never ask you to pay us to look at your application. Our personal loans range from £1,000- £15,000 over a period of 18 to 60 months.
Get a decision in minutes
Your time is valuable to us; we don't do long waiting periods. Therefore, in just a few minutes, we'll give you a conditional decision on your application.
Getting a quote from us will have zero impact on your credit score. Because we use soft search technology, even if your application is unsuccessful, it won't be recorded on your credit profile.
Everyday Loans Product Details
Loan Type

Debt consolidation loans

Interest Rate

from 71.3%

Loan Amount

up to £15,000

Repayment

18 months to 60 months
Summary of Services
Quick decision
No fees charged
Easy application form
We have your best interests at heart
As long as you are over 18, a resident in the UK and you can afford the repayments, you are eligible to apply for a loan.
We are proud to say that we offer fast loans to just about everyone, even individuals who might have previously had bad credit can still apply. We have a qualified customer service team who are specialists in helping individuals with bad credit scores. We understand your challenges and are here to assist you.
You are more than just another credit score
At Everyday Loans, we look at where you are now as opposed to just focusing on your history. We believe that your credit future is just as important, that's why even if you have bad credit or your history is not the best, don't lose hope and get in touch with us because there is a chance that we can assist you. We understand that being human means that you're not perfect, so we don't expect you to be.
Great customer service
We have built a strong reputation amongst our customers founded on flexibility, friendliness as well as transparency. With a 4.9 out of 5 customer experience rating, the numbers truly speak for themselves.
You are an individual
Every customer's application is assessed on a case-by-case basis. This allows us to be more flexible in analysing your application, taking into consideration the various factors that make up your personal circumstances.
All of this is used to assist us in deciding how much we can offer to lend you, should your application be successful. We are responsible lenders; therefore we will only lend you what you can afford to pay back comfortably.
Customer Reviews & Testimonials
"
There was very little waiting time and I had the loan money sooner than I thought I would
Anderson F
— York —
They helped me pay off all my debts and it was easy to pay off the loan as well
Michael B
— London —
Everyday Loans Contact Details
Contact Number
E-Mail
Website
Physical Address
Ground Floor, 35 Livery St

Birmingham

England

B3 2PB

United Kingdom
Opening Hours
Monday

10:00 – 18:00

Tuesday

10:00 – 18:00

Wednesday

10:00 – 18:00

Thursday

10:00 – 18:00

Friday

10:00 – 18:00

Saturday

10:00 – 12:00

Sunday

– Closed