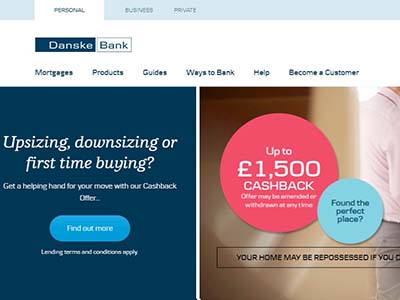 About Danske
Danske Bank helping our people, and businesses to make their ambitions realities for more than 200 years!
We're one of the biggest most well-known banks in Northern Ireland. With that being said, Danske is an innovative, experienced services provider with expertise that most providers don't come close to.
Danske personal loans
It really isn't much, we try not to overwhelm our customers with too much information, as we know how this can cause confusion, hesitation, and ultimately stress. The fixed-rate personal loan is a personal loan with fixed rates, thus interest will always be fixed! No matter what, it will stay the same until the end of the agreed term.
Flexible loan repayments
Danske can provide loans ranging from £1000 to £25 000! Now we know this can definitely make life a whole lot easier for many people out there. These loans can then be paid off over term periods of 1- 7 years, giving the customer full control all the time. What can be better than being in full control of your own finances? We like to give our customers that kind of independence.
Danske Services
Danske is a straight-shooting services provider; we don't waste time so we give you the information you'll need so that you can have the peace of mind you deserve.
It's actually quite simple; the loan terms are easy to understand we don't have all kinds of hidden tricks. We don't like to beat around the bush, and if you have anything that is not clear we have a wonderful team of loan consultants.
Easy online functions
We offer customers a chance to get an online quotation; it's an easy-to-use function that can be used as the perfect guideline! This will help you get a better idea of what you can expect in terms of your personal loan or business loan. The online application once again is simple and will take only a few minutes to complete. This is very convenient and not time-consuming.
We serve the community
With being a part of the community for such a long time we find it of high importance to give back, by contributing to the wider society that we serve so happily, and also the local communities that we've become a part of.
Summary of Services
Mortgages
Personal Loans
Credit Cards
Get a quick and affordablepersonal loan with Danske today
Our vision is to make more possibilities for our customers, and businesses.
The loan process
In order to do an application, you would have to be 18 years or older. Terms and conditions will apply -the loan you are offered will be based on your personal financial circumstances and affordability. You would not be able to purchase property with a fixed rate personal loan. We welcome single as well as joint applications, so if you and your partner want to do this together you are more than welcome to join us.
We don't put all of the focus on loans
We know that we have to look at the bigger picture too. We've done a lot of research, and we've realised that there are so many people who don't get the financial assistance they need because providers lack the products. We used this as an opportunity of course. We used this information to help you with a debt consolidation loan.
We have a variety of options for you
We offer banking options so that everyday banking can be a breeze. Mortgages for those who want to start their own lives. Credit card options, for that little bit extra! We offer saving options and assistance because we know how difficult this can be. Danske now also have insurance options to help you when the unexpected happens. So join today, save time, save money. We also have special offers for existing Danske customers, if you are a Freedom, Choice Plus, or Prestige member you will get 0.5% discount because you deserve to be treated. We don't charge you any arrangement fees either.
Customer Reviews & Testimonials
"
It left a lasting impression to me.
Jane H
— London —
Danske is now my go to place for all money problems.
Marion B
— Manchester —
I was waist deep in problems and now everything is as neat as it could be – all because I decided to apply here!
Becca H
— London —
Seeking their services was worth it!
Julia S
— Bristol —
Danske Contact Details
Contact Number
E-Mail
Website
Physical Address
75 King William St,

London

England

EC4N 7DT

United Kingdom
Opening Hours
Monday

09:00 – 17:00

Tuesday

09:00 – 17:00

Wednesday

09:00 – 17:00

Thursday

09:00 – 17:00

Friday

09:00 – 17:00

Saturday

– Closed

Sunday

– Closed