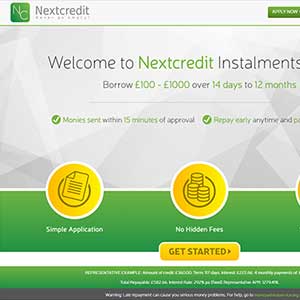 About Next Credit
Next Credit has you sorted for your next short-term loan.
Next Credit is a UK based direct lender offering fast and easy short-term loans through a customer-friendly online platform. We provide loans to ordinary people like you so that you can access the funds you need when you need it.
Why Next Credit?
When one is in need of a loan, the bank is usually the first thing that pops into mind. But there's just one problem: the thing with banks is that they aren't really suited for the emergency that you're facing. With their hefty processes and long ques and even longer waiting periods, you really can't rely on them when you are dealing with a pressing setback that needs to be resolved now. This is why we're a better option for your short-term urgent borrowing needs.
Our service is tailored to suit your needs
You choose the amount you would like to borrow. You choose over how many instalments you want to pay it back. Come to us for flexible fast loans, because the quicker you can get the funds you need, the quicker you'll be able to sort out whatever needs to be sorted out. We simply make it happen.
Next Credit Services
When it comes to our customers, we have a standard to uphold and we never compromise on this.
As a result, this has earned us a lot of great reviews from our customers who are more than happy to vouch for us.
Expert loan advice
You are the backbone of our company and so our goal is to guarantee that you experience the absolute best customer service, and our team carries out this task with dedication and commitment. We work hard to provide you with a pleasant borrowing experience throughout your journey with us.
Get cash quickly
You can still apply for a loan if you have bad credit. As soon as you are approved, we'll send you your funds via the Faster Payment service and you can receive the money in your account in just 15 minutes- we weren't lying when we said we're fast! However, if your bank doesn't support this service, it could take a little longer before the money reaches your account.
Next Credit Product Details
Loan Type

Short-term loans
Summary of Services
Short-Term Loan
Personal Loans
At Next Credit we will help you get a quick short-term loan
Applying is simple and straightforward, allowing you to get through it with ease.
You'll first need to let us know how much you want to borrow and over how long, then you will need to fill in our short application form. Once done, sit back and let us do the rest of the work. We'll assess your online loan application and perform all the necessary checks to help us determine whether you can afford the loan or not.
Repay early whenever you wish
You have the option to repay your loan in full at any time with no penalty fees, saving you money as you will have less interest to pay. Simply log into your account and click on the make a payment button. Otherwise, you can call us and pay by card over the phone or make a direct payment into our bank account.
If you think you won't be able to make your payment on the due date, contact us immediately so we can help you with a way forward. We understand that circumstances may change and you may not have control over it, so let us help you find a solution.
Changed your mind?
You can choose to withdraw from the agreement if you wish without reason, provided that it is done within a certain period.
Who qualifies for a Nextcredit short-term loan?
To qualify for our loan, you firstly need to be a UK citizen and be permanently employed – if you are self-employed, that's fine as well. You also need to have an active UK bank account and a valid debit card.
So the next time you need a short-term loan, look no further than Next Credit.
Customer Reviews & Testimonials
"
Mr Lender helped me when I had no one to turn to. Their swift response was amazing I got the money in a day
Matthew H
— Perth —
There was no way I was going to miss my son's graduate. I needed cash urgently. Thank you Next Credit for saving me
Sophie J
— Glasgow —
Fast and efficient service. I appreciate them for that
Thomas F
— Edinburgh —
Next Credit Contact Details
Contact Number
E-Mail
Website
Physical Address
10, Basepoint Business Centre, Oakfield Close, Tewkesbury Business Park,

Tewkesbury

England

GL20 8SD

United Kingdom
Opening Hours
Monday

08:00 – 17:00

Tuesday

08:00 – 17:00

Wednesday

08:00 – 17:00

Thursday

08:00 – 17:00

Friday

08:00 – 17:00

Saturday

– Closed

Sunday

– Closed