Short-term loans up to £1,000
Low-interest starting from 299.3%
Repayment up to 52 weeks
In-page navigation
---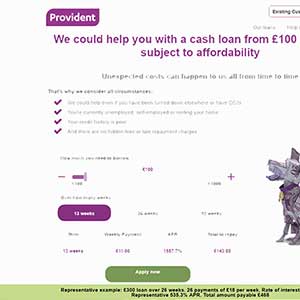 About Provident
At Provident we lend a hand when you really need it
Whether it be your geyser bursting, your laptop crashing or a medical bill, every once in awhile, we're all hit with an unexpected expense that needs urgent attention. When this happens, getting a Provident short-term loan can help you steady the ship until your next paycheque arrives.
Experience you can trust
We've been in the business for a long time- since 1880 to be exact. And after all these years, the British public is still putting their trust in us for their short-term loan needs. Why? Because we understand the people we serve, you can even apply for a loan if you have a bad credit score. We understand your needs and know how to help you meet them. After all, we've had years of practice!
Loans designed to suit you
The saying goes that no two people are the same. Well, we take this to heart in how we look at the individual, not the number. You have your own unique circumstances and therefore need a product that will best suit whatever your needs may be. We offer such flexible quick loans which allow you the space to customise them to your needs.
Provident Services
We understand that when you are dealing with something as stressful as a financial emergency, it helps to have a team that can offer you support when you could really use it.
Fortunately, we're that team for you. Simply get in touch and let our friendly, understanding and professional team help you get the loan you need to get yourself back on track.
A personalised service
We believe in that good old fashioned face-to-face customer interaction to offer you a more personal service. Talking to someone face-to-face gives you that extra peace of mind and affords you the chance to discuss anything about your loan you need help or clarity with in greater detail. In this way, we are able to provide you with a truly personal service.
No hidden fees to worry about
We're 100% upfront with you and believe that you should always know everything there is to know about your loan. With us, no information is kept from you, including that of fees. Before you make any commitments, we'll clearly outline the total cost of your quick loan so that you can make an informed decision that you can be completely confident in. No hidden costs; no surprises.
Provident Product Details
Loan Type

Short-term loans

Interest Rate

299.3 – 1557.7% p/a

Loan Amount

up to £1,000

Repayment

13 weeks to 52 weeks
Summary of Services
Short-term Loans
Personal Loans
Car Loans
We want you to benefit from our service
The reason why we want to make sure that you can afford a loan from us is because we don't want you to bite off more than you can chew. We want you to benefit from our loan, not to be left in a bigger financial hole than before.
Repayments made easy
We will come to you each week to collect your repayments, so you don't even have to lift a finger. These weekly visits will also make it possible for you to ask any questions that you might have.
Start your application process online or by calling us and within minutes you will receive an initial decision. The next step will then be to visit you in your home so that we can start the next phase of the process – assessing your affordability. This will be done by one of our friendly locally based team members and once complete, we'll let you know if you've been approved or not. If you are approved, the money will be delivered straight to your door. You can apply for fast loans, personal loans and even car loans.
How much can you borrow?
You can borrow from £100 - £1000. The nice thing about our loan is that you can decide over how many weeks you want to pay it off. So depending on what's comfortable and manageable for you, you can repay over 13, 26 or 52 weeks.
Is a short-term loan for you?
As the name suggests, a short-term loan is a loan taken out over a short period of time, usually repaid in less than a year. Therefore, if you are looking for a loan that will assist you with long-term financial difficulties, a short-term loan isn't what you need. Short-term loans are an expensive solution, which is why you have to be certain that you can afford one before you apply.
Customer Reviews & Testimonials
"
I was able to pay for my son's medical fees. Thank you for offering me medical loans
Thomas H
— Brighton —
New Horizon charges low interest rates which is why I have become their regular customer
Joshua P
— London —
Provident Contact Details
Contact Number
E-Mail
Website
Physical Address
Sefton House, Bridle Rd

Bootle

England

L30 4XS

United Kingdom