Loans bad credit up to £10,000
Low-interest starting from 41.16%
Repayment up to 60 months
In-page navigation
---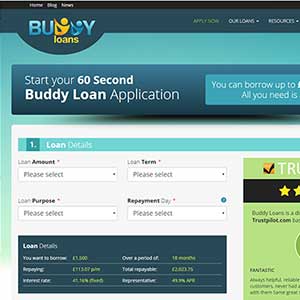 About Buddy Loans
Life is difficult which is why it is important to have friends to get you through the tough times.
With Buddy Loans that is exactly what we aspire to do – at Buddy Loans we will be the friend that helps you to get the loan you deserve without the judgment that some other lenders pass.
Sixty seconds can change your life
It only takes sixty seconds to complete our Buddy Loan application. The application is simple and easy to complete with no hidden clauses or catches – we are trustworthy and will not try to catch you out. After your application has been completed, and we have spoken to you and your buddy, you can have the money in your account within 24 hours! We understand how it feels to struggle through tedious applications just to get denied because of no credit record or a bad credit record.
The benefits of being a Buddy
At Buddy Loans we grant loans by looking at your ability to repay the loan and not based on your credit record. Guarantor loans can enable you to improve your credit score or start a credit history in your own name. At Buddy Loans our application process is fast and easy often allowing you to obtain your money the same day.
Buddy Loans Services
A Buddy Loan enables you to get a personal loan from £1000 to £10 000 with the help of a guarantor.
You can choose the duration you are comfortable with paying the loan back at starting from twelve months to sixty months.
Bad credit loans for long term solutions
Just because you do not meet traditional criteria does not mean you should be disqualified for a loan. If you are able to afford a loan and your guarantor gives us the go then we will approve your loan! Buddy Loans also have lower interest rates than other bad credit loan options like payday loans because of our flexible payment duration and loan amount. With Buddy Loans it is also not necessary for you or your guarantor to own any property in order to get the loan.
Debt consolidation made easy
Dealing with debt is difficult enough but with a debt consolidation loan, your life can be made easier! Would you like to make one payment for all your accounts each month? We sure would! Consolidating is a good way to reduce monthly payments and also lower interest paid meaning more money in your savings.
Buddy Loans Product Details
Loan Type

Loans bad credit

Interest Rate

from 41.16%

Loan Amount

up to £10,000

Repayment

12 months to 60 months
Summary of Services
Speedy approval
Monthly payments are affordable
No fees for early repayment
Buddy Loans is your friend during tough times
Buying your first car is always a treasured moment in everyone's lives as it provides you with freedom and independence.
Unfortunately, cars can be costly and saving up to buy even a second-hand vehicle can take years while, in the meantime, you are forced to contend with the issues surrounding public transport or relying on others.
Quick car loans
With Buddy Loans you can apply for a car loan in which you can receive your vehicle immediately and pay it off monthly eliminating any unnecessary stress.
A friend in need is our deed
When your car breaks down or you need some help with your wedding you call a friend or someone you can trust. At Buddy Loans we aspire to be that friend that can lend a helping hand.
We offer vehicle finance and wedding guarantor loans to help reduce the stress from everyday problems so that you can focus on the happy moments in your life without any concerns.
Need help financing your big day?
Planning a wedding is no slice of cake and with the increasing cost of things today it can be quite a nightmare. Saving money for the special day can be frustrating so you shouldn't have to! With Buddy Loans we offer wedding loans to help you make your dream day a reality. Simply get a guarantor to sign and you can get planning!
Customer Reviews & Testimonials
"
Friendly and well trained employees-
Jack B
— Leeds —
The advisor who was helping me was friendly and open
Sophie J
— London —
I was very happy with how they kept me in the loop through their tracking application
Ivy M
— Oxford —
Though I had bad credit I was able to get a loan and paid for my children's fees. Thanks to Buddy Loans
Jessica G
— Bristol —
Buddy Loans Contact Details
Contact Number
E-Mail
Website
Physical Address
Alexandra Court Carrs Road

Cheadle

Cheshire

United Kingdom
Opening Hours
Monday

09:00 – 17:00

Tuesday

09:00 – 17:00

Wednesday

09:00 – 17:00

Thursday

09:00 – 17:00

Friday

09:00 – 16:00

Saturday

09:00 – 13:00

Sunday

– Closed