Loans bad credit up to £35,000
Low-interest starting from 47.8%
Repayment up to 84 months
In-page navigation
---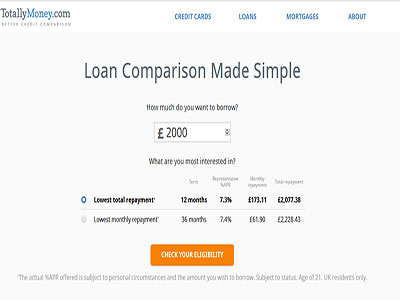 About Totally Money
Everything costs money, it seems that we can never have enough of it to satisfy our needs and those of our families.
Apply for a loan with Totally Money and we can help you overcome the financial speed bumps by finding the perfect lender for you so that you can spend your cash on what makes you happy.
Why you should totally let us help you
Totally Money is a loans broker founded in 2009. We have since proven that our competitive technology, strategic partnerships, and expertise are more than sufficient to assist millions of customers, no matter their credit standing, to find the financial products that best suit their needs and improve their bad credit score at the same time.
Use our online tools
Our nifty tools allow customers to compare loans from over forty registered and trusted lenders without harming their credit score. In this way, we are saving people time and money and this is only the beginning.
Totally Money Services
We totally understand the struggles that come with searching for a lender that you can trust.
This is why we have eliminated this aspect for you entirely. At Totally Money, you give us the details and we will find you a match at no charge. It is that simple!
Getting a guarantor to get a loan
Depending on your needs and financial circumstances, we can find you an assortment of personal loans ranging from £500 to £25,000 payable over a term of twelve months to seven years at competitive and fair interest rates. With a guarantor loan, you are able to get a loan with the help of a friend or family member that acts as security for your loan.
The debt consolidation solution
A debt consolidation loan is perfect if you are juggling multiple debts. Each of these debts is accumulating their own interest which is wasting your money. What a debt consolidation loan allows is for you to pay off all that debt and then only pay back the loan taken out. This way you are only paying one debt and accumulating interest on one loan only.
Totally Money Product Details
Loan Type

Loans bad credit

Interest Rate

from 47.8%

Loan Amount

up to £35,000

Repayment

12 months to 84 months
Summary of Services
Loan comparison
Instant response on loan application
Having a bad credit is not a problem
At Totally Money we totally make it our mission to find the right loan for you
If guarantor loans or debt consolidation is not your ideal solution then we totally have more options for you!
If you would like to handle smaller amounts of debt you need access to short-term loans. Examples of such products include balance transfer cards and credit cards.
How can I improve my bad credit score?
If you have a poor credit history and have been previously rejected for a loan at a bank or similar financial institution, then we can help you by reviewing lenders who offer specialized products for individuals with less than perfect credit scores.
If approved for a loan or credit card and you are able to meet all your monthly repayments without fault then you can place yourself in a better position than before as the lender will see that you are creditworthy. This will make it easier for you to obtain credit in the future.
Balance transfer – making debt easy for you
Balance transfer cards are an excellent alternative to debt consolidation. These cards offer a 0% interest introductory offer in which you are able to transfer your current debt amounts on the card without accumulating any interest. This gives you a chance to pay off your debt while taking advantage of the 0% interest offer.
Credit cards for smaller purchases
Poor-credit credit cards are a good option for people with poor or non-existent credit. They are an excellent way to build up credit if you pay off the balance every month. This is why it is important not to spend more than what you can afford to pay back or else you could put yourself in a worse credit position than before.
Customer Reviews & Testimonials
"
I was impressed about the fast application. I completed everything in an hour
Daniel S
— London —
The best decision I have made was choosing Totally Money to be my lender
Charlotte P
— Liverpool —
Efficient and quick service
Alice J
— London —
Friendly and well trained employees
Thomas P
— Oxford —
Totally Money Contact Details
Contact Number
E-Mail
Website
Physical Address
Churchill House

London

England

EC1V 9BW

United Kingdom
Opening Hours
Monday

09:00 – 17:00

Tuesday

09:00 – 17:00

Wednesday

09:00 – 17:00

Thursday

09:00 – 17:00

Friday

09:00 – 17:00

Saturday

– Closed

Sunday

– Closed