Loans bad credit up to £100,000
Instant loan decision
Repayment up to 30 years
In-page navigation
---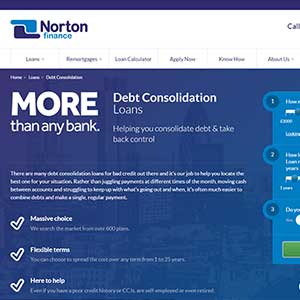 About Norton Finance
Finding a lender has never been easier than with Norton Finance.
With over forty years experience in the loan solutions game, Norton has provided thousands of clients with loans even if their credit record is not up to scratch.
Why Norton is the best choice for you
Norton believes that everyone should have access to a fair and affordable loan. This is why we lend to customers who are retired, self-employed or have a poor credit history. This is where most broker relationships end but not with Norton: after the loan has been signed we offer our customers advice and guidance for the full duration of the loan. We have also received the Gold Trusted Service Award for our high level of customer service.
Improve your credit rating
One of the easiest ways to improve your bad credit score is by lending money from a bad credit lender. If you are able to pay back your bad credit loan without missing any payments, then the lender will report you as being creditworthy thus improving your credit score. However, this does not mean that you should borrow irresponsibly.
Norton Finance Services
Getting a loan with a poor credit rating can be more challenging but it isn't impossible.
Norton knows the best lenders that offer personal loans to customers with less-than-perfect credit scores and we will find one that suits you best.
Secure your finances with a secure loan
A secured loan will allow you to borrow more money at better rates than an unsecured loan which makes them a popular choice. A secured loan is secured against an asset such as your home. However, if you are unable to meet your repayments then the lender has the right to sell your home in order to get their money. This is why it is important to not borrow more than you can afford.
Where do I sign up?
Applying for a loan with Norton has never been simpler. Simply complete our online application or contact our customer care team for a step-by-step completion process. All you need to do is provide proof of address, identity, employment details, and financial details and you will be on your way. If you apply online we can give you a decision within 24 hours of applying. Our customer support managers will keep you well informed throughout the process and will aim to get the money paid into your account as soon as possible.
Norton Finance Product Details
Loan Type

Loans bad credit

Loan Amount

up to £100,000

Repayment

12 months to 30 years
Summary of Services
Loans for people with bad credit
Debt consolidation loans
Paying loan on agreed time will help improve credit score
Whatever you need finance for, Norton has the answer for you
Norton is a broker meaning that we operate similar to a loan comparison site.
You tell us what your needs are and we will find the best possible loan for you. Whether you need a debt consolidation loan, assistance with home improvement or any other large purchases, Norton is here for you.
The loan amounts
With Norton, you can apply for up to £500,000 payable over a maximum period of 25 years at fair interest rates. The amount of money that you can borrow will depend on your financial circumstances.
It is time to put in that swimming pool
Improving your home can be a costly business but we have got you covered. Not only does improving your home make your living space more comfortable for you, but it also increases your property value! Before taking out a home loan it is important to receive accurate quotations to ensure you have loaned enough money to pay for the entire job. With Norton, we can provide you with access to a maximum of £500,000 in home improvement loans.
Debt consolidation is easy with Norton
Instead of attempting to juggle different payments at different due dates or moving cash between various accounts, it is time to consider getting a debt consolidation loan. This allows you to combine your debts and make a single monthly payment. This way you have more control over the overall interest payable on the amounts borrowed.
Customer Reviews & Testimonials
"
The consultant was very effective and efficient and explained the process very well
Emmelly H
— London —
Great service pleasure to dealt with
Rosie C
— Bath —
Affordable and reasonable loans
Lola J
— Dundee —
Norton Finance Contact Details
Contact Number
E-Mail
Website
Physical Address
Norton Finance, Norton House, Mansfield Road

Rotherham

South Yorkshire

S60 2DR

United Kingdom
Opening Hours
Monday

09:00 – 20:00

Tuesday

09:00 – 20:00

Wednesday

09:00 – 20:00

Thursday

09:00 – 20:00

Friday

09:00 – 20:00

Saturday

– Closed

Sunday

– Closed