Progressive Money
Updated
Loans bad credit up to £15,000
Low-interest starting from 61.91%
Repayment up to 120 months
In-page navigation
---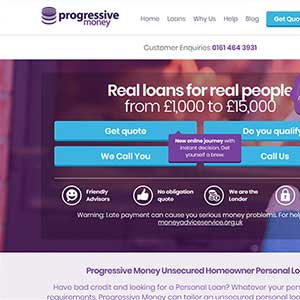 About Progressive Money
Are you ready to take matters to the next level? With Progressive Money, we are all about assisting our customers to progress and move forward in their lives.
No matter what your current financial situation is, Progressive Money is happy to announce that we take pride in helping any and all of our customers to achieve their dreams.
We take pride in being unique
Progressive Money is different from traditional lenders and brokers in that we are both! Yes, we are both a lender and a broker. We make it our priority to help our customers no matter what. Which is why if we are unable to provide you with a loan, we will forward your application to other trusted lenders with your permission.
The online applications are simple
Simply complete our online application and our team will crunch the numbers and get back to you. At Progressive, you are more than a bad credit score and we will find out why you are in the situation you find yourself in before making a final decision – that is what we call intelligent lending.
Progressive Money Services
We offer a wide variety of unsecured personal loans that can be used just as your heart desires.
We do not discriminate based on the credit record and offer access to bad credit loans. With us, you can borrow up to £15,000 payable over a flexible borrowing period to suit your needs.
Bad credit? No problem!
We understand that difficult situations can sneak up on you and these can have adverse effects on your credit score even if you have had a perfect credit record all your life. This is why Progressive Money does not fully rely on a computer screen to make our choices for us – we want to hear from our customers to provide them with the best borrowing options possible.
Our bad credit loan options
We offer a wide variety of bad credit loan options including no personal loans and debt consolidation loans. Contact us to find out which option is best for you and your circumstances.
Progressive Money Product Details
Loan Type

Loans bad credit

Interest Rate

61.91 – 76.73% p/a

Loan Amount

up to £15,000

Repayment

24 months to 120 months

Decision

24 hours
Summary of Services
Safe and secure online application
A quote free from obligation
Advisors are friendly
With our unique bad credit loans you are our priority
Saving for a specific purpose can be a schlep because other matters always seem to get in the way.
Consider taking out a personal loan to make these dreams a reality? With a little assistance towards your progress, you can have that perfect wedding or well-deserved Christmas vacation.
Who can apply for a loan?
At Progressive Money, we only provide loans to applicants who are homeowners. This does not mean that we cannot help you – as stated above if we are unable to provide you with a loan we can help you find a lender who can. You also have to be between the ages of eighteen and seventy living in England, Scotland or Wales.
You also have to earn a minimum of £800 per month to qualify. When applying you will be asked to provide proof of identity, income, bank statements, and proof that you are a homeowner; if you meet all of the above criteria then we can get the ball on the roll.
No-guarantor loans allow you to get cash easily
Usually, when people have bad credit, they are under the impression that they only have access to loan options such as guarantor loans but that is not the truth. With us, you can obtain a quick loan without a guarantor for values up to £15,000 payable over eighteen months to ten years. A guarantor is an individual who co-signs a loan promising to meet repayments on behalf of the borrower should they find themselves incapable of doing so.
Low-interest rates
While guarantor loans do have lower interest rates than no-guarantor loans, they do allow the customer to get a loan without the assistance of a third party. If you are able to make all repayments without any problems then you can improve your credit score and place yourself in a better financial position than before.
Its the season to be jolly
Do you want to do something special with the family this year for Christmas? If you are tired of the normal family feast why not plan something a bit more extravagant? With us, you can apply for a Christmas loan and plan the perfect family extravaganza or perhaps a family vacation? Whatever the occasion, we can help you to finance it.
The wedding bells are ringing
A wedding is one of the most important days of one's life but it is also one of the most expensive. Whether you want a simple, intimate ceremony or an all-out celebration, you will need to save money for the big day. With us, you can finance your big day from dress to caterers to the venue with a simple few clicks giving you more time to decide on the important things like the flavour of the cake.
Customer Reviews & Testimonials
"
As a self-employed person. I have been refused loans by different lenders. But progressive made my life easier when they offered me a loan-
Amber G
— York —
I renovated my mother's home with the loan I received from the progressive Money
Thomas P
— Brighton —
Progressive Money Contact Details
Contact Number
E-Mail
Website
Physical Address
9 Portland St

Manchester

England

M1 3BE

United Kingdom
Opening Hours
Monday

09:00 – 20:00

Tuesday

09:00 – 20:00

Wednesday

09:00 – 20:00

Thursday

09:00 – 20:00

Friday

09:00 – 20:00

Saturday

09:00 – 20:00

Sunday

– Closed