City Save Credit Union
Updated
Credit union loans up to £10,000
Low-interest starting from 12.7%
Repayment up to 60 months
In-page navigation
---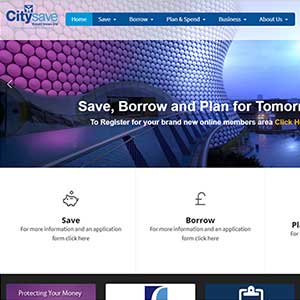 About City Save Credit Union
Planning for your financial future has never been simpler than with City Save. At City Save, we make your financial wellbeing our top priority.
We offer a variety of financial products and services to secure your financial future. Whether you are looking for a smart way to save or need to borrow some additional money via an online loan, City Save has an option for you.
Why you should join City Save today
At City Save, we are proud to serve our community. We do not have a set of shareholders that we have to pay a return to so all the money we make is pushed right back into the community of Birmingham. We are a credit union run by the local community and for the benefit of that community alone.
What makes City Save different from a bank?
City Save was established in 1988 to provide easy access and borrowing for its members and today provides savings and personal loans to over 10,000 members. We are different from banks in that we are a members' benefit financial co-operative owned and controlled by its members. All surplus profits are returned to our members in the form of a dividend. This means that our members help one another.
City Save Credit Union Services
City Save offers a variety of financial products and services to our members.
We offer multiple savings options, even for children, as well as various loan options for different situations.
Payroll personal loans versus personal loans
If you are a currently a member and also work for one of our registered payroll partners then you qualify for a payroll loan.A payroll loan enables you access to loan amounts ranging from £500 to £10,000 payable over a period of one to five years.
However, if you do not work at one of our registered payroll partners then you only have access to short-term loan amounts up to £7,500. Amounts over £5000 will only be granted to homeowners. Your interest rate will depend on the amount borrowed as well as your current financial circumstances.
Am I eligible to become a member of City Save?
Individuals working in the Warwick local authority or living in Warwick housing are also eligible to apply. If you are currently not a member but would like to apply for a loan, you can apply for membership and a loan up to the value of £3000.
City Save Credit Union Product Details
Loan Type

Credit union loans

Interest Rate

12.7 – 34.5% p/a

Loan Amount

up to £10,000

Repayment

12 months to 60 months
Summary of Services
Affordable rates
No charges for early payment
All costs are not hidden
We will help you save at City Save Credit Union
Saving money does not have to be a difficult undertaking – with City Save Credit Union you can place your money in a secured savings account and have the ability to earn dividends at the same time.
We also offer savings accounts for children to encourage good financial management practices from a young age.
Get affordable loans
With us, members have access to a fair and reasonable source of credit while promoting the welfare of their own community. With us you are not just another customer – you are a member of something bigger and better.
Saving with City Save
A City Save savings account is only provided to registered members and gives you access to a variety of benefits.
Being a member allows you to contribute to the success and development of the Birmingham community which also means that you can reap the fruit of success in the form of annual dividends. You also have the option to subdivide your savings account in order to save for various occasions, e.g.: holiday savings and regular savings.
Smart savings for junior's future
Junior savings accounts can be opened on the behalf of your child from birth up until they are sixteen years of age. Once your child has reached sixteen, ownership of the account will be transferred over to them to manage on their own. Payments and withdrawals from the account can be made via the account of the parent making it easy to manage. When the child reaches age the account will become a normal membership account.
The parent can continue to deposit money into the account but can no longer withdraw from it. This is a good way to teach your children the value of money and how to correctly manage it.
Customer Reviews & Testimonials
"
City Save gave me the best rate when I was loan shopping
Brendan J
— Bristol —
Great customer service. Keep it up!
Henry F
— Brighton —
City Save Credit Union Contact Details
Contact Number
E-Mail
Website
Physical Address
the colmore building, 20 Colmore Circus Queensway

Birmingham

England

B4 6AT

United Kingdom
---
Postal Address
Citysave Credit Union Ltd PO Box 17038 , Birmingham, B2 2BQ, United Kingdom
Opening Hours
Monday

09:00 – 17:00

Tuesday

09:00 – 17:00

Wednesday

09:00 – 17:00

Thursday

10:00 – 17:00

Friday

09:00 – 17:00

Saturday

– Closed

Sunday

– Closed