Capital Credit Union
Updated
Credit union loans up to £20,000
Low-interest starting from 3.9%
Repayment up to 60 months
In-page navigation
---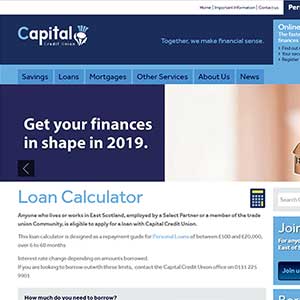 About Capital Credit Union
Are you looking to borrow money from an institution that understands what you need and how you feel?
Look no further than Capital Credit Union! We aren't just another financial institution; we are a collective of people like you run by people like you. Applying to be a member is easy, fast and comes along with a bunch of benefits for you.Join the family today.
What is the Capital Credit Union?
At Capital Credit Union we aim to help you get your finances back into shape. We are here to make a difference in the lives of our members. We were established in 1989 and are now one of the largest credit unions in the UK with almost 23,000 members.
How do credit unions operate?
A credit union is a financial co-operative meaning that all members of the union have to share a common bond, e.g.: working for the same employer. The members of the credit union also own the credit union in that a credit union is run democratically and can influence both the running and policies in the organization.
Members deposit their savings into the credit union and this pool of savings is used to offer long and short-term loans to members. The interest charged is the main income and money is returned to members in the form of a dividend.
Capital Credit Union Services
At Credit Union, we offer a variety of financial services and products to our members including mortgages, fast loans, and savings options.
No matter what your financial needs are, you can trust us to help you out. After all, families look out for one another.
Getting personal with personal loans
Getting a loan can be a problem with traditional lenders and mainstream financial institutions but with us, we welcome all our members to apply. Whether you need a loan for something small like a new refrigerator or something larger like refurbishing the bathroom – we have an option for you.
Our personal loan options start at £500 up to £20,000 and are payable over periods from six months to five years. We offer fair and affordable interest rates based on the amount of money you borrow and the borrowing period.
Joint loans for joint decisions
With a joint loan, you can also borrow up to £20,000 from our credit union. You will not incur any start-up fees or early repayment fees of any kind with a joint loan. With a joint loan, both parties agree to pay off the full debt even if one of the parties is not able to do so.
Capital Credit Union Product Details
Loan Type

Credit union loans

Interest Rate

from 3.9%

Loan Amount

up to £20,000

Repayment

6 months to 60 months
Summary of Services
No penalty fees for early payment
No hidden charges
Repayment terms are flexible
At the Capital Credit Union we are all about savings
We all need somewhere safe to keep our money for those special occasions. It is important to start saving as early as possible to secure your financial future.
We also offer financial savings options for children under the age of sixteen.
A savings account for junior
It is never too early to start saving. Children under the age of sixteen can join as junior members and open a junior savings account.
This is an excellent way to encourage children to learn about the value of money and to develop their financial skills to use in their future. This also allows children to actively save for their own futures.
We have many loan options
We offer a wide variety of financial services to our members including mortgages, loans and savings options among others. In order to become a member, you have to be living or working in the East of Scotland and also have to be employed by one of our select partners.
Big days require big amounts of money
Weddings are one of the most special days of anyone's life but unfortunately, even small weddings carry a hefty cost. At Capital Credit Union you can create a honeymoon savings account that family, friends, and guests from your wedding can pay money into.
Simply provide your guests with your membership number and you can carry on with the planning. We also offer quick loan options for weddings that can suit your financial situation. Consult with us today to help plan your big day.
Customer Reviews & Testimonials
"
Capital Credit has some great options for people needing some money
Joshua N
— Glasgow —
Capital Credit helps me with most of my financial needs
Rebecca O
— Edinburgh —
Capital Credit helped me go on the vacation that I needed.
Kayla M
— London —
Capital Credit Union Contact Details
Contact Number
E-Mail
Website
Physical Address
62 Hamilton Pl

Edinburgh

Scotland

EH3 5AZ

United Kingdom
Opening Hours
Monday

10:00 – 16:00

Tuesday

10:00 – 16:00

Wednesday

10:00 – 16:00

Thursday

10:00 – 16:00

Friday

10:00 – 15:30

Saturday

– Closed

Sunday

– Closed