East Sussex Credit Union
Updated
Credit union loans up to £35,000
Low-interest starting from 14.9%
Repayment up to 60 months
In-page navigation
---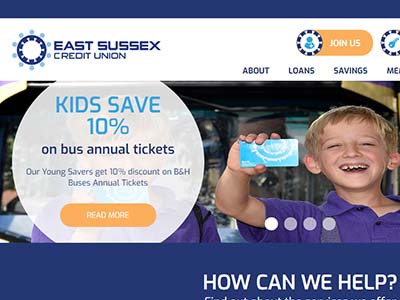 About East Sussex Credit Union
We are not-for-profit savings and loans co-operative, initially registered on 8th August 2000.
What is East Sussex Credit Union
We aim to run a successful and ethical co-operative savings and long and short term loans business, which is socially, economically and environmentally sustainable and open to all people staying and working in East Sussex, Brighton & Hove and all members of Unite the Union in the South East Region.
To help us attain this, we will:
promote savings and sensible lending amongst our membership.
provide cost-effective and flexible loans that meet the needs of our members.
strive to make sure maximum member satisfaction with our services.
treat all members and potential member fairly and promote equality of opportunity for members, volunteers and staff.
return our profits to members it re-invest in line with co-operatives principles.
grow communities in our work by combating poverty and its detriments effects upon health and educational achievement.
offer paid and voluntary work and training & development to people from within our trading area.
offer debt and financial advice to those who cannot access our personal loans.
What we do so for you
We help to save capital and offer cost-effective and flexible loans, which meet your individual needs. We work in partnership with local communities and other statutory and non-statutory firms to offer joint solutions for all members of our community.
East Sussex Credit Union Services
Unlike many ethical investments, your contribution can have a positive influence on your local community.
We aim to offer a high quality, sustainable and easy-to-access savings and loans co-operative, which is responsible to the needs of the people of East Sussex and actively combats the detrimental effects of poverty and monetary exclusion.
Its very simple to save with us
We believe that for every £1 000 invested in a credit union we can diminish the number of interest payments made to higher cost loaners by £500. You can save between £1 and £35 000. Pay straight from your pay packet on one of our payroll deduction schemes, via standing order or cash and cheques at our Hove Town Hall office.
Simple, safe, affordable loans
We aim to provide affordable credit to anyone who can afford to pay the loan paybacks.
Our Saver Loans are a way of building a healthier credit history. All our loans have a savings element to the paybacks.
Each in-store and online loan application is evaluated individually by a member of our team.
Types of loans
Some of the reasons why people obtain for us include house improvements, rents deposits and help to purchase their new cars however there are many other reasons why you may also need a fast cash loan such as paying for wedding or funeral, buying school uniforms or electrical appliances. Even medical expenses and dental care may mean that you need a loan.
East Sussex Credit Union Product Details
Loan Type

Credit union loans

Interest Rate

14.9 – 42.6% p/a

Loan Amount

up to £35,000

Repayment

6 months to 60 months
Summary of Services
No hidden fees
Flexible funds
Affordable credit
Get a quick and affordable loan with East Sussex Credit Union
There are some criteria that you have to meet for us to consider giving you a personal or payday loan. They are:
be 18 years or over- if you are over 65 please read out 65+ loans policy on our website.
permanently reside in the UK
live or work in East Sussex or Brighton & Hove or are a member of Unite the Union in the South East.
have not been declared bankrupt, granted a Trust Deed or entered into an IVA within the last 6 years.
have not had a Country Court Judgement (CCJ) in the last 12 months.
are in regular employment, retired with a pension or have a normal income of at least £125 per week.
More information about our loans
We have supplied as much information as we can about our loans so you know precisely what you are agreeing too.
Loans calculator - A simple to use tool for you to decide how much you need. You choose the payback time.
Our saver loans - Explanation on the saving dement on your loan.
Product and rates - A quick look at the APR for the different loan amounts.
Compare costs - So you can see how much your loan would cost with other monetary institutions.
Loan rules - Such as no arrangement fee.
Loan policy for over 65's - policy for those over the age of 65.
The board of directors
The Board have also clearly agreed to target services to make sure that we contribute towards:
the alleviation of poverty within the community and
the economic regeneration of the community.
In addition, we work with other firms who offer monetary literacy by helping them budget more effectively, enabling them to participate in the running of the Credit Union by working closely with other firms who offer monetary literacy training and capital advice services. We have a current membership of over 7000 people and they have increased their savings with us to £3 million and have loaned out more than £2million, some of which is loaned to people who are most in need.
We have engaged across a number of sectors (housing, business, government, academia and advice) with a view to building joined approaches to tackling monetary exclusion.
What is East Sussex Credit Union
Either consent to us assessing your bank account online in a 'read-only' format so we can check your income. For more information about this process visit our website. Alternatively, you can send us supporting documents including your proof of address and bank statements.
We cannot accept copies of photo ID through the post. If your loan application with our credit union is successful, we will ask you to bring your original photo ID when you sign your credit agreement with us at our head office in Hove Town Hall or our representatives at our Help Points.
Customer Reviews & Testimonials
"
I was scared of getting a loan at first but this lender made me comfortable with debt
Sally M
— London —
They helped come out of a difficult situation
Luke W
— Manchester —
East Sussex Credit Union Contact Details
Contact Number
E-Mail
Website
Physical Address
Hove Town Hall, Tisbury Rd

Hove

England

BN3 3BQ

United Kingdom
Opening Hours
Monday

09:30 – 13:00

Tuesday

09:30 – 13:00

Wednesday

09:30 – 13:00

Thursday

09:30 – 13:00

Friday

09:30 – 13:00

Saturday

– Closed

Sunday

– Closed