New Central Credit Union
Updated
Credit union loans up to £7,500
Low-interest starting from 4.9%
Repayment up to 60 months
In-page navigation
---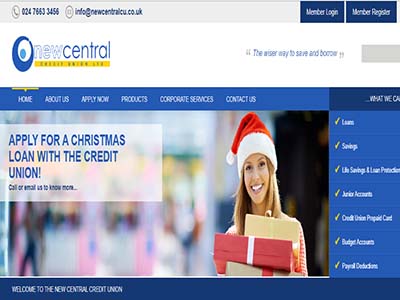 About New Central Credit Union
New Central Credit Union (NCCU) is a not for profit monetary co-operative offering a range of financial services to our members.
It is managed by its members and is covered by the Financial Services Compensation Scheme.
Welcome to New Central Credit Union
Anyone who lives or works in the common bond of NCCU is suitable to join. Our common bond covers throughout Coventry and Warwickshire. All members of the Credit Union has the advantage of free Savings and Loan Insurance (terms and conditions apply).
Terms and conditions of loans
We conduct a credit search on all online loan applications and share credit details with credit agencies.
Paybacks must be made by standing order or benefit transfer.
All quick loans above £300 accessible as a cash cheque, personal cheque or BACS transfer to your bank account.
All loans are subject to status and affordability.
New Central Credit Union Services
Savings can help to safeguard you and your family from some of the worries if your situation takes a turn for the worst.
Money worries are one of the biggest causes of depression, stress and anxiety and often this can be the result of an unexpected change in your circumstances or an unforeseen event.
Start saving today
You could be an organised saver, paying frequently into your account by standing order or payroll deduction. Wouldn't it be great to have capital saved for birthdays and Christmas or a wedding, football season ticket or weekend away? The sky is the limit.
There are various ways of making instalments:
Cash or cheque across the counter at head office third party cheques are (at Head Office only)
Cheque or cash at collection points or school banks (All cheques take 14 days to clear)
Standing orders
Payroll deduction
Benefits transfers
New Central Credit Union Product Details
Loan Type

Credit union loans

Interest Rate

from 4.9%

Loan Amount

up to £7,500

Repayment

12 months to 60 months
Summary of Services
Flexible repayment terms
No setup fees
No penalty fees for additional payments
We provide flexible payback terms to suit you
We loan responsibly - we will never encourage you to loan more than you can comfortably afford to pay back.
No extra costs
As you make your personal or payday loan paybacks we will motivate you to save well. By the time you have repaid your loan you will have increased your savings too. There are NO set-up fees. There are no extra charges or penalties if you want to make added paybacks or pay the loan off early with our credit union. Most members qualify for free Loan Protection Insurance so that, in the event of your death, the outstanding loan is considered payback (subject to T's and C's)
Interest is only charged on the lower balance of your loan. This means that the amount of interest you okay decreases as you pay back the loan. We may be able to assist with a bad credit loan if your credit score has been affected by previous defaults.
Personal loan information
Standard loans up to £2,000

Interest rate at 3% per month (42,6% APR)
Maximum term 12 months
Conditions apply

Standard loans up to £2,001-£3,000

Interest at 2% per month (26,8% APR)
Maximum term 12 months.
Conditions Apply

Standard loans £3,001-£4,000

Interest at 1,5% per month (19,6%APR)
Maximum term 60 months
Conditions Apply

Standard loans over £4,001-£5,000

Interest rate at 1,5% per month (19,6% APR)
Maximum term 60 months.
Conditions apply.

Standard Loans over £5,001

Interest rate at 1,25% per month (16,1%) APR
Maximum term 60 months
Conditions apply.
Who can apply for a loan?
If you live or work in Coventry or Warwickshire you qualify to apply for a personal loan from New Central Credit Union.
All members can apply for our online loans.
You must become a member (open an account) to apply for your loan.
There is a £5.00 Membership Joining fee and we ask you to make a deposit of at least £1,00.
Examples of evidence you will need to prove:
If you pay bills through your bank statements you should shoe regular instalments.
If you do not pay bills through your bank you will need to provide such things as: up to date rent, mortgage, council tax or water rates card, TV licence plan/ receipts, store/ credit card statement, insurance instalments, gas or electricity bills or receipts, catalogue instalment card or instalment books or instalment card from other loaners.
Information of any areas
Information of any Country Court Judgements
Customer Reviews & Testimonials
"
They don't charge you any unnecessary costs. Their loans are usually very reasonable
Malcolm L
— Liverpool —
I was lucky to find them. They've got great rates
Jennifer W
— London —
I got the furniture that I struggled to afford with my own money. Thanks New Central!
Lucy M
— Edingburgh —
New Central Credit Union Contact Details
Contact Number
E-Mail
Website
Physical Address
41 Smithford Way

Coventry

England

CV1 1GY

United Kingdom
Opening Hours
Monday

10:00 – 14:00

Tuesday

– Closed

Wednesday

10:00 – 14:00

Thursday

– Closed

Friday

10:00 – 14:00

Saturday

– Closed

Sunday

– Closed