National Fire Savers Credit Union
Updated
Credit union loans up to £20,000
Low-interest starting from 3%
Repayment up to 60 months
In-page navigation
---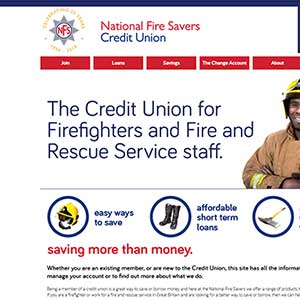 About National Fire Savers Credit Union
Credit Unions are not-for-profit monetary organisations set up by people with something in common, to benefit their members.
That common factor may be living in the same town, working in the same industry or belonging to the same firm.
A reliable credit union
We're here to offer financial solutions to the community, where its members mutually benefit- as there's no profit for third-party shareholders. The primary functions are saving and loaning, but more and more services are now being provided by credit unions.
We serve the community
The National Fire Savers Credit Unions was first discovered in 1998 as a credit union for London fire brigade staff. After twelve very prosperous years, the London fire savers agree that all firefighters and fire rescue service staff, whether they are serving, should be able to benefit from the Credit Union. In 2010, the common bond has expanded the cover the whole of England, Scotland and Wales and the Nation Fire Savers Credit Union were created.
National Fire Savers Credit Union Services
Using the National Fire Savers Credit Union is a cheaper and accessible way to loan capital.
At the National Fire Savers, we specialise in small to medium-size loans over short periods as this is where people often find it difficult to get credit at cheaper rates. We do not a credit check our online loan applications and currently have a 98% acceptance rate.
Data sharing credit checks
In order to process your loan application reserve the right to perform a consumer credit check and an identity check on you with a Credit Reference Agencies (CRA). To do this, we will provide your personal information to the CRA and they will give us information about you.
How it works
The CRA will include details from your personal loan application and about your financial situation and financial history. The CRA will supply us with both public and share credit, the monetary situation in monetary history information and fraud prevention information.
National Fire Savers Credit Union Product Details
Loan Type

Credit union loans

Interest Rate

from 3%

Loan Amount

up to £20,000

Repayment

1 month to 60 months
Summary of Services
Online application
Loan top-ups available
Quick funds
At NFSCA we provide you with a variety of affordable loan options
Being a member of a credit union is a great way to save or borrow capital and here at the National Fire Savers, we provide a range of products to meet your financial needs.
If you are a firefighter or work for a fire and rescue organisation in Great Britain and are looking for a better way to save or lend then we can help. As a fire saver in the National Fire Savers Credit Union, you are saving more than capital!
Take control over your capital
Credit Unions aim to help you take control of your capital by encouraging you to save what you can and loan only what you can afford to pay back. In essence, we are a savings and online loans co-operative, which means the members pool their savings to loan to one another and help to run the Credit Union.
This is done in a not-for-profit way, so the capital is only used to run the services and reward the members, it isn't used to pay outside shareholders, like most other monetary institutions. Throughout the year the credit unions must put aside enough capital to make sure it's financially secure. Any capital that's leftover is given back to those who have a savings account as a 'dividend', or it's used to enhance the overall service of the members.
Fast turnaround on loan application
New to the Credit Union or currently have no quick cash loan with us? New members are considered daily with some members receiving their capital on the day of application.
The credit bureau meets twice a week to review all other long and short-term loan applications within criteria. Paired with our electronic signature service that has to listen the average turnaround time from application to receipt of the fund to 2-3 days.
We will use this information to:
Asses your creditworthiness and whether you can afford to take the product; verify the accuracy of the data you have offered to us.
This added information will prevent criminal activity, fraud and money laundering, control your account(s), enable us to tackle monetary exclusion far more effectively as the best answer is often not to loan more but to assist members with savings and budgeting skills. All of these aims- the protection of member's capital, responsible loaning and avoidance of bad debt are entirely consistent with the traditional values of the credit union movement.
Enlarged common bond
We are happy to announce that we are now able to accept applications for membership from retired firefighters and fire brigade staff. In addition, we are also able to approve an application for membership from employees of the firefighter's Charity, the Fire Brigades Union and London Fire Brigade Welfare Fund. We look forward to receiving members from these firms as well as those in retirement who may want to take advantage of the services we provide.
Customer Reviews & Testimonials
"
My house needed a revamp and because of them it looks gorgeous
Josh Z
— Edinburgh —
I'll always appreciate a lender that doesn't try to trick me. They don't have any hidden costs
Peter J
— Glasgow —
National Fire Savers Credit Union Contact Details
Contact Number
E-Mail
Website
Physical Address
Linton House, 164-180 Union St

London

England

SE1 0LH

United Kingdom
Opening Hours
Monday

09:00 – 17:00

Tuesday

09:00 – 17:00

Wednesday

09:00 – 17:00

Thursday

09:00 – 17:00

Friday

09:00 – 17:00

Saturday

– Closed

Sunday

– Closed