Payday loans up to £3,000
Low-interest starting from 89.7%
Repayment up to 6 months
In-page navigation
---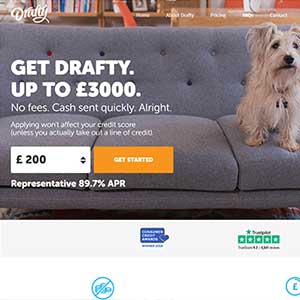 About Drafty
Drafty is a company that gives you a line of credit, as such, we are a pot of cash available to you.
After repaying the cash, you can still use from the pot. Essentially, we are not a loan, an overdraft or a credit card however we are a combination of all of these things.
We do not charge any subscription fees
You only pay interest on the cash you use until its repaid. With us, you only have to apply once to access credit, we can offer you up to £3,000. Once you've opened your line of credit its accessible to you up to your approved limit, as such you can withdraw cash again and again. You can withdraw any amount at any time and best of all the money will be sent to your bank account within 90 seconds. In addition, we are fee-free.
Get approved in seconds
We make a swift decision regarding your line of credit request provided you qualify. We offer you a pot of cash to the value of £3,000, of which you can dip into whenever you need. Best of all, what you don't use, you don't pay a penny! Run out of cash? We transfer fund to your bank account within 90 seconds. As long as you repay your monthly minimum, you can borrow for as long as you wish. Above all, we do not charge any charges if you repay late.
Drafty Services
You have the opportunity to accept the offer within 30 days
If you don't accept our offer, we will not be able to increase your limit, to avoid missing out on important information download our app for iOS and Android, and stay on top of notifications.
Am I eligible?
We are most likely to assist you if you meet our basic requirement, see below:
Be 18 years or older
Be employed a full time
Earn a salary of at least £1,250 a month
Be a UK resident
Have an active bank account and debit card
Get a loan with a bad credit history
Our credit checks literally take a couple of seconds, and we simply do this to assess your affordability of taking up a line of credit. As responsible lenders, we do not want to put you in a difficult situation. In the event, you are request is accepted with us, we'll agree on a credit limit with you and you will have access to the funds within seconds even if you have a bad credit score.
Drafty Product Details
Loan Type

Payday loans

Interest Rate

from 89.7%

Loan Amount

up to £3,000

Repayment

6 months
Summary of Services
Simple online application
No penalty fees for early repayment
Money is transferred in 90 seconds soon after approval
Get a convenient line of credit here at Drafty
Should you be in good standing and meet our standard affordability criteria we could bump up your credit in the direction of £5,000.
If you qualify for an increase, we will communicate to you via email, SMS or alternatively through our mobile app.
Credit checks are done when you apply
We check your credit history and asses your affordability before making a decision on your credit request. Our innovative and efficient custom-built online algorithm instantly checks your personal information giving us a review of your personal circumstances.
We aim to ensure you can comfortably repay your line of credit without putting you under any more financial stress.
What's the difference between a line of credit and a loan?
A loan is for a planned amount of time, for instance, a short-term loan like a payday loan which you pay back on your next paycheque, or a long term loan like a mortgage which is paid back over a longer time period. Furthermore, once you've repaid your loan, the loan agreement expires.
A line of credit is different
Provided you pay the monthly minimum (interest and portion of cash amount included) the balance you pay back how and when you want. Above all, once repaid back you still have access to credit should you need it.
Customer Reviews & Testimonials
"
They have an amazing team that provides you with most optimal solutions.
Layla Q
— London —
Drafty made my life better.
Adam S
— Glasgow —
I received payday loan from Drafty at a very flexible and affordable rate.
Bailey H
— London —
I received payday loan from Drafty at a very flexible and affordable rate.
Bailey J
— London —
Drafty Contact Details
Contact Number
E-Mail
Website
Physical Address
Wisteria Grange Barn, Pike's End

Pinner London

HA5 2EX

United Kingdom
Opening Hours
Monday

09:00 – 18:00

Tuesday

09:00 – 18:00

Wednesday

09:00 – 18:00

Thursday

09:00 – 18:00

Friday

09:00 – 18:00

Saturday

09:00 – 13:00

Sunday

– Closed