Payday loans up to £10,000
Repayment up to 24 months
In-page navigation
---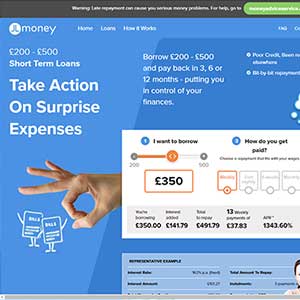 About JL Money
We offer a wide range of short-term loan options to suit a range of different needs.
At JL Money we don't believe one size fits all, so we offer tailored short term loans assisting you to bridge the gap when unplanned expenses pop up.
We're honest and transparent
If we don't think a short-term loan is appropriate for you, we'll tell you plain and simple. Furthermore, we offer lower APRs than most competitors and are constantly exploring new ways to lower the cost of our loan products for you.
JL Money is a direct lender
We are a direct lender meaning we lend money directly to you, the borrower. As such, we can keep the cost of our loans as low as possible, to better accommodate you. We do not offer payday loans instead we do short term loans. A payday loan requires you to repay your loan in full as soon as your next paycheque arrives. Many payday loans offer very high charges and fees, so it can become a costly way to borrow money.
JL Money Services
Our dedicated team considers every loan on a case-by-case basis
Our team works together with you to choose an instant loan that's right for you. In addition, our short term loans are designed to give you control of your repayment plan, which is flexible and clear, so you'll always know exactly when and how much to pay.
How to apply
You can apply for a loan online or by telephone, we intend to give you an initial decision within 30 minutes of receiving your application, provided we receive your application between 9:30 am and 5:30 pm from Monday to Friday. If you apply out of these hours, our automated decision engine will respond to your inquiry within an hour.
A personalised customer service
You can also visit our service centres, and speak to a consultant and your application can be consolidated. Upon approval of the loan, you can receive money in your bank account within two hours.
JL Money Product Details
Loan Type

Payday loans

Loan Amount

up to £10,000

Repayment

30 days to 24 months
Summary of Services
Affordable Loans
Quick Cash Loans
Payday Loans
Short-term Loans
Get a loan that's designed just for you
We may be able to help you if you have a Country Court Judgement.
We would like to see you in person and will assess your application on a case-by-case basis. It's useful to note in assessing your application we will take into account your current circumstances, along with the information on your credit file. This will help us determine if a short term loan with us is right for you.
Quick and affordable short-term loans
We pride ourselves on being a fair and responsible lender that considers every loan application as being unique. We host a team of experts who are ready to discuss your loan application, to ensure you choose a loan amount, term and repayment plan that suits you best. A short-term loan is different, they come with fixed interest rates and a longer, planned repayment period which usually ranges between 2 to 12 months.
Different to payday loans, short-term loans require an inquiry into your credit history, to make sure you can afford the repayments.
The repayment terms
We understand that sometimes things happen, and payments get missed. So, we do not charge any additional fees for late or missed payments. We only ask you to get in touch with us to discuss any changes in your circumstances. We'll do our best to work with you to resolve the issue and get you back on your feet.
In the event, you wish to repay your repayment earlier, in part or full at any point during your loan period. Good news, you won't incur any additional fees as a result of early payment.
Type of loans we offer
Short term guarantor loans - Loans for any purpose from £550 to £2000. Safe, simple and paperless.
Tailored loans - We offer loans from £5000 – £100k up to 12 months. Loan repayments designed to fit your cash flow.
Business loans - You can borrow the necessary funding for your business. £2,000 – £100k
Premium loan - We offer flexible funding for any purpose. Between £2,500 – £10k. It's safe, simple and paperless
Customer Reviews & Testimonials
"
Seeking JL for my financial problems was worth it.
Daniella W
— Glasgow —
Managed a terrible month and a half, all because I approached JL.
Stephan F
— London —
JL Money Contact Details
Contact Number
E-Mail
Website
Physical Address
Duke House, 15 Seymour Street,

London

SE18 6SX

United Kingdom
Opening Hours
Monday

09:00 – 17:00

Tuesday

09:00 – 17:00

Wednesday

09:00 – 17:00

Thursday

09:00 – 17:00

Friday

09:00 – 17:00

Saturday

– Closed

Sunday

– Closed