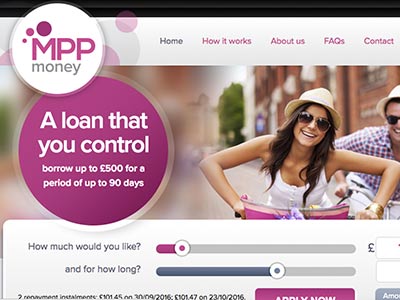 About MMP Financial
MPP Money is a direct lender based in London.
We provide responsible and affordable short-term payday loans which are conveniently designed to assist you through the gap between payday. As a short term lender, we can help you cover any unexpected expenses. As such, with us, you can borrow from £100 to £500.
Responsible lending practises
We are responsible lenders and all applications must pass through our credit and affordability check before we can make a decision regarding your loan request. Our short-term loans can carry you over any unforeseen expenses as well as any temporary cash-flow problems.
The benefits of our loans
We charge a flat daily interest rate of 0.7%
We do not charge any administrative fees when applying for a loan with us.
Our loans are offered from a minimum of 15 days to a maximum of 90 days.
Our loan repayments are clearly set out in an easy to understand.
We send you an email reminder 5 days before any repayments are deducted from your bank account, so no surprises.
We make sure we respond with a decision to all application speedily. If successfully approved for a loan we transfer funds to you usually on the same business day. Our team is friendly and supportive, so you are in good hands.
MMP Financial Services
Our online application is quick and easy to use, you can apply for a loan with us even if you have bad credit.
Take note, all approvals are subject to passing our credit and affordability checks. Our instalments are a fixed-term however you're welcome to make an early repayment at any time.
Early repayment saves you money
Early repayment will not charge you a cent. In fact, they will put you in a better financial position in the long run. Should a repayment be made outside of your contractual loan agreement repay dates, unless otherwise agreed upon, the amount repaid will be used to clear the accumulated interest balance and fees (if any) up to the date of that payment and the balance of that payment will be reduced from the outstanding loan principal.
What fees do I need to know about?
No fees when you settle your loan
No application fees
No administration fees
No closing of account fees
Interest at a fixed rate of 0.7% per day
If you miss a repayment, we charge a penalty fee of £15
Interest on all late payments at an interest rate of 0.7 % per day
MMP Financial Product Details
Summary of Services
Quick Loan
Payday Loans
Short-term Loans
MMP Money makes it easy for you to get a loan
The easy to use loan calculator will then determine your repayments and the total cost of your loan.
Select your loan amount
Simply use the slider bar (online) to set the amount of money you need, anything from £100 up to £500. Next, use the loan calculator to search for the most affordable loan for you by selecting how much you wish to borrow, and for how long. Very important: we are a high-cost, short-term credit provider, in other words, this credit is expensive and is not appropriate for supporting sustained borrowing over long periods.
Our online loan applications are quick
Complete our simple and easy-to-use online application form. We require the following information; personal, employment, financial, and bank account details. This information is required to assess your eligibility and affordability for a loan before approval. We simply do this because we do not want to put you in a difficult financial situation.
In addition, a credit check will be conducted as part of our eligibility criteria, this helps us to decide whether we can lend to you. We will also require your home address, and where you have lived over the last three years. Furthermore, we may request your income details or require you submit your payslips for us to determine your affordability of a loan.
Processing your application
Following passing our credit and affordability checks and agreeing to our loan agreement terms, our underwriters will thereafter look at your case individually and make the final decision regarding your loan request.
Once approved, you will receive an email to confirm this and the loan money will be transferred directly to your bank account by Faster Payments, usually within 2 hours of official approval. No charges for bank transfers and the money will usually reflect on the same business day. Some delays may occur if we need to contact you for more information regarding the details provided.
The loan repayment terms
Repayments will be collected on the specified date as per your loan agreement. On this date, the money will automatically be taken out from your bank account by Continuous Payment Authority (CAP).
Customer Reviews & Testimonials
"
MMP financial has helped me when I was waist deep in trouble.
Ashley H
— Bristol —
I am out of debts and in a much better place, it happened because I chose MMp.
Jason L
— London —
MMp was there for me, when everything was bleak.
Henry A
— Glasgow —
I got a pretty great deal with MMp, nothing that I expected!
Cheryl H
— London —
MMP Financial Contact Details
Contact Number
E-Mail
Website
Physical Address
Beechwood House, 10 Windsor Road

Slough

Berkshire

SL1 2EJ

United Kingdom
Opening Hours
Monday

09:00 – 17:00

Tuesday

09:00 – 17:00

Wednesday

09:00 – 17:00

Thursday

09:00 – 17:00

Friday

09:00 – 17:00

Saturday

– Closed

Sunday

– Closed