Payday loans up to £1,000
Low-interest starting from 248.37%
Repayment up to 12 months
In-page navigation
---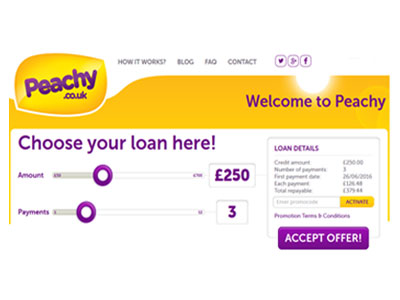 About Peachy
Peachy is a short-term loan lender established in 2010.
We provide professional and responsible financial support to those who need a helping hand. Life's events can be unexpected leaving you in a difficult predicament. Patchy is a financial service provider dedicated to assisting those who need a little financial boost.
We offer flexibility
We are a flexible short-term lender offering you a wide range of payback options short-term loans from £100 to £1,000. Most of our loan applications can be approved and processed within one hour. We are a trademark of Cash On The Go Ltd in the UK; offering payday loans with various repayment options available up to £1,000.
Make use of our budget calculator
We offer flexible payback in instalments
We are transparent with no hidden fees
We are quick, cash paid out within hours
We act responsibly with affordability checks carried out
Peachy Services
The idea is once you receive your salary, you repay the amount borrowed to avoid long term debt.
We would like for you to see us as a friend who helps you out or your employee giving you an advance on your monthly salary.
Naturally, a payday loan:
is a smaller denominational value (the amount being borrowed)
shorter repayment period 2 to the 3week timeframe
payback is repaid in full at the end of the month, usually around your 'payday'
repayments in instalments for longer-term loans can be arranged
are used for expected financial needs
The payday loan applications
We offer you a payday loan which is a temporary solution to your financial predicament, what this means is that we offer you a small amount of money to assist with your household expenses. A payday online loan application can be approved instantly, with the loan deposited into your account either on the day or the following working day.
Peachy Product Details
Loan Type

Payday loans

Interest Rate

from 248.37%

Loan Amount

up to £1,000

Repayment

30 days to 12 months
Summary of Services
Payday Loans
Quick Cash Loans
Short-term Loans
Peachy Loans is here for you during difficult times
It's these unexpected circumstances that may cause you to consider a payday loan.
We are here to help you cross this bridge. A payday loan, although regulated the same as bank overdrafts and credit cards, offers you way more flexibility in terms of your credit assessment.
When should you take out a payday loan?
Even with the best financial planning, households can still find themselves in a financial jam. Unexpected expenses seem to creep up leaving you in a very difficult situation. Here are some examples of these instances:
broken or burst boiler
payback of tax bills
school excursions
medical expenses
vehicle breakdowns
the loss of a job or regular income
Payday loan charges, fees and repayments
In the United Kingdom, all payday loans are regulated by the FCA, which has been designed to protect consumers from dishonest lenders. The FCA also requires that payday lenders provide their customers with sufficient, transparent information upfront.
As a payday loan is a short-term loan with a small amount lent, they, in turn, have a high APR. Simply put on small amounts borrowed over a shorter-term period, is how payday lenders recover their income.
When not to use payday loans
A payday loan is not a permanent financial solution, rather it should only be considered as a temporary measure or once-off solution. Payday loans are not suitable for, planned expenses like rent or mortgage payments, repaying debt, as well as gambling with the hope to make money.
We encourage you to plan ahead and only use payday loans in the event of life's little emergencies. A Payday loan should only be considered a temporary short-term solution to your financial situation.
We are committed to better money management
Our resource centre includes up to date banking and mortgage industry news, as well as saving tips, credit cards and other types of debts. In addition, our resources include all things financial, savings, mortgages, overdrafts, credit cards and other types of debt. Furthermore, we offer customers financial support where they really need it most.
Customer Reviews & Testimonials
"
Peachy helped me get back on my feet.
May G
— London —
Using their services, really paid off.
Hannah S
— Cardiff —
Peachy helped me get through a very tough time.
Jason H
— Liverpool —
Peachy Contact Details
Contact Number
E-Mail
Website
Physical Address
76 King Street

Manchester

Greater London

United Kingdom
Opening Hours
Monday

08:00 – 20:00

Tuesday

08:00 – 20:00

Wednesday

08:00 – 20:00

Thursday

08:00 – 20:00

Friday

08:00 – 20:00

Saturday

09:00 – 17:30

Sunday

09:00 – 17:30