The Money Platform
Updated
Payday loans up to £1,000
Low-interest starting from 0.7%
Repayment up to 12 weeks
In-page navigation
---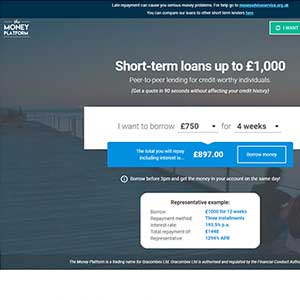 About The Money Platform
The Money Platform provides solutions by connecting creditworthy people to trustworthy lenders.
We were established with the core belief that financial services should be fair granting you the customer full control of your personal finances. As such, lending and borrowing directly from one another benefits British people, not British banks.
Transparency and ease of use
Daily people across the United Kingdom experience unexpected expenses that were not budgeted for, and find they are ignored by traditional lenders. Creditworthy people need extra cash flow fast and only for a short-term loan period, however, often it's not easy to find funds that are quick, safe, and reliable. This system makes sure borrowers have access to affordable payday loans as and when they need them, in addition, it provides our responsible lenders with safe and secure access to great returns on their money.
What we offer
Essentially, both borrowers and lenders can transact in amounts between £250 and £1,000 between three weeks and three months.
Money is lent and borrowed from 0.7% to 0.8% interest per day.
Giving borrowers access to funds at a lower cost than most alternative short term finance options, and in turn, gives lenders a greater return on their funds.
Take note, transacting on the platform does come with some level of risk, so make sure to read up on the risks for both borrowers and lenders on their respective homepages.
The Money Platform Services
By eliminating large financial institution as the middle man, lenders receive brilliant returns and borrowers receive lower costs as well as flexible personal loan options.
Because there are no banks involved, this speeds up the decision making processes which make for efficient, transparent and most importantly responsible practices from us.
Cut out the middleman
We are a peer-to-peer lending company, which essentially means that instead of borrowing from a bank or a payday lender, you can borrow directly from ordinary savers for a lower interest rate. It's a win-win situation cutting out the middleman. We are revolutionizing the way short-term borrowing works. As such we want it to be fair, convenient and a lot cheaper than our competitor's offerings.
Benefits of The Money Platform
We offer lower interest rates – our loans cost less than banks and payday lenders
We have no hidden costs – we'll tell you exactly what it costs, no compounding interest
Our online application is straightforward
You will receive the money in your bank account the same day
Getting a quote with us won't affect your credit rating
You have the flexibility to repay early
We are ethical – we are here to help creditworthy borrowers get access to short term loans
The Money Platform Product Details
Loan Type

Payday loans

Interest Rate

from 0.7%

Loan Amount

up to £1,000

Repayment

30 days to 12 weeks
Summary of Services
Interest rates are lower
Funds are transferred the same day
Simple loan application
We have some of the most affordable loans in the market
We give you the opportunity to match and lend or borrow with someone who fits your criteria.
For instance, you might have £500 to lend and someone else needs to borrow £500 to buy a dishwasher.
To qualify for a loan, we have a look at a few things first:
Confirm your identity
Aged 20 years or older
A UK current account and a credit history that we can review
A good track record of repaying debt
A current UK resident
We require 3 years of address history in the UK
Your eligibility to afford the loan
How is this process regulated?
We are regulated and authorized by the UK Financial Conduct Authority (FCA). We borrow to you form £1,000 for a total period of 12 weeks. Our repayment plan is broken into three equal instalments at an Interest rate of 193.5% pa. On average, total repayments could cost you £1448
We understand life throws us some unexpected curve balls which can cause disruption to our financial plans. As such, we have carefully designed this product to help you bridge the gap and meet your urgent expenses.
Generally, our users borrow from us for these reasons:
A car or vehicle, new, or repairs
A once-off event such as a holiday, milestone anniversary or wedding
Home loans or home improvements
Unexpected costs like medical or vet bills
Customer Reviews & Testimonials
"
The loan was affordable and it helped me out a lot
Hanna A
— London —
The application was simple and made it easy to get the money I needed
Gretchen H
— Oxford —
The Money Platform Contact Details
Contact Number
E-Mail
Website
Physical Address
The Harley Building 77 New Cavendish Street

London

W1W 6XB

United Kingdom
Opening Hours
Monday

09:00 – 17:00

Tuesday

09:00 – 17:00

Wednesday

09:00 – 17:00

Thursday

09:00 – 17:00

Friday

09:00 – 17:00

Saturday

– Closed

Sunday

– Closed