Payday loans up to £1,000
Repayment up to 5 months
In-page navigation
---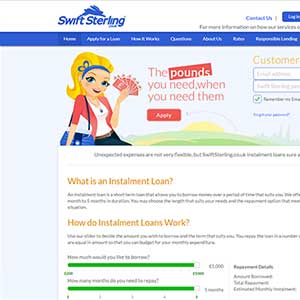 About Swift Sterling
Swift Sterling gives you the pounds you need when you need them most.
We offer safe, convenient, and quick short-term loans. Once your loan application is approved, you could receive funds in your bank account within 1 hour.
Who we are as a business
We are joined with the MMP Financial Limited group of leading brands. MMP Financial Limited was launched in 2015, with the purpose to bring successful online lending brands SwiftSterling.co.uk and PoundsTillPayday.co.uk back to the UK people.
Both brands have been trading for many years and have built a strong reputation of which we are determined to keep offering the best services to our customers.
Who is MMP Financial Limited?
MMP Financial Limited is the UK registered business, they are authorised and regulated by the Financial Conduct Authority and are also registered with the Information Commissioners office. To qualify for a SwiftSterling.co.uk payday loan:
Be at least 18 years old
Currently living in the United Kingdom
Be employed and earn a regular net income of at least £ 667
Wages are directly deposited into your bank account
Swift Sterling Services
The maximum loan amount we can currently offer is £1,500
Our maximum loan amount is constantly being reviewed. Your approved loan amount is determined on your monthly expenses, net income, and as well as some additional factors. Essentially, you should only borrow what you can afford. As a first-time borrower, you can borrow up to £1,000.
What are the rates?
We charge a daily interest rate on the outstanding loan balance of 0.8% per day. You are only obligated to pay for the days you have the loan, as per your loan agreement. In the event, you repay your loan, earlier, you will pay a lower cost.
The instalment loan option
An instalment loan is a short term loan that grants you permission to borrow money over a period of time that suits you best. Our loans run between 1 to 5 months in duration. You may select the length that suits your needs as well as the repayment option that best fits your financial circumstances.
Simply, use our slider to decide the amount you need to borrow as well as the repayment term that suits you best. Once you have decided on the perfect fast loan, you will need to complete our online application form.
Swift Sterling Product Details
Loan Type

Payday loans

Loan Amount

up to £1,000

Repayment

30 days to 5 months
Summary of Services
Flexible Loans
Payday Loans
Pay your debts easily with Swift Sterling
We will run some checks to determine your eligibility for the loan requested.
Thereafter, you will have to repay the loan in several payments equal in value in order for you to budget for monthly expenditure.
Complete our online application form
Next, upon receiving your application we conduct a number of checks on the data provided using online tools such as credit reference agencies. Our unique algorithms will assess your application and then offer you the loan if you match our criteria. In some cases, we may require more information from you to process your application, as such, we will communicate with you accordingly in this regards.
Our affordable loan offers
If your application is approved, you will receive communication from us to access your personal online account. At this stage, you can accept the loan offer, make a payment advances or apply for a new loan. Before accepting the offer, we encourage you to please carefully read through the loan agreement.
If you are happy, we will need you to please sign the loan agreement and send back to us. You will receive money to your respected bank account once all final checks have been done.
We have no-hassle repayments
As per your loan agreement, we will deduct repayment from your bank account as specified in your signed loan agreement. What's required of you is simply to ensure funds are available in your bank account on the scheduled debit order date. For your convenience, we will remind you three days before the time via email or SMS, so no surprises!
Personal online account
Your personal loan account gives you access to your current outstanding balance, review repayment due dates, make a payment advance on your account as well as apply for a new loan.
Simply use your email address and password to access your Swift Sterling online personal account. If you have a query or need additional information, please feel free to contact us.
Customer Reviews & Testimonials
"
Their application process is entirely online and it was really convenient for me
Jeff D
— London —
They really helped me out. No hassle!
Graham A
— Bath —
Swift Sterling Contact Details
Contact Number
E-Mail
Website
Physical Address
Beechwood House, 2-10 Windsor Rd

Slough

England

SL1 2EJ

United Kingdom
Opening Hours
Monday

07:30 – 23:00

Tuesday

07:30 – 23:00

Wednesday

07:30 – 23:00

Thursday

07:30 – 23:00

Friday

07:30 – 23:00

Saturday

07:30 – 23:00

Sunday

14:00 – 22:30