Personal loans up to £25,000
Low-interest starting from 2.8%
Repayment up to 84 months
In-page navigation
---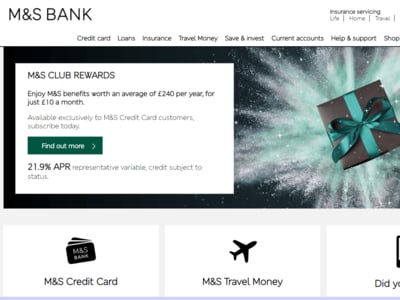 About M&S Bank
Personal Loans, Credit cards, Insurance, investments, travel money, Coronavirus support, shopping, and more, they have it all!
Marks & Spencer Financial Services, trading as M&S Bank, is a retail bank operating in the United Kingdom. They formed in 1985 as the British retailer Marks & Spencer financial services division and adopted their current name in 2012.
How to get in touch with M&S Bank
Their products are sold and serviced online, telephonically, and they have multiple in-store branches all over the country ready to assist you.
Qualifying for a Personal Loan with M&S Bank
Make use of their personalized loan quote tool before you apply to see the lending terms you might receive on your unsecured loan, without affecting your credit rating. You have to have an annual income of at least £10,000, be a UK resident and be over the age of 18 for you to qualify. If you don't meet their normal lending criteria you may be offered a loan at a different APR, depending on your personal circumstances.
The rate offered will also depend on the loan amount and term you requested. If you are an existing client, you might also get better rates on selected loan amounts. Discover quick and easy ways with M&S Bank to make your money go further.
M&S Bank Services
M&S Bank can help you out with a personal loan of up to £25,000.
On loans between £1,000 and £20,000 you can repay your loan over 12 to 84 months, or on loans between £20,001 and £25,000 you can repay your loan over 12 to 60 months. You don't have to pay arrangements- or set-up fees and you can also enjoy fixed monthly repayments, over a fixed period of time, which makes it easier to manage your finances.
Personal loan for a car
With average prices rising on cars, you might need a helping hand. Whether you are buying your first dream car, up-sizing to a family car or even buying a vehicle for your son or daughter, M&S Bank can help you to reach your dreams and ensure that you enjoy the journey of getting your new wheels. It can be a great option to take out a personal loan to buy a car that suits your needs as it allows you to spread the cost of the purchase over a period that is suitable to your budget.
Personal loan for home improvement
Saving up in advance can be difficult and is not always feasible, paying for labor and materials month-on-month might also affect the timeframe of your project. Whether you have a big or small project in mind for your home. A grand design like a loft extension, or a little living room makeover, M&S Bank can assist you with a personal loan that suits your needs and help you accomplish your goals.
M&S Bank Product Details
Loan Type

Personal loans

Interest Rate

2.8 – 21.8% p/a

Loan Amount

up to £25,000

Repayment

12 months to 84 months
Summary of Services
Fixed monthly repayments
No hidden fees
Competitive interest rates
M&S Bank personal loans has got your back.
Getting a personal loan from M&S Bank will enable you to cover the cost of your home improvements and then pay the amount back over a period that suits you.
You can make use of their personal loan calculator to see how much you can borrow and to find a payment plan that suits you.
Personal loan for a wedding
Are you planning your wedding? Well, this can be fun, but it can also be stressful and expensive – in fact, the average wedding these days will cost you around £20,000 and up. Choosing easy-to-manage personal finance from M&S Bank will help you make your dream wedding a reality without allowing expenses to get in your way. With access to cash and a considered repayment plan that you can afford, you'll be able to make confident decisions on your venue, suppliers, outfits, and everything else you want for your big day.
Get rewards while you shop
M&S Bank offers various Mastercard-branded cards with n 'M&S Points' loyalty scheme that can also reward you for spending with Marks and Spencer with vouchers and offers.
Protection against any peril that might occur
They have a selection of insurance products underwritten by various providers including Home insurance – Aviva, Car insurance – BISL, Travel insurance – Aviva, Pet insurance – RSA, Life insurance - HSBC Life, Bureaux de change, etc.
Benefits of Getting a Personal Loan with M&S Bank
Tailored quotes that won't affect your credit score
Tailor-made loans specific to your needs
Branches all over the country, but also extremely user friendly online
Accessible to all customers including deaf, hard of hearing or speech impaired, visually impaired, mobility challenged, etc
High service level
Easy access to a large range of financial products
Loyalty rewards
Fixed monthly repayments and terms.
Customer Reviews & Testimonials
"
I was almost forced to downsize my dream wedding and go for a cheap and unstylish venue, but then M&S Bank came to my rescue. They also have many cool features that I find enjoyable. They're not ...
Taylor A
— Leicester —
I needed to buy my son his first vehicle and was saving up for it, but I just did not have enough to buy him a car in cash. M&S Bank gave me a really great deal and I would highly recommend them ...
Evans A
— Birmingham —
Their service is amazing, quick, and easy! I'm busy with a reconstruction project at my house and urgently needed to make a big purchase today. I did not think that it would've been possible, but...
Dundee M
— Bristol —
M&S Bank Contact Details
Contact Number
E-Mail
Website
Physical Address
Marks & Spencer, The Mall

Patchway

Bristol

BS34 5QT

United Kingdom
---
Postal Address
PO Box 10565, Wigston, LE18 4UL, United Kingdom
Opening Hours
Monday

10:00 – 16:00

Tuesday

10:00 – 16:00

Wednesday

10:00 – 16:00

Thursday

10:00 – 16:00

Friday

10:00 – 16:00

Saturday

– Closed

Sunday

– Closed