Chelsea Building Society
Updated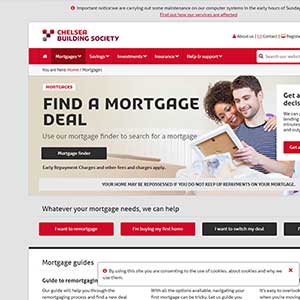 About Chelsea Building Society
If you want exceptionally good value for money in your home financing, we at Chelsea Building Society will be happy to oblige.
We understand perfectly how challenging the search for just the right deal for your housing needs can be. Therefore, be sure to explore our mortgage finder so that we can narrow our list of possible home loans in the UK and display only the most suitable for you.
Your agreement in principle with us
You can apply for an agreement in principle (AIP), in other words, a lending decision which indicates how much we would be willing to loan you. The application only takes 10 minutes, the AIP is useful for 30 days to apply for your mortgage.
If you want to, you can use the mortgage calculator to provide an estimate beforehand. Once you have your AIP, you can apply for your mortgage online or you can first phone us if you want further advice.
Our commitment to first-time buyers and their needs
In certain cases, first-time mortgage buyers will receive cashback and free valuation and will pay no product fees. These are just some of many potential incentives and only one applicant needs to be a first-time buyer for them to apply. See our website to find out if the fixed, offset or tracker mortgage is right for you.
Chelsea Building Society Services
Chelsea Building Society is the best choice for discerning prospective applicants of home loans in the UK.
We have a myriad of calculators and search tools, as well as a glossary, to help guide all your home loan financing decisions.
Home insurance and You Choose
To suit your individual needs, our You Choose home insurance will allow you to pay for only the insurance that you want to pay for, and you will pay premiums but not any fees. Other benefits of You Choose include the ability to cover downloaded music, no interest on your direct debit payments.
You Choose customers who take any from the core cover options, personal loans and vehicle finance, will receive a 15% discount off the first policy year. Limitations and exclusions apply.
Conveyancing with Chelsea Building Society
If you use our conveyancing service, you will be charged no fee. You choose from over 120 firms, you receive quotes online in less than two minutes, you can track the case and instruct online 24/7, and you can call the helpline any day of the week.
All our solicitors promise to try to answer and update you to the best of their ability. See our website for all your brilliant insurance options.
Chelsea Building Society Product Details
Summary of Services
Personal Loans
Investments
Insurance
Mortgages
Get quick and reliable home loans with the Chelsea Building Society
We seek the financial welfare of all our members and continue to strive for better precision in solving their house financing challenges.
Only you as a member of Chelsea Building Society, and not any shareholders, own the Society. We also have won numerous awards, such as the Best First Time Buyer Mortgage Provider and the Best Offset Mortgage Provider.
Additional borrowing with us
If you engage in additional borrowing with us, you could benefit from special member deals like offset fixed and fixed rates, borrow 85% of your home's value, payback over as much as 35 years if you have no less than 5 years left on your mortgage, and no higher lending charge.
Why we are your best choice for switching
When the time comes for you to remortgage, such as when your special rate is going to end, you will have your opportunity to improve your deal, should it need improving. You could take advantage of a tracker or fixed rate product, which may be available as an offset mortgage, which could help to shorten your mortgage term and reduce your present or future payments.
If you switch deals, you are able to reserve your new deal for 90 days before your other deal ends, and early repayment charges can be avoided by delaying the switch until they are no longer applicable. Also, rather than weeks as with other lenders, you could switch deals in days or even hours.
Once you're accepted
If we accepted you, we already knew you were eligible, and, unlike with other lenders, the switch will not affect your credit rate. You will not need a valuation and, unlike with another lender, you do not need a new solicitor and you can still apply even if you are blacklisted.
See our separate Buy to Let transfer offers, with up to 85% loan to value, and our separate self-certified mortgage transfer offers, whose status we can review provided your evidence of income, on our website. Apply online, or phone us for advice on our amazing deals for home loans in the UK.
Customer Reviews & Testimonials
"
They really helped me out and I was surprised when I found out their helpline was open 7 days a week
Candice D
— London —
They really made sure I was able to afford the home loan. Quite impressive
Paul R
— Manchester —
Their online application was surprisingly simple
Collin A
— Leeds —
They have made getting a home loan very easy and I couldn't be happier
Edward H
— Bath —
Chelsea Building Society Contact Details
Contact Number
E-Mail
Website
Physical Address
28 Merchant St

Bristol

England

BS1 3EP

United Kingdom
Opening Hours
Monday

09:00 – 17:00

Tuesday

09:00 – 17:00

Wednesday

09:30 – 17:00

Thursday

09:00 – 17:00

Friday

09:00 – 17:00

Saturday

09:00 – 12:00

Sunday

– Closed