Pepper Home Loans
Updated
A variety of servicing options
Flexible features
Reliable loan providers
In-page navigation
---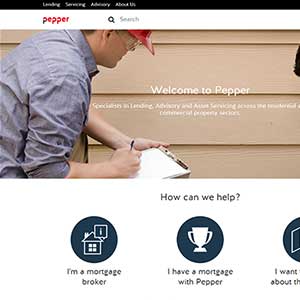 About Pepper Home Loans
You need affordable and tailor-made home loans in the UK and we have the resources and expertise to make them happen.
We specialise in advisory, lending and asset servicing in both commercial and residential sectors. We are an award-winning originator of buy to let and residential mortgages.
Why you should choose us
Because, unlike our competitors, we do not include credit score in our criteria, you will receive the deal you expect, as long as you provide accurate information to us, so as to save you time, money and inconvenience. This means you are eligible for a loan even with bad credit.
Flexible and high-quality mortgages
All our mortgages include free standard legal fees and a solicitor from an acclaimed firm. Our residential mortgage products can start at a rate of 2.17%, and our Debt Management Plans (DMPs) start as low as 3.48%. Clients who have not had a CCJ or default for 36 or 48 months can receive a Zero Completion Fee Limited Edition plan for a rate as low as 2.88%.
Pepper Home Loans Services
Our exemplary deals on home loans in the UK are a product of our refusal to settle for anything but the best product for your home financing needs.
As a third-party servicer, we work with brokers in order to simplify the complexity often attached to home finance, and emphasize a client-based approach that values long-term relationships.
Pepper Money and our customers
In addition to providing the best possible solution to your problems, we will, as required by the FCA, also publish on a 6-monthly basis all the reportable complaints we have received, with the appropriate context and number of accounts serviced, and publish it on our website.
Protection of your hard-earned money
We are working closely with UK Finance and Which? to make our tariff of charges more user-friendly, and our tariff excludes any fees and charges that most of our competitors would levy. If you want to send us your financial assessment, please download from our website, fill in and mail us your income and expenditure form.
Pepper Home Loans Product Details
Summary of Services
Superior credit performance
Priority technology
Excellent customer service
Our promise of transparency, quality and flexibility
When it comes to your dreams of home-ownership, we approach every aspect of quick loans with the utmost professionalism and respect.
Be sure to read about all our amazing offers on our residential, buy to let and DMP products, or to check out our tariff of charges, and to read our fair processing notice about how we use your information, on our website. No matter what the product, your application fee will only be £135.
Benefits peculiar to either residential or buy to let
We will be willing to provide you with a residential mortgage, or from buy to let's standard range, if you have a default and/or CCJ if you were registered during the previous six months, but in both residential and buy to let you must have no arrears within six months if you want a fixed term credit agreement. All our buy to let products offer the maximum loan-to-let. Our entire range offers an interest-only option, which provides for up to 60% loan-to-value for residential and up to 80% for buy to let. Your term must end at the age of 85 for buy to let.
General perks of your home loans in the UK
If you are self-employed, you will still have full access to our range, and you only need to provide us with one year's finalised accounts. Day rate contractors just need to provide a minimum of twelve months' financial history and three months of bank statements and must produce a current or average daily rate of at least £200 daily.
No loan-to-value restrictions will apply
We will factor in your shift allowance, overtime and bonus every month or week, and we accommodate your non-court ordered maintenance as well as many regular government benefits. We also calculate your five-year fixed-rate at pay rate. You must have a minimum earned an income of £18,000, but this includes both applicants, and all your secondary income will also be included. For all these reasons, choose Pepper Money to secure your home loans in the UK.
Customer Reviews & Testimonials
"
Their mortgage offer is very flexible and it made it easy for me
Randy L
— Bath —
Their advisory helped me decide on how I was gonna tackle my home loan
Garry H
— Cardiff —
I was impressed with how much benefits they offered
Kevin L
— London —
Pepper Home Loans Contact Details
Contact Number
E-Mail
Website
Physical Address
Harman House, 1 George St

Uxbridge

England

UB8 1QQ

United Kingdom
Opening Hours
Monday

09:00 – 17:30

Tuesday

09:00 – 17:30

Wednesday

09:00 – 17:30

Thursday

09:00 – 17:30

Friday

09:00 – 17:30

Saturday

– Closed

Sunday

– Closed