Loan amount is based on income
Apply for Decision in principle
An overpayment is allowed
In-page navigation
---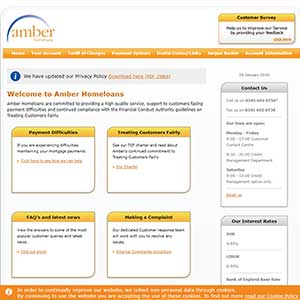 About Amber Home Loans
Clients of Amber Homeloans know that they can expect from us high-quality home loans in the UK, no matter what your financial situation.
We strictly comply with the Financial Conduct Authority. Our TCF (Treat Customers Fairly) Charter ensures that we clearly communicate all elements of our services and processes.
How we accommodate our customers
If you are finding it challenging to pay your mortgage, we will provide you with ample time to pay it off, investigate any possible government schemes to help you, and, with your written permission, contact an organisation like Citizens Advice to counsel you.
We may also be willing to sort out a new payment plan, adjust your payment method or date, or simply change your home loan types, such as a term extension or your repayment type.
Diverse repayment options
You can ask us for a redemption statement if you want to repay your mortgage, which you can do whenever you want. Although you will be levied an early repayment charge if you pay off all or a portion of your mortgage, the fee will be calculated based on a percentage.
Amber Home Loans Services
For the best deals in home loans in the UK, we at Amber Home Loans Ltd will skillfully protect your financial interests to the best of our ability.
Our standard variable rate for our superb home loans in the UK is currently at 4.95%. Services such as card transactions are available via our website, which operates under our legal, privacy and security policies.
Your convenience is our priority
We prefer direct debit because it ensures that the exact amount has been transferred, you can have an error corrected with a refund, your payments are automatically collected, and we, instead of your bank, will make your payment changes for you.
The logistics of your mortgage with us
We are currently a closed mortgage book and will not undertake any remortgages or advances at present. You can add or subtract people from your mortgage account by completing a transfer of equity.
If you want to add a second, correspondence address, send a letter with the detailed address and it's resident's name on it, and if this correspondence address changes, please send a letter to us with the new address and the person's signature on it.
Amber Home Loans Product Details
Summary of Services
Affordability check in only 5 minutes
Applying will not affect credit score
No hidden fees
Amber Homeloans has quick and affordable loans online
We will always ensure that you as our client are at the centre of our considerations regarding transparency and customer knowledgeability.
Call us, or send us a message through your online account, for a copy of our tariff of charges, which will come with your annual statement.
Quick loan applications
Our website's services are only available in the UK, and only for UK residents over the age of 18, and we require the first mortgage on the property. If you need to make renovations we have a short-term loan option. These quick loans payout fast helping you to do your DIY right away.
Your access to homeowner information
As your house has a residential mortgage, you must call us if you want to rent it out so that you can receive a lettings pack for further instructions, as well as how this will affect your mortgage.
If you want to issue a subject access request, please add your mortgage account number, mention any particular information you need, and have all who need the information sign the request, as we can only release information about those who have signed it. Your mortgage statement will be sent to you annually, at no charge.
Your online account and you
You can make credit card transactions once your online account has been registered. These payments will go through within seconds, after which your home loan account will be similarly updated. If you pay at a branch into our Barclays account, the payment will reflect on your account within 48 hours.
Be sure to experiment with our online calculator to see how the interest-only, repayment or mixed methods could influence your mortgage plan. If any banking jargon concerning home loans in the UK puzzles you, please feel free to peruse our Jargon Buster on our website.
Customer Reviews & Testimonials
"
They helped me get a home loan so quickly. I was impressed
Garry L
— Liverpool —
I wanted a home loan and was given all the information I needed to make a decision
Lynn R
— London —
Their customer service really good, I would recommend them for anyone
Brandon C
— Leeds —
Amber Home Loans Contact Details
Contact Number
E-Mail
Website
Physical Address
The Bailey

Skipton

England

BD23 1DN

United Kingdom
Opening Hours
Monday

09:00 – 17:00

Tuesday

09:00 – 17:00

Wednesday

09:00 – 17:00

Thursday

09:00 – 17:00

Friday

09:00 – 17:00

Saturday

– Closed

Sunday

– Closed