Quick loans up to £25,000
Low-interest starting from 49.7%
Repayment up to 24 months
In-page navigation
---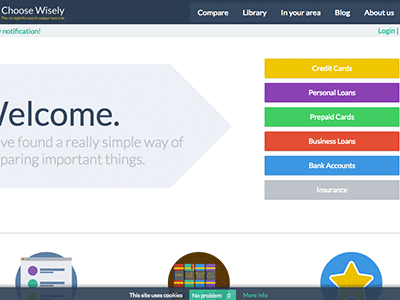 About Choose Wisely
Choose Wisely will kindly guide you, set your mind at ease, and treat you like the person you are.
Not like some credit score or statistic, we value the relationships we have with our customers as we can relate to them on many levels.
Take control today
We're free to use a financial comparison site, we'll supply you with the necessary tools to take back control of your finances.
We're all about helping you, so choose wisely - choose us, help us to help you.
We know that with the current state of the economy the financial system has become a monstrous enemy for millions of people out there, and we've decided it's time for a change.
We can relate to you
We know that life happens without sending out any warnings, and we know how some providers can miss the whole concept of a personal loan. A lot of times when people are under financial strain due to unforeseen circumstances they choose the wrong product, that in actual fact is more expensive in the ultimate end.
Choose Wisely Services
To us, it's very important to give every customer a fair chance, with the most suitable option, and ultimately the happy, stress-free result they deserve.
Choose Wisely basically helps you to multiple online loan applications with a panel of lenders, once this is done you will be informed which lenders actually accepted your application, and then we will guide you to choose the best option suitable to you and your financial situation.
Why choose us as your financial guide?
It's pretty simple; we are on your side. Choose Wisely has vowed to its customers that we will always keep you save, we make the process of borrowing simple, and we empower our customers to take back the control by choosing wisely.
The quick loan terms
We offer quick loans ranging from as little as £100.00 up £5000.00 so whatever your personal financial need may be rest assured that Choose Wisely will help you get the right loan from a suitable lender. Like we've mentioned before, we believe that everyone deserves a fair chance so whether you have good or bad credit you can apply without feeling doubtful or embarrassed.
Choose Wisely Product Details
Loan Type

Quick loans

Interest Rate

from 49.7%

Loan Amount

up to £25,000

Repayment

24 months
Summary of Services
Simple online application
Quotes for comparing loans
Having a bad credit is not a problem
Choose us when you want instant cash
We don't have any hidden fees, and we don't waste any time!
The quick cash loan application process will take a few minutes out of you day, and guess what? Once an application has been approved cash can be paid into your account within an hour of the application.
A quick loan should give you instant access to cash
Now that is how it should be done, that's the perfect example of how a quick loan should work. The whole process happens online, which eliminates the annoyances of having to wait for days to get your approval, or to hold the line until sunset.
It's easy, user friendly, and effortless
We live by what we promise, we save you time, we save you money, and we guide you to choose wisely. We also increase your chances of getting a proper short term loan just because of the fact that we have such a large panel of lenders, some of the best in the UK.
How will you know if you can actually apply to use Choose Wisely?
Like any other services provider, especially financial services we do have a few minor things we look at, there is some criteria that our customers would have to meet before we can process an application to the panel of lenders. We do this not only to protect ourselves, but to protect our customers, as we don't want anyone to get caught up in an uncomfortable situation. Choose Wisely is a responsible business.
It's so easy to apply with Choose Wisely
Of course the criteria is quite simple, we don't expect your entire family tree. In order to start the application you would have to be 18 years of age, have your own bank account with a debit card, and be permanent UK resident. This is quite simple; most people shouldn't have a problem with this.
So... whatever it is, whether you have a broken car, medical bills that's giving you sleepless nights, a contribution to your dream wedding, or even just a payday loan to carry you through to month end Choose Wisely invites you to choose wisely, and have no regret. Get the guidance you need, and take back the control.
Customer Reviews & Testimonials
"
The online application was simple and the online form I completed was short and understandable
Julia C
— Bath —
The loans amounts they are offering start from little amounts which are affordable to pay back. I was able to give my wife a beautiful wedding with the short term loan I got from choose wisely
Madonna C
— Glassgow —
Who gets rewards from having a credit card? Because I chose wisely I do
Tom C
— Eidinburgh —
Choose Wisely Contact Details
Contact Number
E-Mail
Website
Physical Address
Choose wisely, Telephone House, 18 Christchurch Road,

Bournemouth

BH1 3NE

United Kingdom
Opening Hours
Monday

09:00 – 18:00

Tuesday

09:00 – 18:00

Wednesday

09:00 – 18:00

Thursday

09:00 – 18:00

Friday

09:00 – 17:00

Saturday

– Closed

Sunday

– Closed