Quick loans up to £1,500
Low-interest starting from 49.9%
Repayment up to 36 months
In-page navigation
---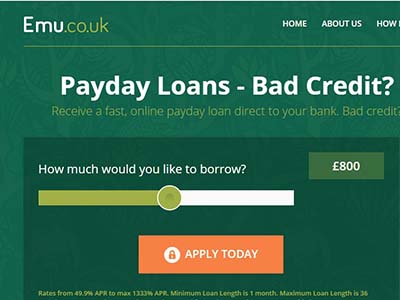 About Emu
We're an online loan broker, specialising in short term payday loans whatever the purpose might be.
We proudly launched our site in 2016, even though we've been part of the loan industry for the last ten years. We can proudly say that our customers come first. We will go that extra mile.
Get approved with Emu
We feel that everyone deserves a chance. Financial struggles do not skip anyone, so why not help those who have a bad credit record. They too face the unpleasant reality of financial stress. We choose to be fair. So whatever you need the loan for we will assist gladly. You might need the bad credit loan for car repairs, or maybe you're just falling short for the month. Rest assured Emu is the answer.
We live by simplicitye
Emu doesn't like to complicate things, we know how strenuous it can be when you are in desperate need of quick loans, so why waste any time with lengthy processes? Time is of the essence, and Emu is fully aware of this, as we too, face these struggles daily. You're not alone.
Emu Services
We're an innovative business we are always on the lookout for ways to better our services with a time-saving factor, and convenience in mind.
Emu has eliminated all of the unnecessary, and unpleasant procedures involved with short-term loans.
Short-term loans made easy, for you
We won't make you wait for days on end, not will we expect piles of paperwork. With Emu simplicity, your financial worries can be something of the past. Basically you would do an online application where you'll be asked a few easy to answer questions, this will only take a few minutes.
Instant results are what we strive for
Once you're done with this application you'll get your result almost instantaneously! This is such an effortless process, you'll never have to search the net for hours to get the correct lender suitable for your personal circumstances. Once your online loan application is done Emu will connect you to a panel of potential lenders, not only will this save you a lot of time and effort but it will increase your chances on a better loan even more.
Emu Product Details
Loan Type

Quick loans

Interest Rate

49.9 – 1333% p/a

Loan Amount

up to £1,500

Repayment

1 month to 36 months
Summary of Services
Online application
Decisions are quick
Money is transferred the same day
Try Emu for all your short-term loans, you won't be sorry
At Emu, we know that when one applies for a quick loan it's quite obvious that there is an urgency for fast results.
By using a panel of different lenders the transfer of funds may vary from one lender to the next, however, all of the well-known lenders that we associate ourselves with are very aware of how important it is to make sure that customers get the cash as quick as possible.
Emu is a responsible services provider
With that being said, we only have your best interest at heart. We do credit checks, whether you have a good or bad credit history.Quick loans will be made to suit your needs. So whether you need a larger amount for a more extensive financial issue, or if you need just a small amount Emu and the lenders involved will always try to assist you to the best of their abilities.
What are the benefits of these short-term loans?
There are quite a few benefits you can get from these types of loans.
The loans offered can go up to £1500.00! Most of these loans can be processed and paid into your account within 24 hours, as we mentioned before bad credit applicants are more than welcome too.
There are no hidden fees, or charges so not only will we help you get a loan, we'll help you save time and money!
The best panel of UK lenders
You will have the opportunity to repay these short term loans in 3 months giving you the chance to plan and budget ahead. Best of all, we're available the whole year round as we're an online provider. You'll never have to wait again!
With us being such a tech-savvy quick cash loan provider, you can become a more relaxed person with full control over your finances.
What are the requirements?
The requirements are minimum. Emu will not expect you to give us your entire biography. We'll need a few simple things from you, that shouldn't be a problem as most people will pass this with flying colours.
Emu will ask whether you're 18 years or older, are you a permanent UK resident? Are you permanently employed? What are your banking details, and of course we'll have to get some of your personal details. All of this will help us to determine what personal loan amount you can qualify for, what your repayment term will be, and ultimately what interest rate will apply.
It's really quick, and easy to get your financial life back to where it needs to be if you connect yourself to the right people. So join Emu now, you won't be sorry.
Customer Reviews & Testimonials
"
I needed cash for a short term to build a small house for my mom. I only needed a loan to repay at 6 month period
Jack J
— Bath —
I took my kids out after passing their matric with the money I borrowed from Emu
Lee T
— Oxford —
Emu Contact Details
Contact Number
E-Mail
Website
Physical Address
85 Great Portland Street

London

W1W 7LT

United Kingdom