Quick loans up to £2,000
Low-interest starting from 151.4%
Repayment up to 8 months
In-page navigation
---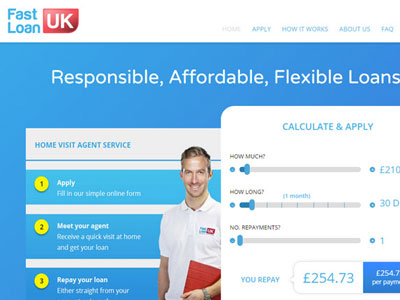 About Fast Loans UK
Fast Loans UK is the place to be.
We're proud to say that we're a part of JDB enterprise a very well UK based business providing financial services.
Fast Loans UK has tons of experience
Fast Loans UK is a strong believer in putting our customers first. Because we too have to deal with the everyday struggles of life we fully understand the need and desire for those wanting a short term loan. Fast Loans UK is all about building strong and worthy relationships with our customers.
We have made lending easy & convenient
When you apply for a loan we want you to experience complete ease, we are here to help. We don't want you to find the experience strenuous, and frustrating. With Loans going up to £2000.00 Fast Loans can definitely help you to get things done. We would like to add that we are a responsible lender; we don't take risks that may result in one of our customers ending up in a sticky, uncomfortable situation.
Fast Loans UK Services
Although we like to be very hands-on - old school we like to say, we also realise that the times have changed.
Our online quick loan application system will take a mere few minutes, eliminating the annoyances of paperwork, and lengthy telephone calls.
Innovation sets us apart
Time is very limited, and technology has become such a big part of the everyday life that we can't deny this. Fast Loans UK has become part of the new era, and how things are being done nowadays. We innovate when it comes to all payday loans because we know innovation equals success.
We make lending easy as
To save time, and make the lending process as effortless as we can we decided to incorporate an online application system that's user-friendly, and saves a lot of time. With the online application, we also give our customers to make their own decisions on how much they would like to borrow, whet their repayment amount will be, and ultimately what their monthly instalments will be. This gives you more control over your own financial life.
Fast Loans UK Product Details
Loan Type

Quick loans

Interest Rate

from 151.4%

Loan Amount

up to £2,000

Repayment

30 days to 8 months
Summary of Services
No hidden
Affordable loans
Flexible repayment terms
When you need a quick loan - choose Fast Loans UK as your trusted partner
It's time you take back what belongs to you. Like we mentioned before, we love to go back to the roots of things.
The great news is once you've signed the agreement you can expect money to get paid into your account within as little as 15minutes! Now tell me this is not a fantastic opportunity!
You should not have to wait for quick cash - and we won't let you
Once an online loan application has been completed we will assign a customer care manager to you, this person will phone you just to confirm a few things. This will not take more than 3 minutes! This is such an easy process. Once this is done you'll receive a link with documentation where we'll ask you to sign the documents (electronically).
Benefits of taking a fast loan with Fast Loans UK
Apart from what you already know Fast Loans UK have a few other beneficial things to mention to you as well.
Should you decide to pay your quick cash loan off earlier it will be cheaper for you! Unlike a lot of other lenders, we won't add any extra costs; in fact, we'll only charge you the interest for the day that you've borrowed for.
We charge no fees! We understand life is already expensive as it is!
Also, we don't have any hidden personal loan application fees or such. Should you ever need to change your repayment date you can easily request this from the customer care manager appointed to you. We really do focus on making lending a painless process, because let's just frank life is stressful enough with everything else that's happening.
Customer Reviews & Testimonials
"
Efficient and knowledgeable staff
Chris W
— London —
I wasn't sure about transparency when I applied for the loan at Fast Loans until I saw it myself when I was paying off the loan. I could recommend this lender to somebody else-
Carl D
— London —
Cheap and low interest rates
Daniel W
— Bath —
The customer care manager who was assigned to assist me was very helpful especially when I was struggling to pay back the loan due to losing the job. I felt the love and support-
Gerald F
— London —
Fast Loans UK Contact Details
Contact Number
E-Mail
Website
Physical Address
Fast Loan UK, 2 Falcon Gate Shire Park Welwyn Garden City

Hertfordshire

AL7 1TW

United Kingdom
Opening Hours
Monday

Open – 24 hours

Tuesday

Open – 24 hours

Wednesday

Open – 24 hours

Thursday

Open – 24 hours

Friday

Open – 24 hours

Saturday

Open – 24 hours

Sunday

Open – 24 hours