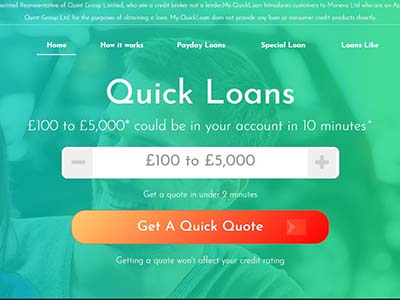 About My-Quick Loans
With that time of the year just around the corner, the tensions are getting high.
Christmas is a fun time of the year, but for a lot of people, this can also be a dreaded financial drain.
Christmas loans for festivities without stress
We're a financial services provider looking to make your Christmas more festive and less stressful. We're not a lender, but a provider that will connect you to a panel of lenders that responds positively to your quick loan application. We work with well-established lenders, making your chances of getting the fate of your family's Christmas back into your own hands!
Quick loan applications
We've started by making use of an online application system, not only is this a tech-savvy way to get things done, but it saves you a ton of time. It's easy to use too. Because the borrowers are connected to a panel of lenders the acceptance rates are high.
My-Quick Loans Services
My Quick Loans will basically ask you to do an application, online.
Once this application is done you'll be connected to a panel of lenders who will then provide you with different loan options each suitable for your individual needs.
How does this work?
Once a loan has been chosen, you can expect the cash to be paid into your account within a minimal amount of time. You'll be stress-free, and relaxed. That's why we have to keep up. We don't have any hidden fees or any additional costs.
Why choose us and not another provider?
Choose us because we care. We have families too, and we know how stressful it can be when everyone gets excited for Christmas but you just can't because your finances are in a bad state.
My-Quick Loans Product Details
Loan Type

Quick loans

Loan Amount

up to £5,000
Summary of Services
Bad Credit Loans
Short-term Loans
Quick Cash Loans
Christmas Loans
Easily get a loan even with a bad credit history!
The lending business is quite competitive and is becoming more and more innovative as each day passes.
The application process is safe and secure; your personal information will always be protected. What probably makes us stand out more is the flexibility.
Why choose My-Quick Loans?
The loans you can qualify for will range from £100 to £5000! So whether your financial need is minimal or huge rest assured. These loans can then be repaid over terms of between 3-36 months giving you an excellent opportunity to budget and prepare yourself. This is probably the best point; cash can be paid into your account within as little as ten minutes! We live up to the terms of quick cash and short-term loans. We're proud to say that we can provide our customers with quick and professional services. No more time wasted!
Bad credit history?
We invite you to do an application! Everybody deserves a chance to a better financial life. So what if your credit history is a bit rocky, it's history for a reason!
Please don't feel discouraged if you have a bad credit record. The chances of you getting a loan are big, all due to the fact that we use a panel of lenders of which a lot is willing to lend even when a customer has a bad credit record. Getting introduced to a panel of lenders will only increase your chances. We don't just look at your past; we also look at your affordability and current financial circumstances.
What are the requirements?
Just like all of the other providers you would have to meet some criteria before a loan application can be started. You need to be older than the age of 18 with permanent UK residency. We would also require you to have a personal bank account, and debit card.
Customer Reviews & Testimonials
"
Knowledgeable staff and well trained, I was very impressed
Zack R
— London —
I received my loan within 10 minutes. Thank you My Quick Loans.
Andrew H
— Cardiff —
They offered me loan even though I had a bad credit
Martin C
— Brighton —
Efficient and quick loan applications, I received my money on the same day i applied.
Lee W
— London —
My-Quick Loans Contact Details
Contact Number
E-Mail
Website
Physical Address
Oxford House, 61 Hulley Road

Macclesfield

Cheshire

SK10 2SD

United Kingdom