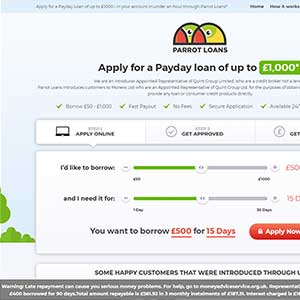 About Parrot Loans
Parrot loans is an introducer, appointed to represent Quint group who is a credit broker, not a lender.
We make getting quick personal loans easy, by introducing customers to Monevo who also represents the Quint group. We don't provide loans or any such credit products directly, but we make getting suitable loans quick and easy.
What is Parrot loans all about?
Parrot loans is a friendly payday loan introducer, introducing our customers to lenders in order for them to get the best suitable loans they deserve! We're proud to say that we're a consumer-friendly introducer, who's always willing to assist because we love whatever do and we do whatever love.
How does all of this work?
It's quite simple. You simply follow the easy steps and there you go, Bob's your uncle. It's really as simple as that! The steps are effortless and will save you so much time.
Parrot Loans Services
Because Parrot is an innovative business we always look for ways to ease the processes of lending by simplifying as much as we possibly can.
We've created an excellent online platform that's easy to use, and very easily accessible. Once you've checked your eligibility you can start the online application and this will take a mere few minutes out of your day.
We work completely paper-free!
Once the online application has been completed Parrot will introduce you to a panel of lenders, increasing your chances of getting the best loan suited for your own needs. By doing this you won't have to search the net for countless hours trying to find the best possible loan
What makes us different
The only difference is we work quick, yes you read it right. We don't waste time because we know how valuable time is. Whatever your financial need may be Parrot will always push for only the quick cash loan options. Of course, loans are based on your personal financial circumstances, and so are the repayment rates.
Parrot Loans Product Details
Loan Type

Quick loans

Loan Amount

up to £1,000
Summary of Services
Fast Cash Loans
Bad Credit Loans
Payday Loans
We strive to give you the perfect loan in a responsible manner
This most definitely is something that stands out, people just don't have time to waste anymore.
We don't like stress, thus we eliminate it. Parrot understands how the needs of people may differ therefore you can get loans from as little as £50.000 up to £1000.00! Once applications have been approved you can expect fast a payout, almost instantly to be quite frank.
What makes us so much better?
Parrot won't charge any fees for application processes, nor will we refuse those with a bad credit history! Everyone is welcome. Our loan applications are secure and protected so your personal information will always be secured. Parrot understands, and that's why we close the loopholes as far as we can. We believe that everyone deserves some financial help from time to time, life is tough and the economy is even tougher.
We are a responsible lender
Like any other financial services provider, we also require a few simple things before we can assist with getting you the perfect loan. We do this because we're a responsible business. However, we won't be ridiculous about it.
What makes you eligible?
If you're a permanent UK resident older than the age of 18 with employment you meet the criteria we expect. It's quite simple. Just like everything else with us! We thrive on simplicity. Parrot invites you to a simpler life, and quick cash.
Customer Reviews & Testimonials
"
This is not a 9 to 5 business. They are available 24/7
Mark C
— Leeds —
The service was quick
Morris W
— Cardiff —
I had to inform the lender of my late payment. I called their customer service. The lady I spoke to helped me to reduce my instalments to avoid missing payments. Thank you Parrot
Kelsey T
— Eidinburgh —
Parrot Loans Contact Details
Contact Number
E-Mail
Website
Physical Address
12 Culm Cl

Bideford

EX39 4AX

United Kingdom