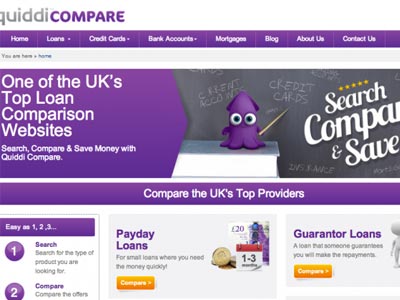 About Quiddi Compare
Looking for the best deal? Then you've come to the right place.
Quiddi specialises in loan comparisons. We're one of the UK's leading comparison sites. We offer excellent rates and speedy services.
All about the comparison game
With the state of the economy nowadays it's completely understandable if you need a helping hand now and then, even if it's just for a small financial push forward. With the short term loan competition it's very important for us to keep a functional, innovative, and active role.
Get rid of financial stress
We look for ways to make your life less complicated so that you can actually enjoy your money.Financial stress can really become a serious problem, especially in times of urgency, that's why we also make it one of our main priorities to save as much time as we possibly can.
Quiddi Compare Services
When you do your applications you won't be charged any admin fees or any other fees for that matter.
This way Quiddi will not only help you get money quick, but we'll also help you save while doing so!
How does this work?
It's all online, very tech-savvy and innovative.With innovation comes immense growth! We believe this. By using an online application process, Quiddi is saving time, and making the application process stress free. You'll have to complete an online application form that will take only a few minutes out of your schedule.
The online application is easy
Once this is done you'll receive matches in a matter of minutes, this is where Quiddi connects you to the best of the best. Being connected to a panel of lenders will increase your chances of getting a perfect loan, customised to your needs.
Quiddi Compare Product Details
Loan Type

Quick loans

Loan Amount

up to £5,000
Summary of Services
Compare Loans
Fast Cash Loans
Easy Cash Loans
At Quiddi Compare we don't want our customers to get into difficult financial situations
Because Quiddi Compare is a responsible provider we would ask a few simple questions.
We ask questions in order for us to determine if our customers are financially able to take on more debt. We wouldn't want any of our customers to get stuck in a quicksand situation.
What are the qualifying factors?
Before you start your online application make sure have the following requirements. The first thing is you have to be older than the age of 18 of course. We would also require a permanent UK residency, permanent employment is very important as well, and then, of course, you would have to have your own personal bank account.
These requirements are pretty simple and straight forward. If you can tick off all of the boxes you can start your online application immediately! The quicker you start the quicker you will receive the cash!
Why choose Quiddi?
Our loan comparison loan platform will allow our customers to get multiple loan offers in a matter of minutes, not only will this save you tons of time and effort, but it will increase your chances of getting an even better quick cash loan then what you expected.
We also offer adequate guidance so that our customers can make informed decisions, with no hidden tricks. Quiddi can connect you to a large panel of some of the best UK lenders so that you can feel completely relaxed. You'll be in good hands.
Quiddi has a variety of loans
Apart from the awesome loan services we have going, we also have a few other things to offer. Like any other provider or business, we're always on the lookout to be even better. That's why we have a variety. So if you don't need a loan, but need some other forms of financial help or guidance make Quiddi your first possible provider!
Quiddi can also assist with helping you to find the best accounts, mortgages, and credit cards! Everyone is different, so we need to flexible, and open for innovation.
Customer Reviews & Testimonials
"
I was happy with the service, fast and efficient
Gary R
— London —
Simple online application
Han S
— Oxford —
The customer care was very helpful. They answered all my questions
Sam H
— Cardiff —
I was able to pay for my fees though the personal loan. Thanks Quidd I am a graduate now
Andy C
— Bath —
Quiddi Compare Contact Details
Contact Number
E-Mail
Website
Physical Address
Forge & Co, 154 - 158 Shoreditch High St

London

E1 6HU

United Kingdom
Opening Hours
Monday

09:30 – 17:30

Tuesday

09:30 – 17:30

Wednesday

09:30 – 17:30

Thursday

09:30 – 17:30

Friday

09:30 – 17:30

Saturday

– Closed

Sunday

– Closed