Short-term loans up to £1,000
Repayment up to 4 months
In-page navigation
---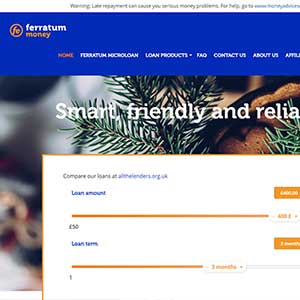 About Ferratum
Ferratum is the answer when you need a loan quickly. Unforeseen expenses aren't pleasant, largely because you can never really plan for them.
And if your finances are already in a tight spot, it's very easy to find yourself between a rock and a hard place. Fortunately, you can get yourself some wiggle room with a simple short-term loan from your trusted friendly direct lender.
With us, forget complicated
As an international provider of mobile consumer loans and a frontrunner within the financial technology market, we're the people you can safely rely on. Dealing with a financial emergency is already challenging enough without the added stress of a complicated process when trying to find the funds you need.
Receive money today
This is why we simplify things for you, allowing you to get funds quickly and effortlessly. Our goal is quite simple: we aim to deliver a top-quality, fast and friendly service that is centred on you and your needs. We're committed to helping you during those unexpected temporary financial setbacks so that you can get back on your feet again.
Ferratum Services
We're upfront. Transparency is a key factor in how we run things; from start to finish,
We make sure you are kept informed on everything you need to know about your loan. We believe that trust should form the foundation of our relationship with our customers.
Just the right amount for your needs
We're responsible lenders who put your needs above all else. As such, we take strict measures to ensure that you never take on more than you can handle. In other words, we will only give you what you can afford so that you will never be too overwhelmed. Our intention is for you to benefit from this transaction, not to dig yourself into an even bigger financial challenge.
Our loan offers are sure to be suitable for you
Choose a loan term ranging from 1 to 4 months. Before you decide, look at your personal situation so that you can see which term will best suit what you can manage. You can still apply even if you have a bad credit score.
Ferratum Product Details
Loan Type

Short-term loans

Loan Amount

up to £1,000

Repayment

30 days to 4 months
Summary of Services
Personal Loans
Short-Term Loans
Our quick finance solutions keep our customers satisfied
What makes us so likeable amongst our customers is that we take what we do seriously.
You are valued and this shows in how we first and foremost treat you like an individual and not just another number. We don't shy away from investing in you by giving you our full attention, making sure that you can always walk away knowing that you were treated with respect, understanding and professionalism. We don't compromise on your satisfaction.
Applying only takes a few minutes
Unlike banks which tend to have lengthy application processes, you only need 5minutes to apply for a loan from us. Once we receive your application, we'll asses you to determine if you will be able to afford the loan. After reaching a conclusion, we'll let you know the outcome of your application right away. There's no paperwork; no prolonged application process; no dreadful long waiting periods. Apply now and get a decision now.
No hidden costs
Being transparent means we don't hide any fees from you. Therefore, prior to submitting your application, you'll be able to see all fees that you'll be required to pay for your loan, meaning that you can make an informed decision on whether to proceed or decline the instant loan offer.
Get funds in hours
If you've been approved, you can have the funds in your account usually within a few hours (2 to be exact) - 7 days a week.
Pay early without punishment
You are at complete liberty to repay your loan early whenever you wish and you won't get penalised with extra fees for it. The advantage of paying early is that you can actually end up saving money because you will have less interest to pay (since interest is charged daily, the sooner you repay your loan the less you will have to pay). You can also apply for car loans and home loans.
Who is eligible?
When it comes to eligibility, the most important thing that we look at is affordability- if you are able to meet our affordability requirements and have the resources to repay your loan timeously, you will be considered for a loan. Other requirements include being employed, having a bank account, a debit card, an email address, and a mobile phone.
Customer Reviews & Testimonials
"
I called Ferratum to find out on the different loans they are offering. The service was amazing. The lady I spoke to was polite and very professional
Oliver S
— London —
I paid bills for the month with a loan I received from Ferratum
Ethan B
— Norwich —
I felt at home when I went to the branch. The guy who helped even offered me a tea since it was freezing. Friendly and knowledgeable staff
Isaac W
— Perth —
Ferratum Contact Details
Contact Number
E-Mail
Website
Physical Address
318, 25 Goodlass Rd

Liverpool

England

L24 9HJ

United Kingdom
Opening Hours
Monday

08:00 – 16:00

Tuesday

08:00 – 16:00

Wednesday

08:00 – 16:00

Thursday

08:00 – 16:00

Friday

08:00 – 16:00

Saturday

09:00 – 13:00

Sunday

– Closed