Short-term loans up to £3,000
In-page navigation
---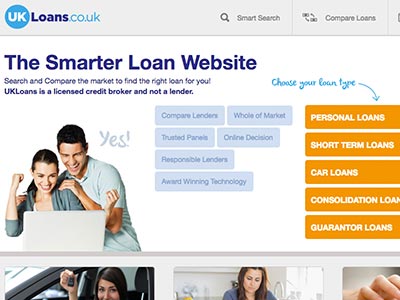 About UK Loans
At UK Loans we deal with the brokerage of consumer credit. Our company has helped countless clients by providing loans that are affordable and easier to pay back.
We designed our short-term loans to the clients' best interest and gives clients the opportunity to build a good credit profile in order to grow their loan amount.
Online communication system process
Our online engine allows users/clients to have free control over their choice of the loan by selecting the perfect option that suits their needs. This is a straightforward, easy to use system that carries no paperwork. The platform provides the client with a choice and comparison with all loans to find the best APR% loan for their pockets.
We specialise in a variety of loan options
Our proud panel of UK based lenders specialises in a variety of loans. We provide a range of loans from personal loans to guarantor loans that are structured to provide for all types of needs of the individual client.
All your information is protected
All personal information will be strictly confidential and all communication through our easy to use platform will be highly secured and not shared with any third party unless permission from the client is granted. This technology makes it possible for us to transfer your loan amount into your bank account as soon as it has been approved.
UK Loans Services
We are here for you in your time of need, whether it is to pay emergency expenses or just reaching out to your dreams, we have the fasst loan that suits your needs.
We are a reliable credit provider that takes responsibility in providing specialised personal loans from £1,000- £25,000 with flexible repayment terms.
How to apply
All person's over the age of 18 and have has a valid identify ID document, bank account showing of income/ payslip and is permanently employed may go to our highly protected and secured technology system online and apply.
Quick application process
Our easy to use platform secure a personal loan or bad credit loan in minutes after uploading all required documentation. The detailed loan term and flexible repayment terms of up to 60 months will be clearly viewed before the client agrees to the approved loan. You can be approved in minutes after all documentation has been received and your money will be transferred to your bank account immediately.
Vehicle finance assistance
By using our smart online platform the client may apply for assistance in finance to more than 100 products in our car loan department. Our variety of products cater for all vehicle needs and provide flexible loan terms and repayment terms for up to 60 months. Our safe and secure online application outcome system will protect our clients' personal information and will not be exposed to a third party unless consent was granted.
UK Loans Product Details
Loan Type

Short-term loans

Loan Amount

up to £3,000
Summary of Services
Short-term Loans
Online Services
You have our support throughout the process
The website provides a clear summary frame that shows clients all relevant information to make the best quick loan possible.
We strive for satisfaction and always provide the best quality loan to our clients. UK Loans equip their clients with enough knowledge of the products in order to secure the value we add. We encourage and support our clients to determine whether our products are feasible.
We do the calculations for you
These calculators help the client to understand the products that we provide, calculate affordability and find the best dealer to do quality business with. We provide a service that puts the best interest of our clients first and therefore encourages our clients to understand our products.
We keep things simple for you through the entire process
For faster and hassle-free access to your new loan application go to our website and within seconds you can have the outcome of your dreams. Every individual has a different need and we at UK Loans will be happy to assist in finding the loan that suits your needs.
Our guarantor/unsecured loans
Our unsecured/guarantor loans are designed for clients with a poor credit profile and still needs to borrow because of needs. These loans can be secured if the client will have a co-sign guarantor to sign the agreement.
At UK Loans we feel that people with a bad credit profile can still be helped if they have this person to co-sign as a promise to pay the loan if the client fails to pay. This provides for people with bad credit scores to improve their status and rebuild their profile. Our online application will find the best-unsecured loan lender to provide the loan. Apply for your guarantor
Repayment terms and conditions
Remember, if you will pay your loan late additional costs will be added. We will not chard any additional costs if your instalments are paid in advance. We would rather prefer the latter as this will boost your credit profile positively. Repaying your loan will be determined by your pay cycle.
We are a transparent business and no hidden costs will be added to our agreement. Our contact details are provided and we are easily contractible the need arises. So Apply for your loan today at UK Loans and start enjoying life to the fullest.
Customer Reviews & Testimonials
"
I was able buy myself a house through Wizz Cash loan. I really appreciate your financial assistance
Eva R
— Scotland —
I do not like queues; paperless system was a great application method for me. Their online application was simple and easy to understand
Emmelia B
— Norwich —
UK Loans Contact Details
Contact Number
E-Mail
Website
Opening Hours
Monday

09:00 – 18:00

Tuesday

09:00 – 18:00

Wednesday

09:00 – 18:00

Thursday

09:00 – 18:00

Friday

09:00 – 18:00

Saturday

– Closed

Sunday

– Closed