Short-term loans up to £1,000
Repayment up to 3 months
In-page navigation
---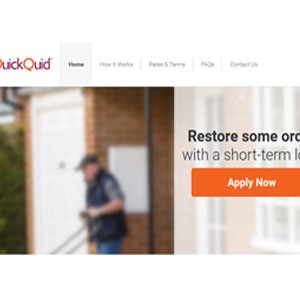 About QuickQuid
Get quick cash with QuickQuid. Giving you a helping hand
Every now and then, life happens and you find yourself needing quick cash. If your car breaks down or you incur some medical bills not covered by your medical aid; if you don't currently have the means to meet these unexpected expenses, a situation like this can be highly stressful.
Who is eligible?
You need to be a UK resident with a valid UK bank account. You should be employed, receiving a regular income as well as be 18 years old or over. We at QuickQuid are here for you in your time of need, offering flexible and transparent short-term loans to help you deal with financial emergencies. Through this, we are able to provide the UK public assistance in bridging the financial gap.
What can you expect from QuickQuid?
Our short-term loan amounts are convenient to suit whatever emergency situation you may find yourself in. New customers can borrow up to £1000 while existing customers can borrow up to £1500.
QuickQuid Services
Our application process is straightforward, saving you time, and more importantly, allowing you to get your money fast.
A few minutes is all it takes to fill out our online application form. Once you've completed the form, we'll usually only take about 30 minutes to process your application and we'll give you a decision as soon as possible.
Access your funds with no time wasted
If you have made use of our service before, you can apply conveniently via your QuickQuid online account. Providing a fast and efficient service is what we do, therefore our goal is to have your funds in your account as quickly as possible. In some instances, your money can be transferred within 10 minutes after you have been approved.
You can pay early
If you are able to make an early payment, you can do that without any penalties against you. This means that we won't charge you any additional costs, so you can actually save money as the amount you pay in interest will be reduced.
QuickQuid Product Details
Loan Type

Short-term loans

Loan Amount

up to £1,000

Repayment

30 days to 3 months
Summary of Services
Short-term Loans
Personal Loans
QuickQuid has relible short-term loan options
Our commitment to serving our customers in the best way possible means that we are dedicated to remaining transparent throughout our interactions with you.
As a result, we are completely open with regards to all the details of your loan, ensuring that you have all the information you need to always make an informed decision. For instance, we'll let you know what the total cost of your loan will be upfront, allowing you to see the exact amount you'll be required to repay and when.
Flexible payment options
Considering the fact that your financial situation might not be at its best at the moment, we've alleviated some of the stress for you by giving you multiple repayment options. Thus, depending on your eligibility, you can repay your loan over 1, 2 or 3 periods. With the freedom of choosing your preferred repayment method, you can either link a debit or credit card or you can authorise a debit order from your bank account.
You are always a priority
It's one thing to say we value our customers, it's another thing to actually mean it. We can proudly say that we fall into the latter category as our customers are our number 1 priority. How you experience our service is important to us and so we work hard to ensure your satisfaction. Therefore, our customer support team is available 7 days a week to make sure that your needs are met. Additionally, you can get help on a range of topics by using our live chat platform on our website.
They say the proof is in the pudding, so with more than 1.4 million customers (and the numbers are still growing) putting their trust in us every day, what more could you ask for?
Flexibility is key in what we do
We understand that every customer's needs are different; hence the best way to provide you with the best service is to offer you a product which can be uniquely tailored to your needs. This is what we do at QuickQuid. By giving you options with your personal loan, you have more flexibility in finding a product that suits your needs to the T.
Customer Reviews & Testimonials
"
I receive excellent service from the company
Joshua W
— York —
I choose QuickQuid because of their good treatment towards their customers
Lucy B
— Wales —
QuickQuid Contact Details
Contact Number
E-Mail
Website
Opening Hours
Monday

08:00 – 21:00

Tuesday

08:00 – 21:00

Wednesday

08:00 – 21:00

Thursday

08:00 – 21:00

Friday

08:00 – 21:00

Saturday

10:00 – 18:00

Sunday

10:00 – 18:00