PSA UK Finance Ltd and Citroën
Updated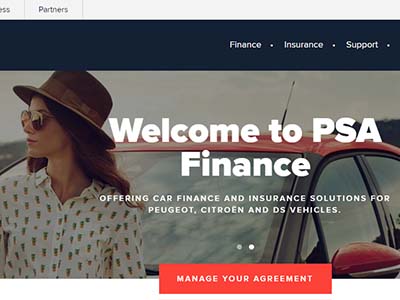 About PSA UK Finance Ltd and Citroën
If you are looking for car financing in the UK, PSA UK Finance Ltd, in association with Citroën, is your best bet for flexible and quality financial offers, both personal and business loans.
Because we at Citroën seek to accommodate your individual needs, we will respond to all your questions, whether by phone, online or by email, within 24 hours, and with respect and professionalism.
The car finance calculator
Both PSA UK Finance Ltd and Citroën pride ourselves in our commitment to personalising such a significant life investment as your vehicle purchase. Try our Citroën Car Finance Calculator, which will generate a quote based on your car specifications and car loan type. You can also adjust your payment structure at any time afterwards, with the optional guidance of our Estimated Part Exchange Valuation.
Our customer-centred business model
We bring this personalising attitude to all your business with us, whether payment deals, financial safeguards or car insurance that your driving experience will always be pleasant and secure. Our passionate and reliable dealers are ready to advise you on the most appropriate product for your needs, as well as organise all your paperwork and delivery logistics so that your only concern will be enjoying your new Citroën.
PSA UK Finance Ltd and Citroën Services
Your peace of mind is our priority, which is why we are meticulous in our accommodation of whatever financial challenges life throws at you.
Our Payment Waiver will cancel 6 monthly instalments, and if your position has still not improved, you may return your vehicle for no charge except arrears, mileage and damage.
Elect 3 personal contract purchase
With Elect 3 package, you can change your Citroën for another every two to three years. According to your budget, you can pay a deposit of 0-40% of the vehicle price, and then subsequent fixed monthly instalments of either 25, 31, 37 or 48 months. We will discuss with you regarding a 6,000-30,000 mileage band, which will be calculated as your Guaranteed Future Value (GFV).
Elect 4 personal lease
One excellent method for avoiding the logistics of selling your car is the personal lease, where you pay a number of fixed monthly payments, after which you can simply return the Citroën to the dealer and pick up a new one. If you want to pay off the permitted final rental amount, you can pay an annual equivalent. Suretyship may be required and exceeding your annual mileage will result in a charge.
PSA UK Finance Ltd and Citroën Product Details
Loan Type

Vehicle finance

Interest Rate

10.4%
Summary of Services
Car Loans
Personal Loans
Personal Lease
You can get quality insurance and affordable loans at PSA
We are committed to helping you with a quick loan and our comprehensive insurance plans and will enhance your lifestyle with excellent leasing deals.
CitroënSimplyDrive, which is funded by Personal Contract Purchase, provides you with 3 years of car insurance, including road fund licence, warranty, roadside assistance and routine servicing, for a fixed monthly amount. Every three years applies to one vehicle at a time.
Our insurance offers
We provide you with 7 days of free insurance, subject to you providing the required documentation, to allow you the time to organise more adequate insurance. Our financial shortfall insurance will assist you in covering the difference between the current market value of your car and its original value in the event of a total loss.
PSA Group's Free2Move Lease UK
As one of the leading leasing companies in the UK, an intercontinental ISO 9001 certified member of the British Vehicle Rental and Leasing Association (BVRLA), Free2Move Lease UK is a highly trusted name in car financing in the UK, for both large and small businesses. Some benefits include 18-48 hour leases to 150,000 miles, and the choice to lease models that emit low levels of CO2, as well as cost less fuel and taxes.
Our lease options simplified
You start at Lease Command Level 1, which is applicable for free when your lease exceeds 18 months, and sends you MOT reminders, monitors your mileage, and provides European and UK breakdown and accident assistance, among other things. However, Lease Command Level 2, which is available at an extra charge, actively manages your mileage and financial expenditure, full maintenance, servicing and wear and tear coverage, and telematic coordination of your fleet. Even if the latter technology is not fitted in your Citroën, we will fit an aftermarket equivalent.
Customer Reviews & Testimonials
"
They have the most affordable car loans ever
Alice L
— Salisbury —
They probably have the most friendly service among loan providers.
David N
— Durham —
PSA UK Finance Ltd and Citroën Contact Details
Contact Number
E-Mail
Website
Physical Address
61 London Road

Redhill

Surrey

RH1 1QA

United Kingdom
Opening Hours
Monday

09:00 – 17:00

Tuesday

09:00 – 17:00

Wednesday

09:00 – 17:00

Thursday

09:00 – 17:00

Friday

09:00 – 17:00

Saturday

09:00 – 13:00

Sunday

– Closed