Loans bad credit up to £5,000
Repayment up to 24 months
In-page navigation
---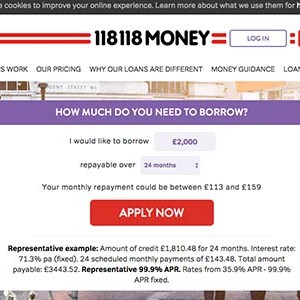 About 118 118 Money
At 118 118 Money, we know that sometimes dark times can creep up on you easily which is why we have a variety of options available to help you find the light.
How are 118's loans different?
At 118 we believe that we are set apart from other lenders. We do not have any hidden fees or small print to confuse or deceive you and will not turn our noses up to applications with a poor credit record. Our online application is simple and quick allowing you to receive your money within 24 hours upon approval. We operate with full transparency, offer a great deal of flexibility and a simple payment system; ultimately, we are a lender you can trust.
Control your credit on the go
With the 118 mobile application, available on the App Store as well as Google Play, you are able to control your finances anywhere and anytime. If you have a 118 118 Money credit card, the app will provide you with instant access to your available credit card balance in order to make quick purchases online or over the phone immediately after your credit card has been approved. We are all about efficiency!
118 118 Money Services
Even if you have a less than perfect credit score we will still consider your application.
We offer both the guarantor and non-guarantor loans for bad credit score holders.
What repayment options are available to me?
We offer numerous ways in which you can pay for your monthly repayments. You can contact us telephonically and we can assist you to make the payment or you can make a direct payment via internet banking or directly from your bank. Otherwise, you can set up a direct debit order to automatically make a payment to us monthly.
Our online tools
At 118 we pride ourselves on providing our customers with tools, resources, and products that will assist them to develop good financial habits as well as assist them in improving their credit score. If you have too much debt you might want to consider a debt consolidation loan. We offer a variety of financial products allowing our customers to borrow from £1000 to £5000 over a period of twelve to 24 months varying in order to suit their financial climate.
118 118 Money Product Details
Loan Type

Loans bad credit

Loan Amount

up to £5,000

Repayment

12 months to 24 months
Summary of Services
Bad Credit Loans
Credit Cards
Quick Cash Loans
Flexible Loans
We're here to solve your financial emergencies
Having a financial emergency? Call 118 118 Money!
Controlling your finances can be stressful and sometimes you just need a push in the right direction.
Get an affordable credit card
We offer a credit card option that can help you with small credit problems that you are experiencing. We also ensure that you can receive the right money guidance should you find yourself in trouble.
Credit cards to the rescue!
Small problems require smaller, less drastic solutions. A credit card can be the perfect option for you to deal with small financial problems. We will not charge you any fees apart from our monthly subscription fee. What makes matters better is that this you can improve your credit score by simply meeting your monthly subscription payments.
Have you gone over your budget this month?
If you find that you are going to have difficulty meeting your monthly payment this month then do not hesitate to get into contact with us so that we can find a solution to your problem. We understand that applying for a personal loan can be daunting which is why our website is packed with money guidance information. If everything still seems hazy then feel free to contact our team for clarification.
The guarantor loan
If you take a guarantor loan you will need a friend or family member to co-sign your loan agreement but these loans can also have lower interest rates than non-guarantor loans due to the reduced risk for the lender. Before deciding which option is best for you, it is best to consider your current and future finances to determine how much you are able to borrow and how much you will have to pay on monthly repayments.
Customer Reviews & Testimonials
"
I was happy about the fast and secure online application
Ryder M
— York —
I could not believe when my loan was approved on the same day
Oliver W
— London —
I applied for the loan , their online application was very fast and understandable
Thomas B
— Brighton —
118 118 Money Contact Details
Contact Number
E-Mail
Website
Physical Address
Dumballs Rd

Cardiff

Wales

CF10 5BF

United Kingdom
Opening Hours
Monday

08:00 – 20:00

Tuesday

08:00 – 20:00

Wednesday

08:00 – 20:00

Thursday

08:00 – 20:00

Friday

08:00 – 20:00

Saturday

08:00 – 20:00

Sunday

08:00 – 20:00