Loans bad credit up to £5,000
Repayment up to 3 years
In-page navigation
---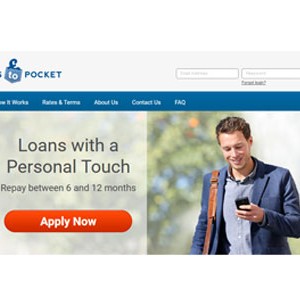 About Pounds To Pocket
If cobwebs have started to form on the inside of your wallet then we will help you to dust them out.
At Pounds to Pocket, we will provide you with a financial solution that can get rid of the cobwebs that clutter your financial life. Pounds to Pocket is a direct lender that has been helping UK citizens with their financial problems since 2010.
What if I have bad credit?
Bad credit does not scare us and it should not scare you either! Even if you have a less than perfect credit score, you can still apply for a loan with Pounds to Pocket. As long as you are at least eighteen, reside in the UK, have your own bank account and a steady income then you can apply using our online application.
Will taking out a loan affect my credit score?
Once you have been approved for a personal loan, you have accepted the responsibility to meet the monthly repayments. If you are able to meet these monthly payments and repay your loan without any problems then you can improve your credit score making future approval for loans easier.
However, if you are unable to meet your monthly repayments or declare bankruptcy then you can make your credit score worse and lenders might not be willing to lend to you in the future because you pose a risk.
Pounds To Pocket Services
The best part of borrowing from us is that we do not have any annual fees, early repayment fees or application fees!
We operate with full transparency because you have enough on your plate.
Unsecured home loans
At Pounds to Pocket, we offer unsecured home loans to both homeowners and tenants. With an unsecured loan, the borrower does not have to offer any assets as collateral thus if you cannot make your payments, the lender cannot take any of your assets. A new borrower can be approved for up to £2000 in unsecured loans.
Individuals can use these unsecured loans for anything from vehicle repairs or fund small home projects.
How do repayments work?
The repayment amount that you pay every month will differ per client as it depends on the amount borrowed, the period borrowed for and the interest rate. Repayments are made monthly via debit card or direct debit authorization. We do not charge fees for early repayment which means you can make additional payments to reduce your total balance thus paying off the loan faster and with less total interest.
Pounds To Pocket Product Details
Loan Type

Loans bad credit

Loan Amount

up to £5,000

Repayment

6 months to 3 years
Summary of Services
Quick Loans
Instalment Loans
Bad Credit Loans
Pounds To Pocket makes your life easier
Payday loans can be a fast way to accumulate unaffordable debt which is why we offer instalment loans.
Our instalment loans come in a variety of amounts depending on your need ranging from £200 to £2000.
Is your pocket feeling empty?
When money is tight we can help you to find a solution to your financial problems. Pounds to Pocket offers a variety of short-term loan options to our customers.
Affordable payday loans
Where traditional payday loans require the loan to be repaid on the next payday, our instalment loans allow you to make payments over a longer period of time from six months to twelve months. If you are unable to make repayments get into contact with us and we will try to find a solution for you. Unfortunately, a late payment fee will have to be paid if you are unable to meet your repayment schedule.
What makes instalment loans better than payday loans?
The main difference is the repayment period. Instalment loans can be repaid over a longer period of time and allow you to borrow more than a traditional payday loan. The interest rates charged on a payday loan are also significantly higher than the interest rates of an instalment loan.
However, because you are making repayments over a longer period of time, the total cost of an instalment loan is generally higher than that of a payday loan because you accrue more interest over the extended loan period. When deciding between the two it would be best to assess the best option for your current and future financial situation.
Customer Reviews & Testimonials
"
My dad passed away when I had no cent. PP came to my rescue with their emergency loans. Thank you
Amanda S
— London —
I did not have a decent job and I never thought there is any service provider which could consider me a loan. I was very happy when PP offered me the personal loan regardless of my poor credit st...
Abel F
— Liverpool —
I could not believe it when I receive the money after 15 minutes of the application. The service was amazing
Adler A
— Cardiff —
Pounds To Pocket Contact Details
Contact Number
E-Mail
Website
Physical Address
483 Green Lanes

London

Greater London

United Kingdom
Opening Hours
Monday

08:00 – 21:00

Tuesday

08:00 – 21:00

Wednesday

08:00 – 21:00

Thursday

08:00 – 21:00

Friday

08:00 – 21:00

Saturday

09:00 – 17:30

Sunday

10:00 – 18:30