Easy Loans Company
Updated
Loans bad credit up to £25,000
In-page navigation
---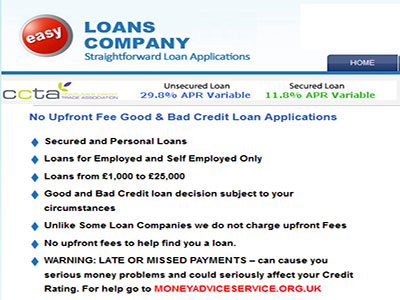 About Easy Loans Company
Getting a loan can be a hassle and cause a lot of additional stress that you do not need. This is why the Easy Loans Company is here to make your life easier.
Since we are a trusted loans broker, we will assess your needs and compare them against our list of approved lenders until we find the perfect match. Simply complete our easy online application form and we will do the work for you.
Need to know more first?
The Easy Loans Company is a loans broker in the UK that strives to provide simple and efficient service to customers searching for secured and unsecured personal loans. We welcome applications from customers who have a good and bad credit history whether you are a homeowner or a tenant. Simply complete our application within a minute and receive a fast response.
Get a free quote
What makes the Easy Loans Company an even better choice is that we do not charge any fees! You are under no obligation to accept the offer given by one of our registered lenders unless you are completely satisfied and comfortable with the deal. If you have any questions our team will be more than happy to help you so simply pick up the phone or send an email and we will get back to you!
Easy Loans Company Services
With the Easy Loans Company, we are able to provide access to a variety of loans depending on your credit circumstances.
These loans included secured, unsecured and debt consolidation loans among others. Your loan application will be checked against over thirty different lenders providing you access to a loan amount from £1000 to £25 000.
The debt consolidation loan
If you have multiple credit cards and a loan then it can be a hassle to pay all these bills. This is why many customers opt for a debt consolidation loan which assists you to manage your debt more efficiently. This will help you to bring all your accounts together into one single payment, saving you effort and saving you money because interest is only accrued on a single amount.
With us, loans are easy peasy
Sometimes unexpected things happen in our everyday lives which can add to your financial headache. We are happy to announce that we can provide you with access to short-term loans and quick loans for fast solutions.
Easy Loans Company Product Details
Loan Type

Loans bad credit

Loan Amount

up to £25,000
Summary of Services
Short-term Loans
Easy Cash Loans
Bad Credit Loans
At Easy Loans we save you time and money
We know that you do not have the time to compare loan options which is why we will do it for you.
If you are in dire need of cash, a quick loan can be the solution you are looking for. When applying for a quick loan you can get your money paid into your account within 24 hours.
Short term loans for smaller problems
Whether your vehicle has broken down or you have to pay an unexpected medical bill, we understand that you don't always have savings to cover these problems.
This is why some lenders offer short-term loans for smaller amounts of money payable over a period from one week to twelve months. The interest rates on these loans are often higher meaning that the longer the loan period, the more interest you will have to pay back.
Interest and bad credit
If you have bad credit and have been turned away by multiple banks then we are happy to inform you that you still have options! The Easy Loans Company can help find a bad credit loan to suit your needs.Bad credit loans come with a higher interest rate because your bad credit does pose a risk to the lender.
Due to the higher interest rates, you will repay significantly more than the amount that you borrowed. To ensure that the loan is still affordable, lenders will offer you the option to pay the loan back at a longer period of time. The longer the loan period, the more you will repay because interest is accrued over a longer time period.
Guarantors for guaranteed loans
A guarantor loan is a wonderful option for customers with a poor credit history. With the assistance of a guarantor, you will be able to apply for a loan with an amount up to £10 000. With a poor credit history, you pose a risk to the lender as they have no way of ensuring that you will be able to meet your monthly repayments.
However, if you are able to get a trusted friend or family member to act as guarantor for you, in which they agree to meet the monthly repayments should you be unable to, then the lender can give you the loan you need.
Customer Reviews & Testimonials
"
Effective and quick service
Isaac W
— Aberdeen —
There is nothing more stressful than not be able to get a loan because of the bad credit. When I heard about Easy Loan Company loans I applied ASAP and they did offer me a loan
Wilson S
— Dundee —
ELC made my life easier with their app. I was able to access my account through the app without calling or going physically to the branch
Jessy B
— Southhampton —
I called the lender because there was a misunderstanding and the person I spoke to was very friendly and knowledgeable
Matthew W
— London —
Easy Loans Company Contact Details
Contact Number
E-Mail
Website
Physical Address
Bridgewater House, 58-60 Whitworth St

Manchester

England

M1 6LT

United Kingdom
Opening Hours
Monday

09:00 – 20:00

Tuesday

09:00 – 20:00

Wednesday

09:00 – 20:00

Thursday

09:00 – 20:00

Friday

09:00 – 14:00

Saturday

10:00 – 14:00

Sunday

– Closed