Loans bad credit up to £20,000
In-page navigation
---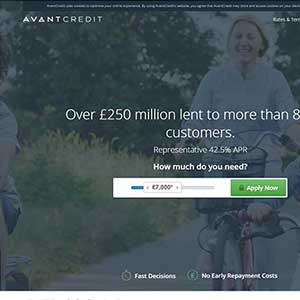 About Avant Credit
Sometimes bad credit can sneak up on you unexpectedly.
Whether you want to pay an unexpected expense, consolidate debts or simply renovate your home, we have a loan to suit your needs.
Why Avant is good for you
At Avant, we view our customers as individuals and not as applications or credit scores. This means that when you apply for a personal loan or business loan, we will offer you a personalized consultation based on your individual circumstances.
Quick bad credit loans
Bad credit does not scare us so do not be shy about your financial situation. By taking out a loan with us you could place yourself in a better financial position than before. Simply complete our online application and receive a fast response. You could have the money in your account on the same day! If you have any questions, we have a support team eager to take your call seven days a week.
Avant Credit Services
Loans acquired from Avant can be used for any situation right when you need it the most.
Being stuck in a bad financial position can be alarming but we aim to make the process as easy as possible. With Avant you have access to loan amounts up to £20,000 payable over a maximum of six years.
Personal loans for financial relief
There are no limitations as to how you can spend your personal loan. While you decide how you would like to use your money, we will process your application and get things rolling.
Flexible loan terms
With Avant, you can borrow from £1000 to £20,000 repayable over a period ranging from one to six years. The interest rate provided will depend on your current financial situation. We believe transparency is important and will never try to catch you out which is why you are able to pay back your loan at any time without any penalties.
Avant Credit Product Details
Loan Type

Loans bad credit

Loan Amount

up to £20,000
Summary of Services
Personal Loans
Bad Credit Loans
Quick Loans
Is money tight this month? At Avant Credit our loans pay out fast
A good way to get a handle on multiple debts is to obtain a debt consolidation loan.
Even people with perfect credit scores can encounter difficult months in their financial journey. Before you start to stress, give our financial support team a call and we will work together in order to develop an affordable and sustainable repayment plan that works for you.
Debt consolidation can be your solution!
If you have multiple credit cards and their bills are cluttering your mailbox, a debt consolidation loan can help to bring all the debt under one umbrella. Ultimately, a debt consolidation loan allows you to pay off your existing debts and pay one monthly fee instead of multiple. With us, your debt consolidation loan is as flexible as you need it to be. We offer a fixed interest rate to help you to better budget your finances.
Use personal loans to improve your credit score
A bad credit score does not stop you from qualifying for a personal loan. Your circumstances can impact your loan amount, period and interest rate. However, if you continue to meet your monthly repayments, without any hiccups, then you can improve your credit score by the end of your loan period. Higher interest rates can be combated by making additional payments where possible.
Do I meet the requirements to apply for a loan?
If you are a UK resident with a valid banking account at a UK bank and are over the age of eighteen then you are welcome to apply for a loan with us. Your banking account also has to reflect a stable income. The type of documentation required will differ from case to case and can be sent to us via your online Avant account or scanned and attached via an email.
Avant, at your service!
Customers are at the heart of our operations which is why we try to accommodate you whenever and however possible. If you are running into some financial trouble we want to hear about it so that we can cook up some solutions.
Customer Reviews & Testimonials
"
Best company which put customers first
Eva C
— Dundee —
I was happy with the service I received in the branch
Violet H
— Cardiff —
Avant Credit Contact Details
Contact Number
E-Mail
Website
Physical Address
AvantCredit, Liberty House, 222 Regent St

London

England

W1B 5TR

United Kingdom
Opening Hours
Monday

09:00 – 18:00

Tuesday

09:00 – 18:00

Wednesday

09:00 – 18:00

Thursday

09:00 – 18:00

Friday

09:00 – 18:00

Saturday

09:00 – 18:00

Sunday

09:00 – 18:00