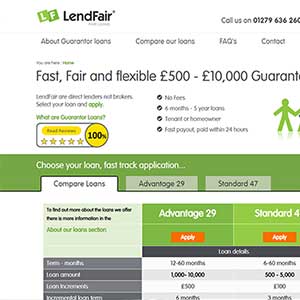 About Lendfair
Are you tired of lenders trying to take advantage of you?
Or simply tired of your applications being rejected just because your credit record has taken some bumps and bruises?
Efficiency is our priority
We know that when you need money, you need a fast response which is why our online application takes only five minutes to complete. After you have completed your application, one of our fair and friendly team members will contact you and your selected guarantor telephonically within the hour.
Quick loan payouts
You can sign the documents online! The money will be in your account within 24 hours of approval. If you have further questions, our website also has an area with faqs. If you cannot find your answer there then give us a call!
Lendfair Services
At Lend Fair we do not pass judgment and aim to live up to our name: to lend fairly and give you the loan that you deserve.
Loans for bad credit history
We don't pass judgement on any client over their credit score, rather we try to give our clients a second chance. You can also apply for a debt consolidation loan if you feel you have too much debt.
Who can apply for a Lend Fair loan?
You can apply for a Lend Fair loan if you are over the age of eighteen, have a fixed monthly income, are a tenant or homeowner and reside in the UK with a UK bank account. If you are applying to be a guarantor then you also need to fit into the above criteria. More detail regarding guarantor requirements can be found in our bad credit loan options.
Lendfair Product Details
Loan Type

Loans bad credit
Summary of Services
Bad Credit Loans
Easy Cash Loans
Guarantor Loans
Lendfair has fair loans with fair options and quick payouts
At Loan Fair, we do not just care about money but value our customers and the treatment they receive.
Technology is all around us, this is why we have decided to make the best use of it in order to make repayments more convenient and efficient.
Paying with PayPoint
On our website, we offer the opportunity to make your repayments via PayPoint. Simply insert your loan ID and some other personal information and you can make your payments via the secure PayPoint site. This allows you to make your payments at home on the computer or on the go via your Smartphone or Tablet. At Lend Fair, we strive to make life easier for you.
What if I run into some trouble?
If you run into some financial trouble and find that you are unable to make your monthly repayment then contact our team and we will discuss your available options. If we are not able to come up with a viable solution, then the responsibility for payment will befall onto your guarantor. If they are unable to make the payment then we will have to involve a third party for debt collection. Hopefully, the situation will never reach that point!
You can make additional payments
Do keep in mind that if you are able to pay additional amounts towards your loan at no additional cost. By paying off additional amounts you will decrease your overall balance, thus, decreasing the total interest accrued.
Customer Reviews & Testimonials
"
They treat their customer as family
Ethan O
— London —
The staff was very knowledgeable and efficient
Alex C
— Southampton —
I don't like queues. Paperless system was a great application method for me. Their online was simple and easy to understand
Erwin W
— Liverpool —
I was able to get a house loan though I had a bad credit
Jessy W
— Leeds —
Lendfair Contact Details
Contact Number
E-Mail
Website
Physical Address
Suite 1, Centurion House, Barrows Road, Harlow

Essex

England

CM19 5FN

United Kingdom
Opening Hours
Monday

09:00 – 18:00

Tuesday

09:00 – 18:00

Wednesday

09:00 – 18:00

Thursday

09:00 – 18:00

Friday

09:00 – 18:00

Saturday

– Closed

Sunday

– Closed