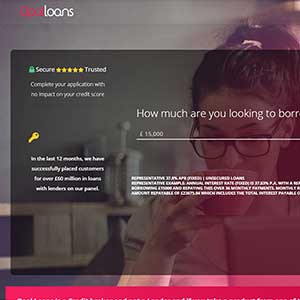 About Opal Loans
With so many lender options available to borrowers it is difficult to make the right choice for your situation. This is where we come in!
Opal Loans is a credit broker meaning that we will do the heavy lifting and find the perfect lender for you based on the application that you have completed. Sit back, relax and allow us to find the perfect solution.
Why we are the perfect broker
At Opal, we understand our customers and we understand finance. No problem is too great for us to resolve. We have a broad variety of trusted lenders that we will compare your application with in order to find just the right fit. We see our customers as individuals and treat each application as unique. Even if you are self-employed or have a bad credit rating, Opal can find a loan option for you. Our team works as fast as possible in order to give you a decision on the same day. The best part is that you do not pay a cent because our services are free!
A click should do the trick
Applying for a loan has never been simpler than with online applications. Whether you are in the office or relaxing on the couch after a hard day's work – you can apply at your earliest convenience. With only a few clicks and a few minutes your application will land in our basket and we will take it from there. In order to apply you need to be a UK resident and at least eighteen years old earning a minimum of £800 per month. If you fit these criteria then click away!
Opal Loans Services
Because Opal Loans is a broker we do not offer loan products ourselves but we do understand the products that our trusted panel of lenders offers.
We will find the perfect solution for you no matter what your financial circumstances. With Opal Loans we can provide you access to personal loan products ranging from £500 to £25,000 payable over one to five years at affordable and competitive interest rates.
Choose one of our loan options
A secured loan refers to money borrowed using an asset or property as a form of security. This means that when you borrow money, the lender has the right to claim your home or asset if you do not meet your repayments. As a result of the higher risk of this type of loan, the lenders usually allow for larger borrowing amounts as well as lower interest rates. An unsecured loan allows the borrower to borrow money without securing the loan against an asset or property.
Secured and unsecured loans from Opal
With Opal, we can provide our borrowers access to both secured and unsecured loans depending on their needs. The amounts borrowed by the lenders as well as the term will depend on the financial circumstances of the borrower. The better your financial situation, the more money you will be lent and you will also have access to better interest rates than if you have a bad credit score.
Opal Loans Product Details
Loan Type

Loans bad credit
Summary of Services
Bad Credit Loans
Personal Loans
Debt Consolidation Loans
At Opal Loans you can easily get a loan even with bad credit
Getting a loan can be a frustrating and nerve-wracking process which is why Opal is here to step in and help you to overcome the loan blues to ensure you get the loan you deserve.
Not sure how things work exactly? That's okay because our customer support teams are experts.
Awesome customer support at your service
Especially if this is your first time applying for a loan, there can be a lot of information that is new to you. This is why we ensure that our support team has all the tools in their arsenal to help you out.
We will help you
If you have any questions about applications our awesome customer support team is available six days a week to answer all of your questions. You make your inquiries or complaints via email or telephonically – we are always eager for feedback to improve our customer service.
Interest and how you can keep it under control
At Opal, we do not discriminate based on credit score which is why we also provide loans to customers will less-than-desirable credit records. Often these clients are subjected to higher interest rates due to the higher risk of lending to them. In order to combat the higher rates, you can make additional payments to lower your total balance thus lower the amount interest can accrue on.
Consult your lender to hear their policy on early repayments. If you have too much debt speak to us about our debt consolidation loans.
Customer Reviews & Testimonials
"
Very good customer service
Max S
— London —
Opal was able to get me lender with affordable loans
Ethan B
— Eidinburgh —
I am not a person who likes working with the brokers but Opal was different. Their service and communication was good
Lucas J
— York —
Opal Loans Contact Details
Contact Number
E-Mail
Website
Physical Address
1, Castle Court 2, Castle Hill

Dudley

DY1 4RH

United Kingdom
Opening Hours
Monday

09:00 – 19:00

Tuesday

09:00 – 19:00

Wednesday

09:00 – 19:00

Thursday

09:00 – 19:00

Friday

09:00 – 18:00

Saturday

10:00 – 16:00

Sunday

– Closed