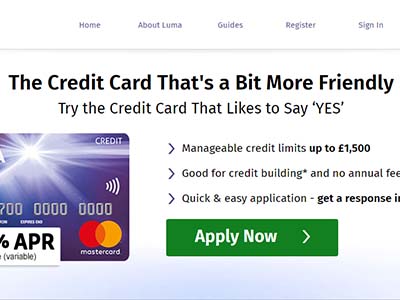 About Luma
Try the credit card that likes to say yes, try Luma.
We are a subsidiary of Capital One, in addition, we are a friendly credit card provider. Our credit card is brought to you by Capital One (Europe) plc. We offer great features when choosing credit with us.
Flexibility is key
Our card requirements may help you get a credit card even if you're new to credit, or have CCJs or other difficulties with your bad credit rating. We offer a hassle-free online and mobile account management system which means that you can access your account anywhere and anytime. Simply streamline your household's funds and keep an eye on your overall expenditure, but take note, you are still liable for all transactions on your account
Manageable credit limits
We offer manageable credit limits up to £1,500. In addition, exclusive limited time only offers and our Luma Rewards aid you keep money in your pocket. Above all, we do not charge an annual fee. Our automated fraud alerts and free identity theft support help you ensure that your account stays safe. We also offer you guidance to using your card responsibly as well as helpful tips on improving your credit rating which will, therefore, help you understand how to build your credit.
Luma Services
You earn a maximum of 56 days Interest-Free for purchases in the event the balance is paid in full and on time.
However, 0 days for balance or money transfers and cash transfers. Take note, all subject to an interest-free period that may apply.
Our card has some of the best features on the market
APR 35.9% APR (variable)
35.94% p.a. (variable) on purchases
Assumed credit limit up to £1,200
A monthly interest rate of 2.5%
2.59% monthly cash withdrawal rate
Allocation of payments
If you pay the outstanding balance in full, we will allocate your payments to balances which attract the highest interest rate. In addition, we'll always allocate your payments to any amounts which have already appeared on a statement, prior to allocating your payments to any amounts that subsequently applied to your account. For further information, please refer to your credit card terms and conditions.
Get an affordable credit card today, simply apply online
Even though credit cards have become more essential in our lives.
It can still be tough to get one, especially if you're new to credit, or in the event, you have had credit issues in the past. Fortunately, we are here to help you, simply fill out the online application form.
More great features
Controllable credit limits up to £1,500
Our approach is good for credit building
The quick & easy application process
Get a response within 60 seconds
Interest charging information
No interest is payable on purchases in the event you pay in full the outstanding balance on your first statement by its respective payment due date. In addition, no interest is payable on purchases on subsequent statements if the outstanding balances on your current statement as well as the previous statement are paid in full by their respective payment due dates.
You're more likely to be accepted for a credit card if:
18 years or older
You have experience in managing your credit, even if you've had CCJs or defaults in previous years
If you're on the electoral roll
You are less likely to get accepted for a credit card if:
You've no credit record in the UK
If you have been declared bankrupt in the last year (12 months)
Take note, even if you meet these requirements, you may not be accepted for credit. As such, we've got to check your credit report to evaluate your application. In the event, you don't know what's on your credit report, it might be a good idea to take a look before you apply for a credit card.
Improve your credit score
Simply manage your account sensibly, make payments on time and stay within your credit limit and you could in fact improve your credit rating. But, failing to control your card sensibly could harm your credit rating.
Customer Reviews & Testimonials
"
They have services that helps people with bad credit score to fix their credit score! Its amazing!
Dorothy B
— Nottingham —
They had a very simple application process. It is much appreciated
Jerry L
— London —
Luma Contact Details
Contact Number
E-Mail
Website
Physical Address
---
Postal Address
P.O. Box 5283, Nottingham, NG2 9HD
Opening Hours
Monday

08:00 – 21:00

Tuesday

08:00 – 21:00

Wednesday

08:00 – 21:00

Thursday

08:00 – 21:00

Friday

08:00 – 21:00

Saturday

08:00 – 18:00

Sunday

08:00 – 18:00