Credit cards comparison
Apply online
Low-interest starting from 18.9%
In-page navigation
---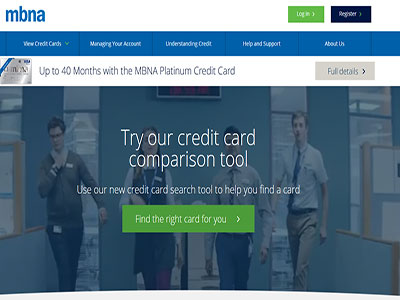 About MBNA
MBNA has been based in the United Kingdom since 1993 and has been issuing credit cards for more than two decades.
Over the years we have improved our service offerings becoming experts in the credit industry. In addition, we hold a remarkable award Moneyfacts Consumer Credit Card Provider of the year for five consecutive years running.
Our vision
At MBNA, our vision is to enable our customers to purchase today, with money they will pay us tomorrow, by simply working with a company they can trust. We work together with millions of customers helping them select the best-suited credit card to perfectly match their credit needs. At MBNA we always strive to find the perfect card to match your individual needs. Our product line-up includes personal loans, mortgages and business loans.
Simplify your shopping
A balance transfer credit card could be the ideal option for you. In the event your searching for the right credit card, you may not know where to start, or rather which card you qualify to apply for. Therefore, we try to make this process simple and convenient for you, we do this by using an online tool.
MBNA Services
We can offer you one of credit card options, our eligibility checker will advise best as to which card you qualify for. Here is a breakdown of our credit cards.
Balance transfer credit cards
Save money by paying less interest on your outstanding balance when you choose one of our balance transfer cards. Plus, you get long term low-interest rates.
Transfer and purchase credit cards
Our transfer offers are designed to help you get organised, and best off all, you get competitive rates on purchases. You get access to promotional offers on selected purchases. Plus, you get long-term low-interest rates when choosing a transfer and purchase credit card.
Purchase credit cards
Ideal to suit your shopping needs, whether it's for day to day essentials or a larger purchase. You can now spread these costs. Gain promotional offers on purchases for up to 4 years from account opening. Plus, you get long-term low-interest rates and a transfer option if needed.
MBNA Product Details
Loan Type

Credit cards

Interest Rate

from 18.9%
Summary of Services
Low-interest credit cards
Rewards benefits
Credit building

credit cards
MBNA should be your first choice for credit cards
With us, you can access your MBNA account 24 hours a day, 7 days a week, and best of all our service is fast, safe and secure.
We provide you with peace of mind, knowing that your account is well protected. You can now make fast and secure payments using a card, or a range of mobile apps, which won't require you to enter a PIN. Making purchasing goods even more convenient.
The eligibility checker
An eligibility checker is an online tool that quickly assesses your individual's financial situation and determines your affordability for a credit card. The tool will, therefore, advise you as to which credit card you're eligible to apply for. Above all, this tool is easy to use and gives an accurate response within seconds.
Money transfer credit
Simply transfer funds to your bank or building society account with our money transfer credit card. You get up to 28 months from account opening. In addition, long-term low-interest rates.
You can apply even if you have a bad credit score. Best of all, the eligibility checker won't affect your credit rating. Thereafter we show you a list of cards you're suitable to apply for and your likelihood of being accepted. After choosing a card best suited for your needs and you are happy to proceed, simply complete a full application
The credit card benefits
With all the security features you'd expect from a credit card and a fantastic selection of benefits for you, our credit card could be the only thing you'll need to help you manage your everyday spending.
Keeping track of your account information is now even easier
Get the MBNA card services app - available from the Apple App Store and Google Play. Simply transfer money from your credit card directly to your current account when you need it most. This is so helpful if you need a little extra cash, are needing some holiday spending money, or if you need to cover unexpected costs. Take note, handling fees apply in these instances.
Customer Reviews & Testimonials
"
I earn low salary but I was glad knowing that I can still open my credit card with my low income. MBNA has credit card with low rates and low transfer fees
Thomas H
— Eidinburgh —
MBNA card services app is very helpful and I can make a transaction at any time
Cathy S
— Birmingham —
We all know that January is the worst month with regards to finances. My credit card always rescue you me with my children's stationery
Leah Thompson
— London —
MBNA Contact Details
Contact Number
E-Mail
Website
Physical Address
Cawley House, Herons Way

Chester Business Park, Chester

CH4 9FB

United Kingdom
Opening Hours
Monday

Open – 24 hours

Tuesday

Open – 24 hours

Wednesday

Open – 24 hours

Thursday

Open – 24 hours

Friday

Open – 24 hours

Saturday

Open – 24 hours

Sunday

Open – 24 hours